My friend Sher promised me a drive-through art museum. I love art and my feet hurt so I was all about a drive through art museum. Fun!
What I didn't expect was a town of hand-painted houses in the middle of Bavaria.  The "Lüftlmalerei" follow themes of religion and fairytales; many homes feature tromp-l'oeil architectural details.  It's hard to keep your eyes on the road as your head swivels from side to side trying to take in the colorful frescoes.  So get out and walk!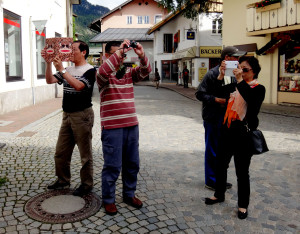 Lüftlmalerei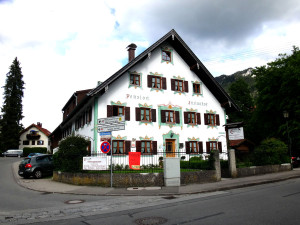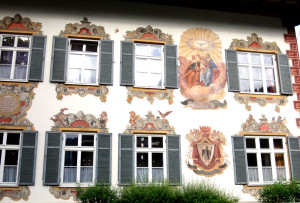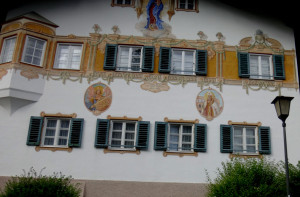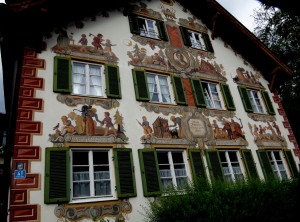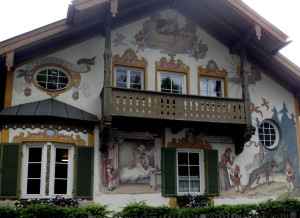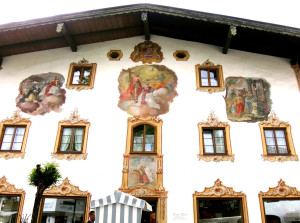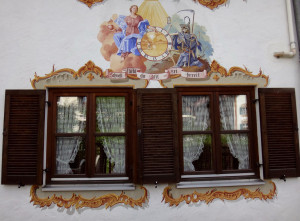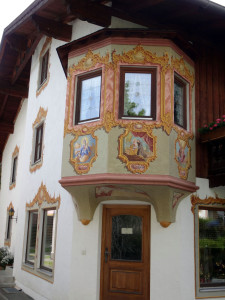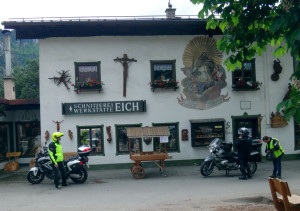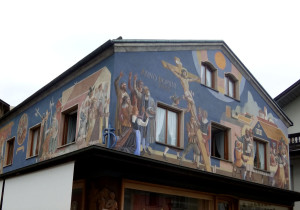 Woodcarving
The Bavarian State Woodcarving School is located in Oberommergau.  Just like St. Petersburg, Florida is filled with countless lawyers thanks to Stetson Law School, Oberommergau houses dozens of woodcarving shops.  It was fun to tuck in and out of the shops, picking up little carvings for my Christmas creche.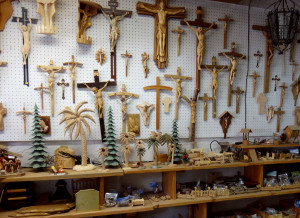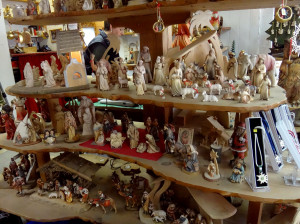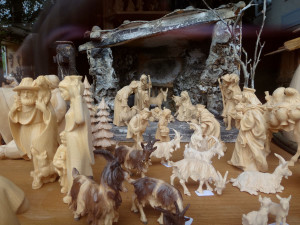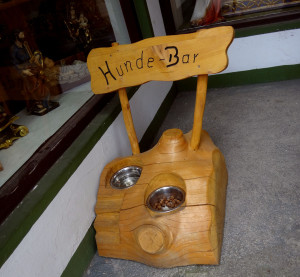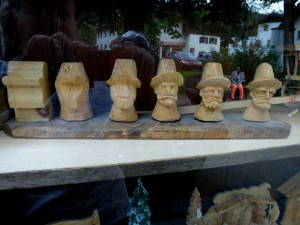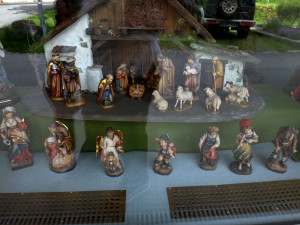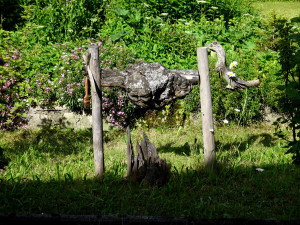 Shopping
Oberammergau puts you in the Christmas mood in the middle of summer. I could hardly keep myself from filling a basket with baubles at the Kathe Wohlfahrt shop.  I wanted everything but contained myself to two new treasured ornaments for my tree.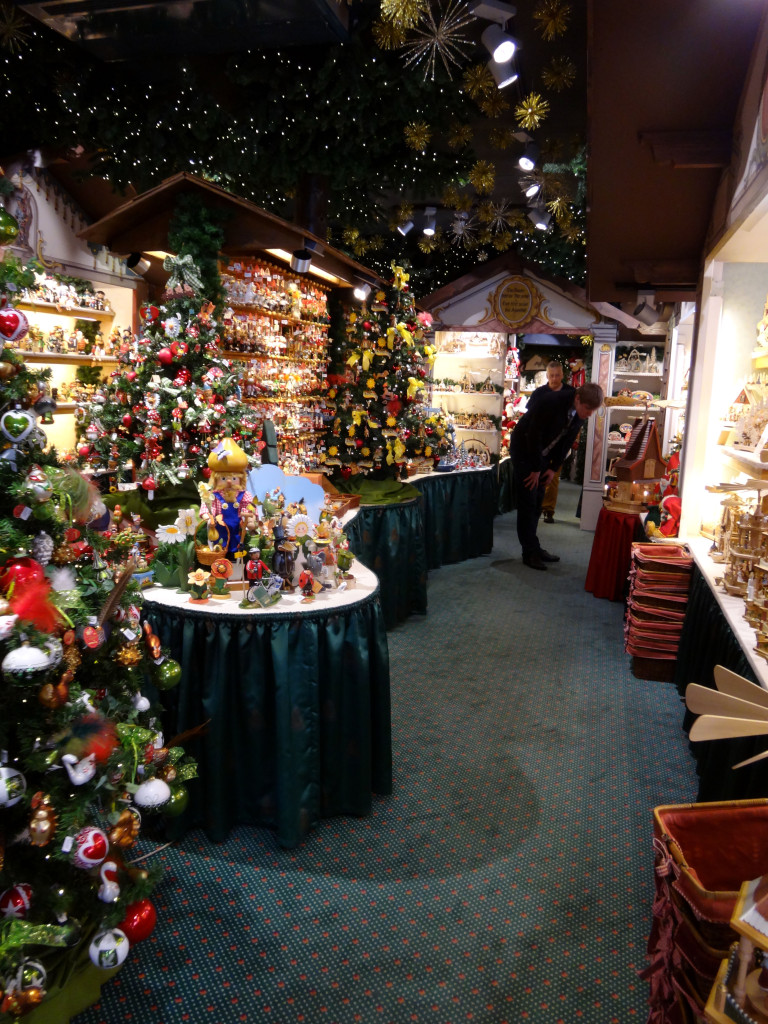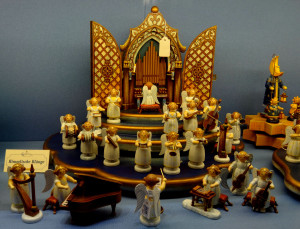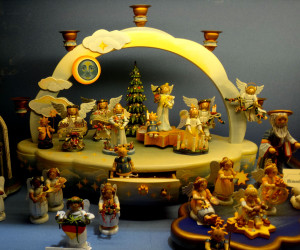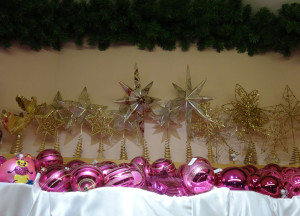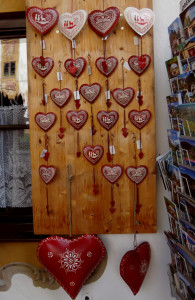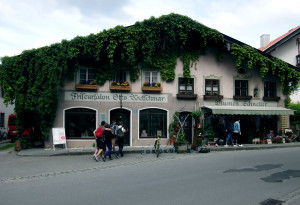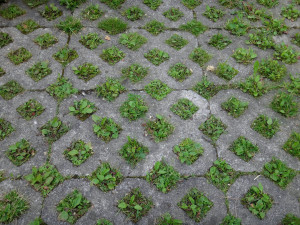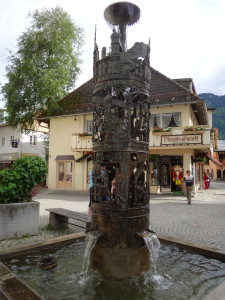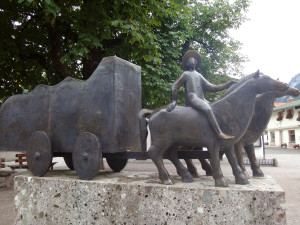 Dining
I really wanted to try the schneeballen but the store was closed.  Schneeballen (snow balls) are made from flour and eggs with just a bit of sugar, then deep fried and covered with a bit of powdered sugar.  Today the recipe has evolved to include filings and dozens of different flavors.  Next trip:  schneeballen, please.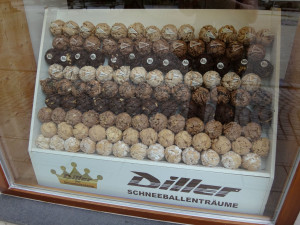 We stopped at a little diner by the side of the road just outside Oberammergau.  Delicious Bavarian food – and we were the only diners there!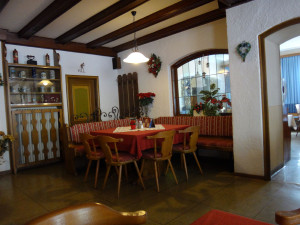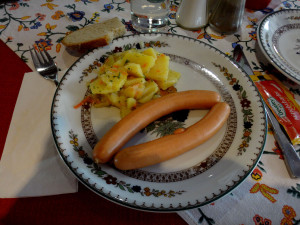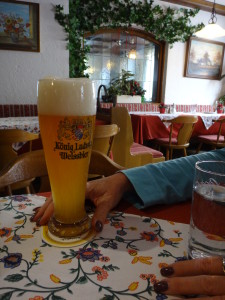 Gondola Lift
When checking into our B&B, we were presented with a large packet of coupons for activities in and around Oberammergau.  When Sher spotted the discounted free gondola lift, I didn't stand a chance of refusing.  Have I mentioned I really don't like mountains?  I find them disorienting given my flat life in Florida.  I like to LOOK at mountains. I don't like to be IN mountains.  But Sher wanted to be IN the mountains so, of course, so did I.
We drove to Laber Bergbahn, the gondola lift site.  I was surprised to discover it in the middle of a neighborhood.  It would be like me waking up one morning on my quiet little cul-de-sac and discovering two cables springing out of my neighbor's garage taking passengers to the beach.  Yet, that's exactly what I was seeing.  I'm used to seeing gondolas at ski slopes but this was my first experience with seeing a gondola just for getting to the top of the mountain – which was waaaaaaaaay up in the air.
While driving to the gondola lift, we notices parasailers swooping down from the mountains.  Now I knew how they got to the top of the mountain. Unfortunately, they were so high in the air that I didn't get a good photo of them.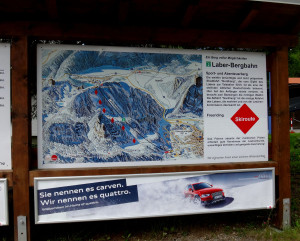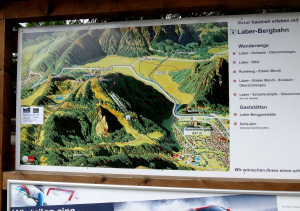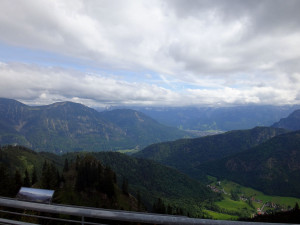 A very silent man entered the gondola with us.  He was about our age but very, very fit.  He was carrying a scythe and a heavy bag up the mountain.   I felt like I had stepped into a Steven King novel.  I was about to risk my life and limb on a gondola with a stern man carrying a scythe.  I asked myself, WWSTD?  I have no idea what Steven King would do but I jumped onto the gondola, and the operators started it up.  As we rose above a cow pasture, I kept my eyes on the scythe while Sher ooohed and aaaahed over the scenery.
I finally screwed up my courage and asked the man, "Do you speak English?"  "Ja," he replied, without making eye contact or smiling.  Oh, this is bad, I thought to myself.  "May I ask why you are carrying that?" I asked with a nod to the scythe. He burst out laughing.  "I must cut the grass in the area where we take off," he replied.  "Take off?" I asked.  He jerked his thumb at the heavy black backpack he carried.  "We parasail," he said.  My big duh moment was covered with my relieved laughing.  The man looked away and never said another word during our 20-minute ride up the mountain.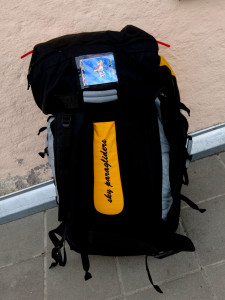 Here's a little video I borrowed off Youtube of an athlete paragliding down Laber Mountain: Das Fluggebiet am Laber in Oberammergau.  I think I could handle the descent but the landing would be a killer for me.  Have I mentioned I don't really like mountains?
As we ascended the mountain, I could hear cow bells loudly clanging beneath us.  When I looked down, I saw a herd of cows slowly moving across the pasture just beneath our feet.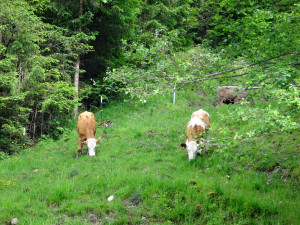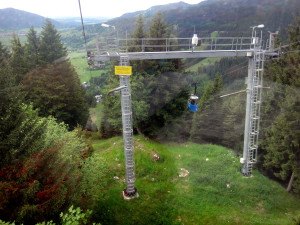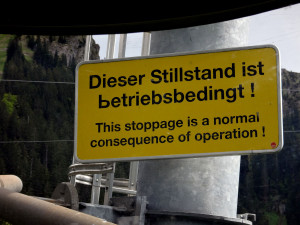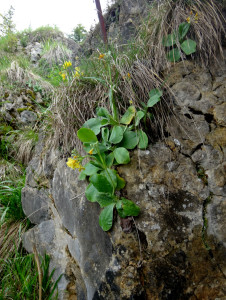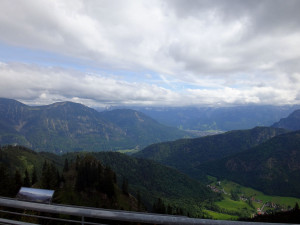 The view was worth every ounce of fear. Oberammergau, Germany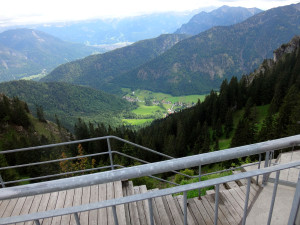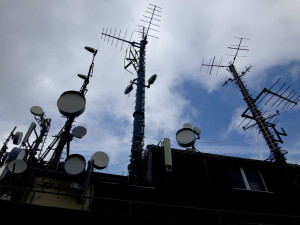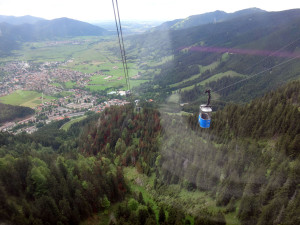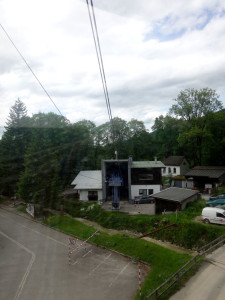 I'll be back!
I liked Oberommergau so much that I returned in 2015 with the Euronuts.  Unfortunately, we returned on a Sunday morning and just about everything was closed.  It was interesting to walk through the shuttered town, but I want to return when the city is alive.
I definitely want to ride the Alpine Coaster Kolbensattel – what a thrill to take a private "roller coaster" down a mountain!  Click on the link above to see the whole trip as created by David Ellis.
I also wanted to visit again for the famous passion play in 2020.  It only happens every 10 years and involves 2,000 actors who must live in Oberommergau.  The play is an all-day event and breaks for dinner.  Bucket list:  you have two new additions.  (OK, so maybe I do like mountains.)