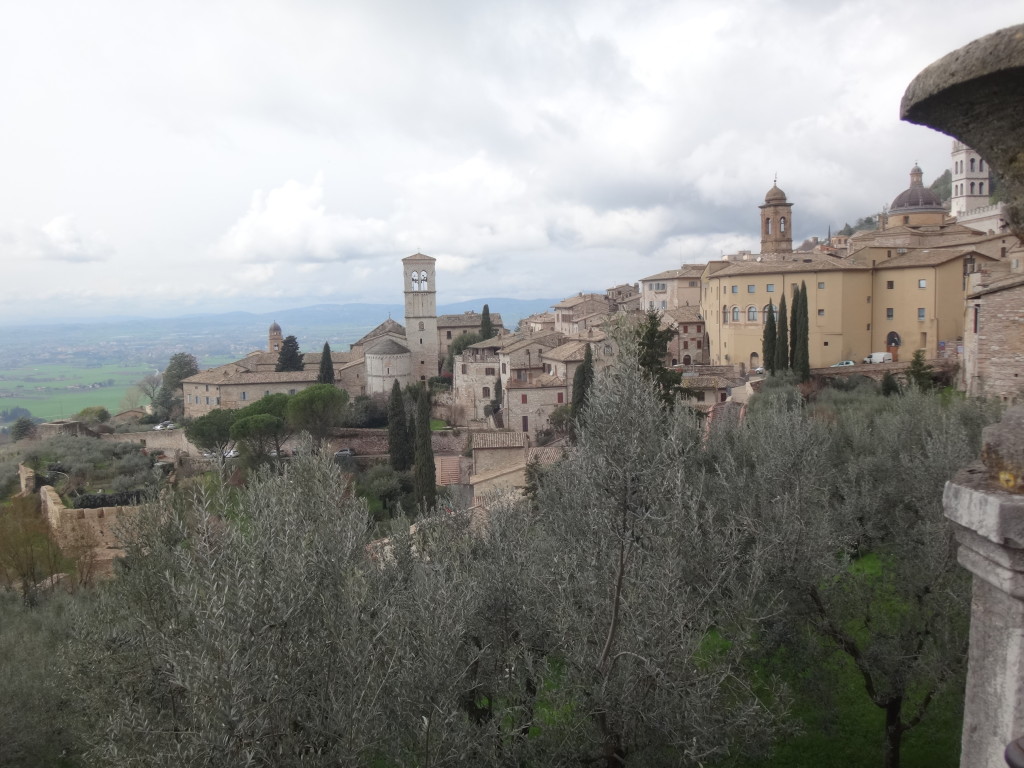 Assissi tumbles down a hillside inviting visitors to climb their way to worship.  In spite of all the stone, there is a feeling of softness to Assissi; it is an invitation to a simpler life.  Even the soldiers cradle their arms, clearly embarrassed at the need to bring weapons onto this sacred ground.
In Assissi we found subdued tourists who spoke in whispers, shopkeepers who offered keepsakes to pilgrims but charged reasonable prices, churches that emphasized art as a path to understanding rather than a treasure to keep under lock and key.  For 100 different reasons we felt welcomed as part of a gentle community in Assissi.
(Note:  I write about the Basillica of St. Francis of Assissi in a companion blog.)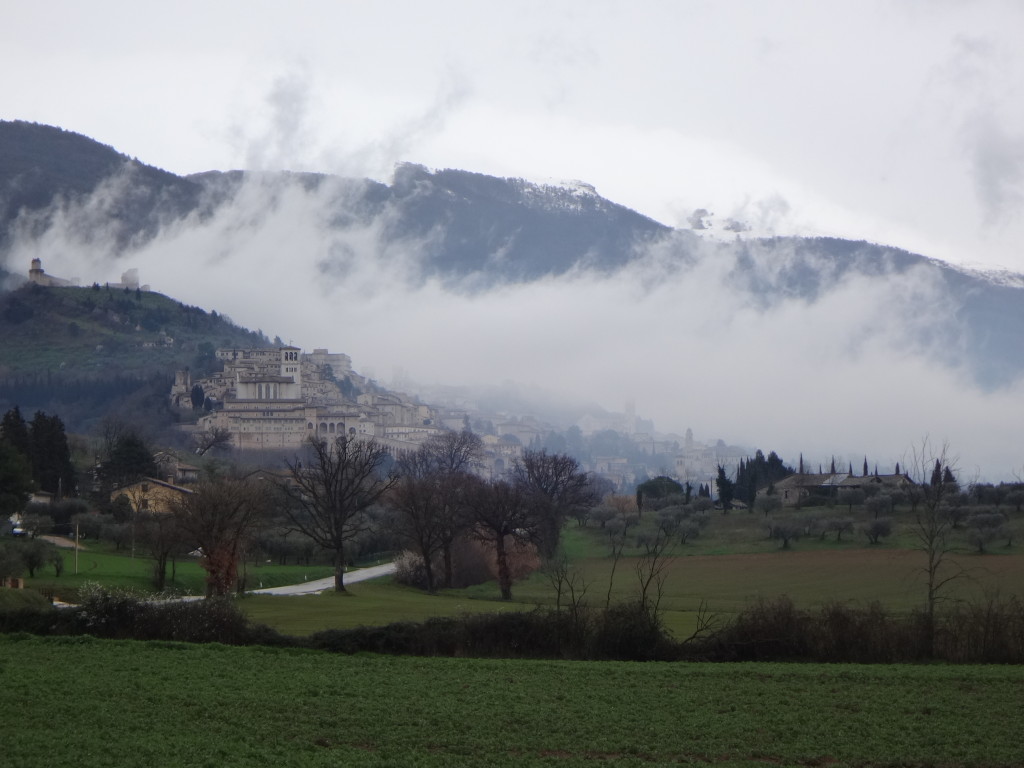 When we first spotted Assissi from a distance, it looked like Rivendell, cloaked in mists and holding its head up against the rain.  We were surrounded by hill towns but I wanted this particular hill town to be Assissi because it was breath-taking in its beauty.  I let out a sigh of pleasure when we realized this special town was, indeed, our destination.
We followed the Rick Steves app for Assissi.  Before we left home, we downloaded all of Rick Steves' audios tours and maps of Italy onto our Smartphones.  The tours are excellent and do not eat up your data plan if you download the tours ahead of time.  The tours all use just a tiny bit of energy from your phone so you don't have to worry about running down your battery.  Just plug in any set of earphones and you are ready to go.
We used the Rick Steves tour book which was spot on in recommending parking.  However, after parking the car below ground, we realized we were on the basillica side of town, about a mile away from the start of the audio tour at Piazza Matteotti.   We used the immaculate bathrooms and then asked the parking attendant if there was a way to get to Piazza Matteotti.  "Just take the bus," he advised.  We walked to the nearest souvenir shop to buy the $1 bus ticket.  When we walked in, the shop attendant did not even look up from her phone conversation, she just pushed three tickets our way and accepted our euros.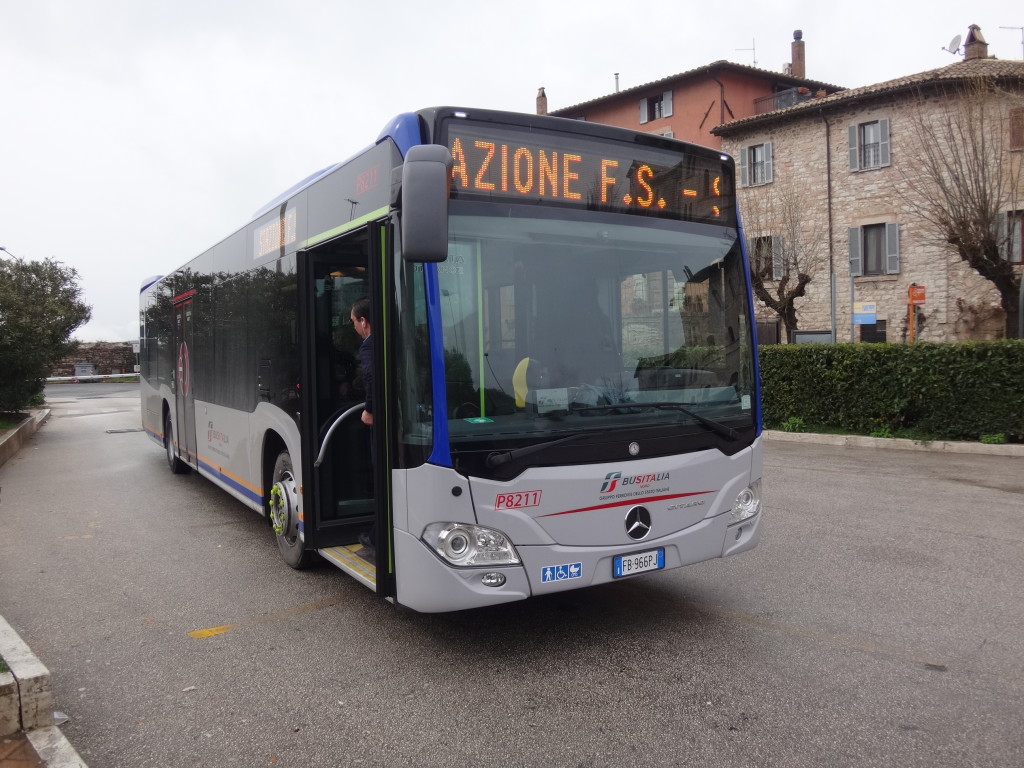 We walked about 50 steps to the stop and a large, clean bus arrived almost immediately.  We dropped our tickets into the slot near the driver and settled back for a fast ride that circled the town of Assissi, dropping passengers at about four stops before reaching Matteotti Piazza.
Now here's the thing that makes me crazy about Rick Steves tours.  I can never seem to find the spot to begin the tour.  The directions are clear, "exit the square from its uphill or northeast corner."  Here's the problem.  We had no compass.  (Note to self:  pack a compass for my next trip.)  And every corner of the square looked to be uphill.  Rick advised the piazza is on the east end of town.  So it would make sense that northeast would continue in the direction east of town.  Nope.  We tried every corner before asking a local resident where our first stop, a Roman ampitheater ruin could be found.  The resident was friendly but took a moment to direct a truck hauling propane tanks to a pull off on the ancient medieval street.  We watched, fascinated, as the driver backed his huge truck into a chariot-sized space.  Then the resident smiled and pointed down a tiny alley so off we trotted.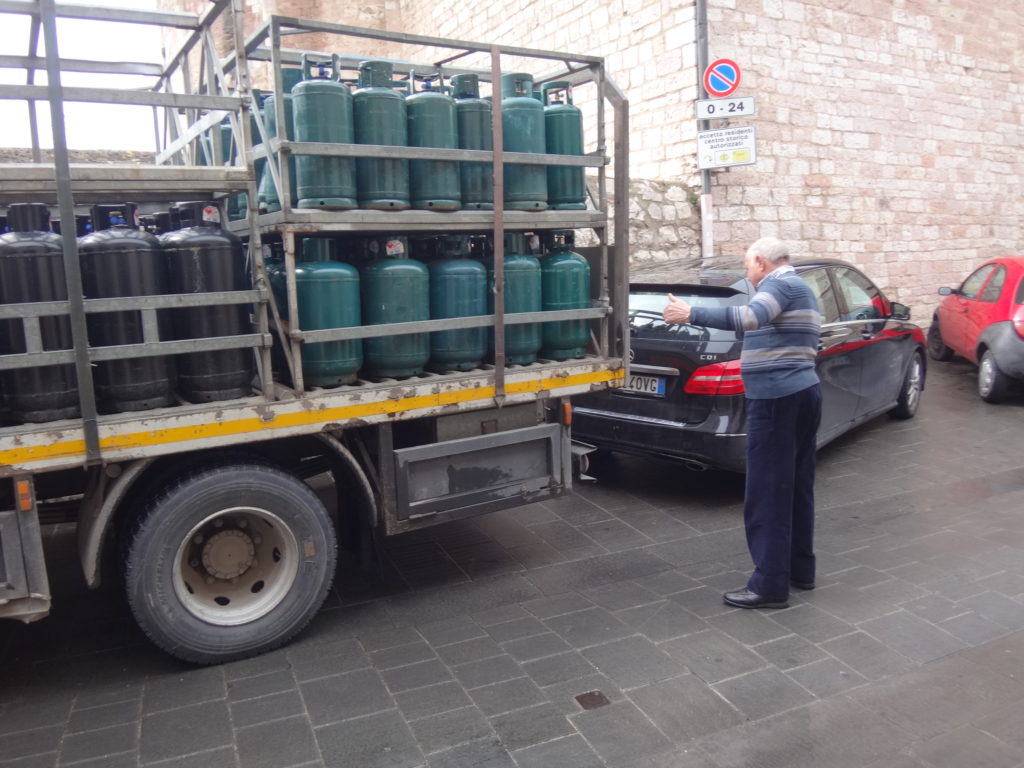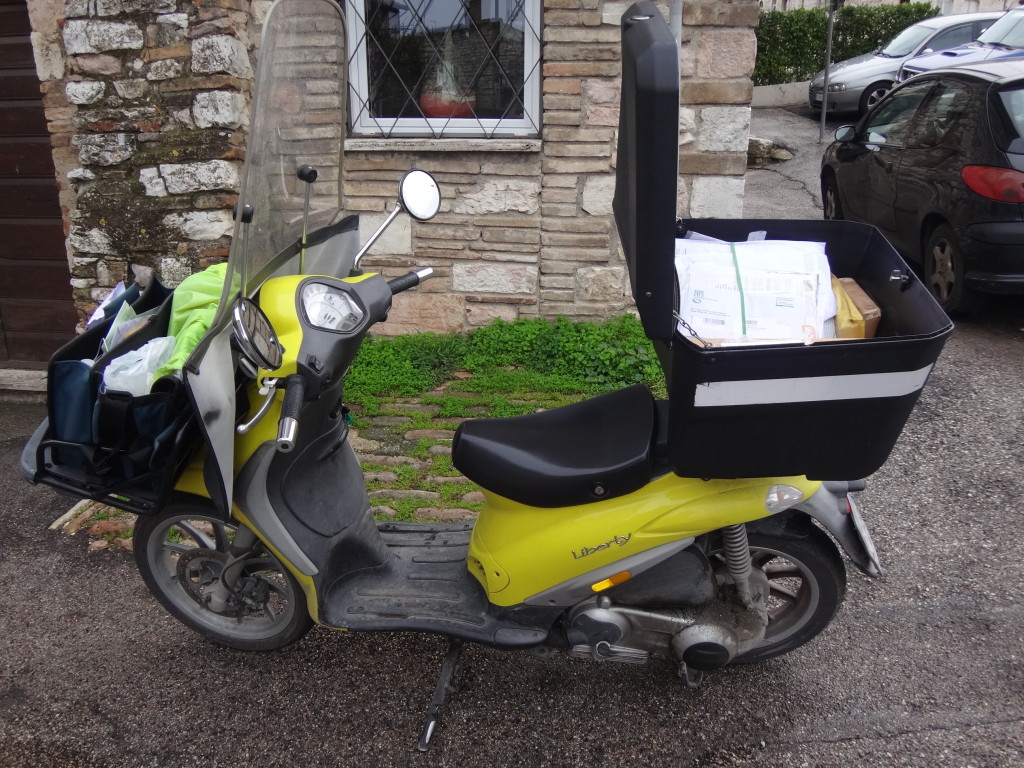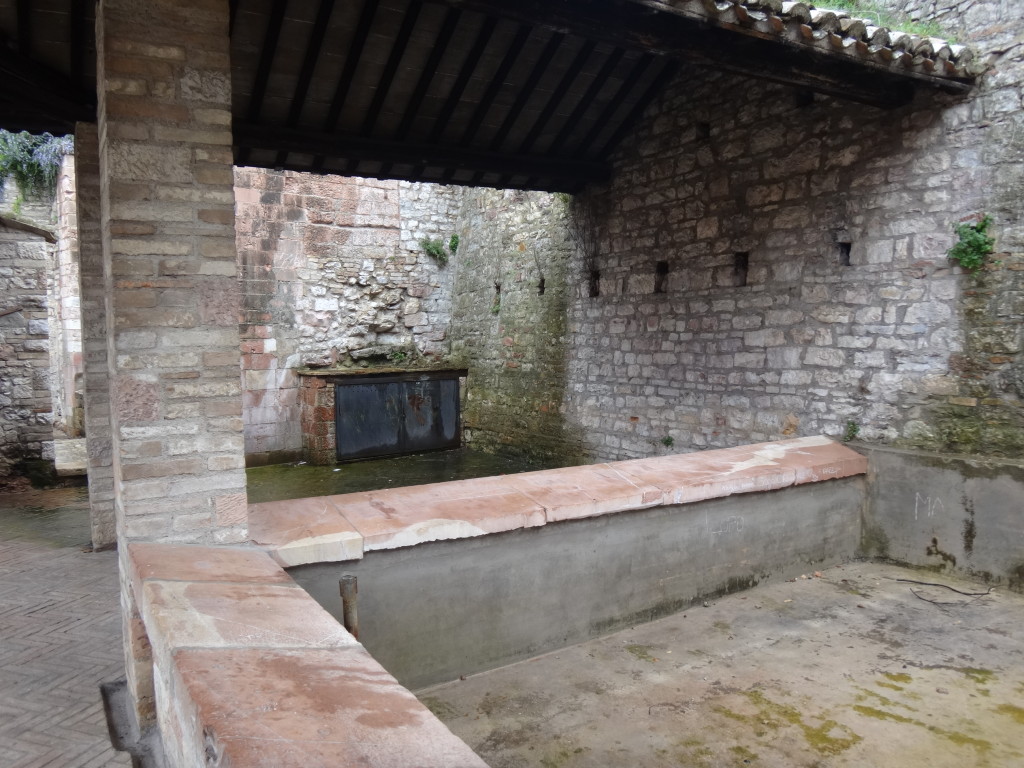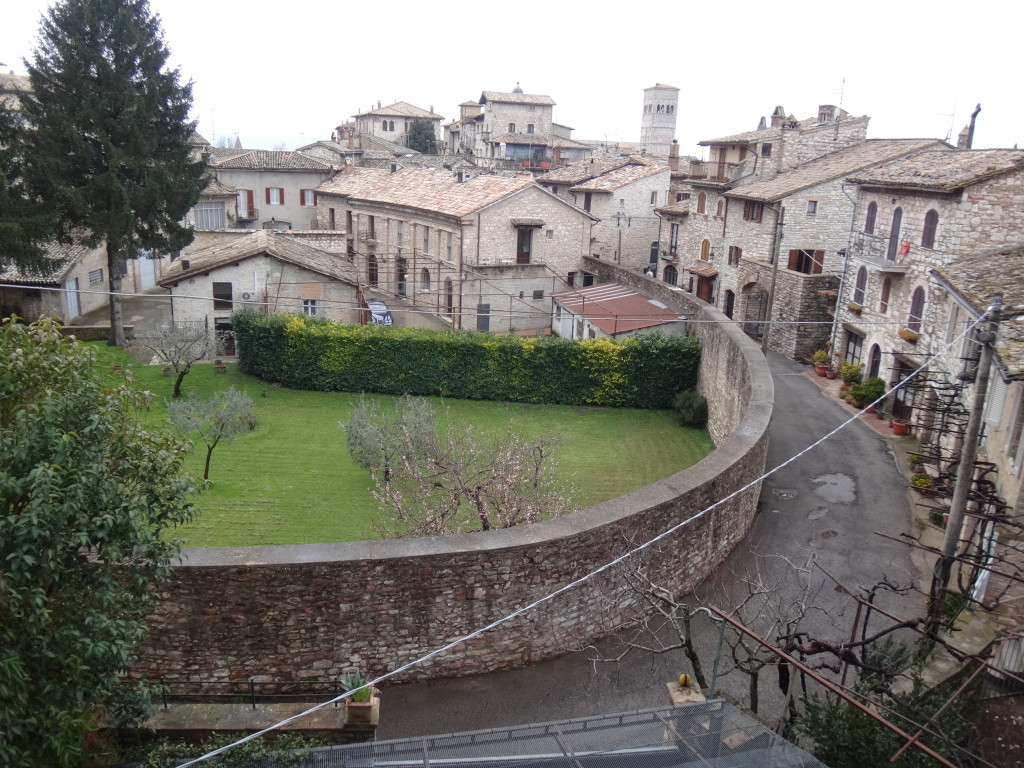 When you visit Assissi, you'll definitely want to visit the cathedral but the back streets of Assissi are beyond charming.  We visited in March before the chaos of visitors and flowers, but already we could see spring in every street we walked along.  I would love to return in June during the town's wall garden competition.  If this early preview of flowers was any sign, the June showcase must be unequaled.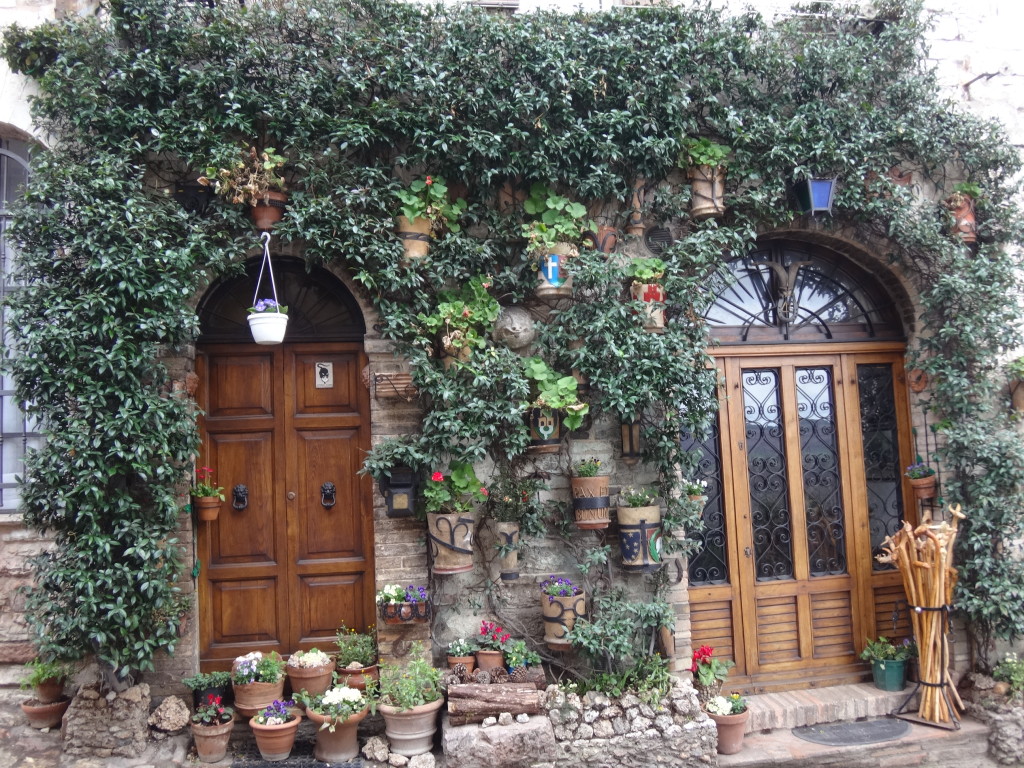 Assissi, Italy 2016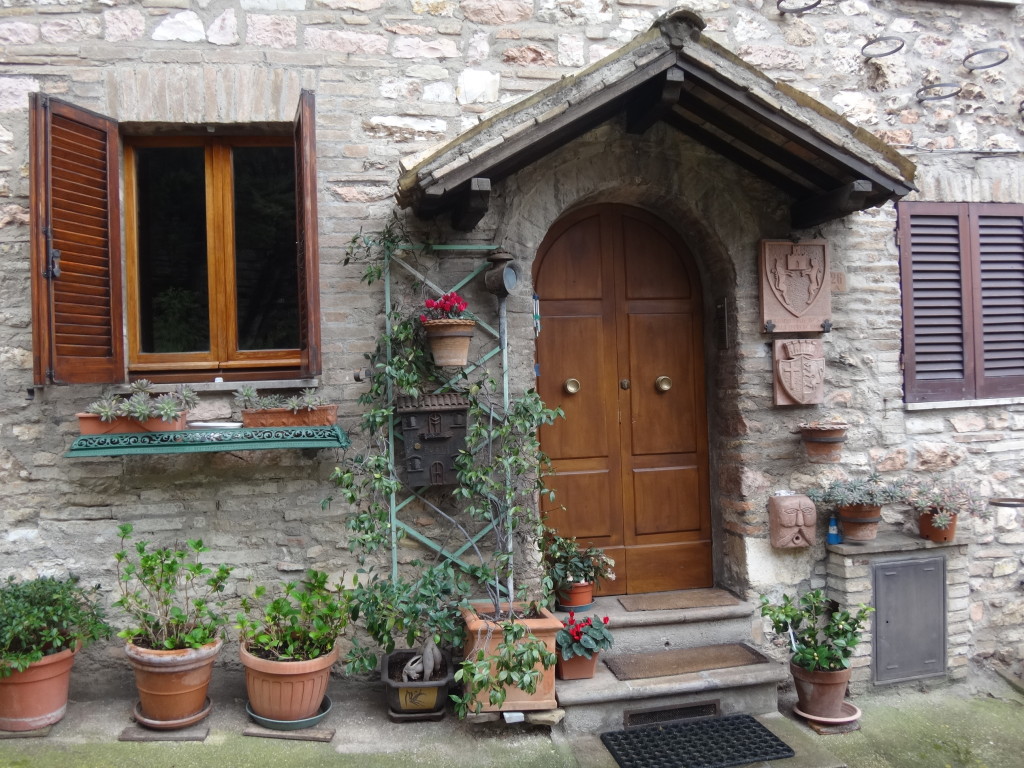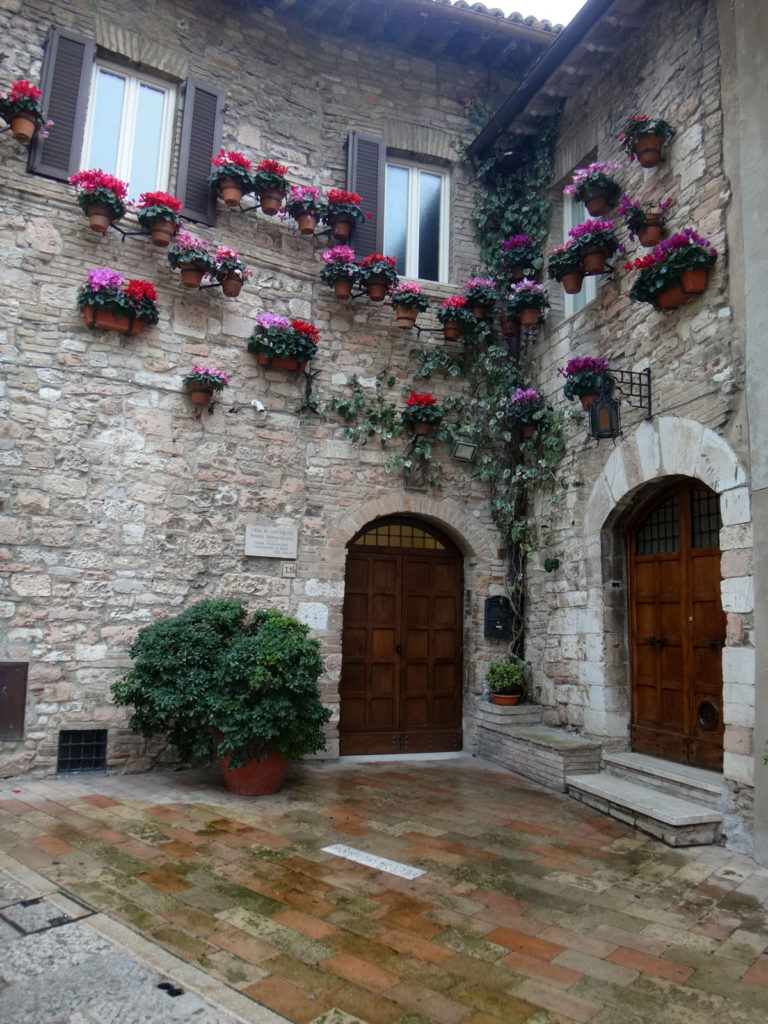 We, however, visited on a cold, rainy day in March so most people were tucked inside their homes.  The few residents we saw scurried quickly under umbrellas from small shops to small stone houses.  As they shut their doors, a golden, glowing light would come on in their front window hinting at warmth and comfort.  We were left in the rain and cold but were still delighted by the care residents took with their front stoops and extensive gardens.  The 2,000-year-old town of Assissi has taken full advantage of location and climate to create a graceful city with winding streets that slowly reveals pink-tinted limestone pleasures around every corner.  Every half hour or so, bells would ring out to celebrate the day and we would be reminded anew that we were just three women among millions who have made the pilgrimage to Assissi.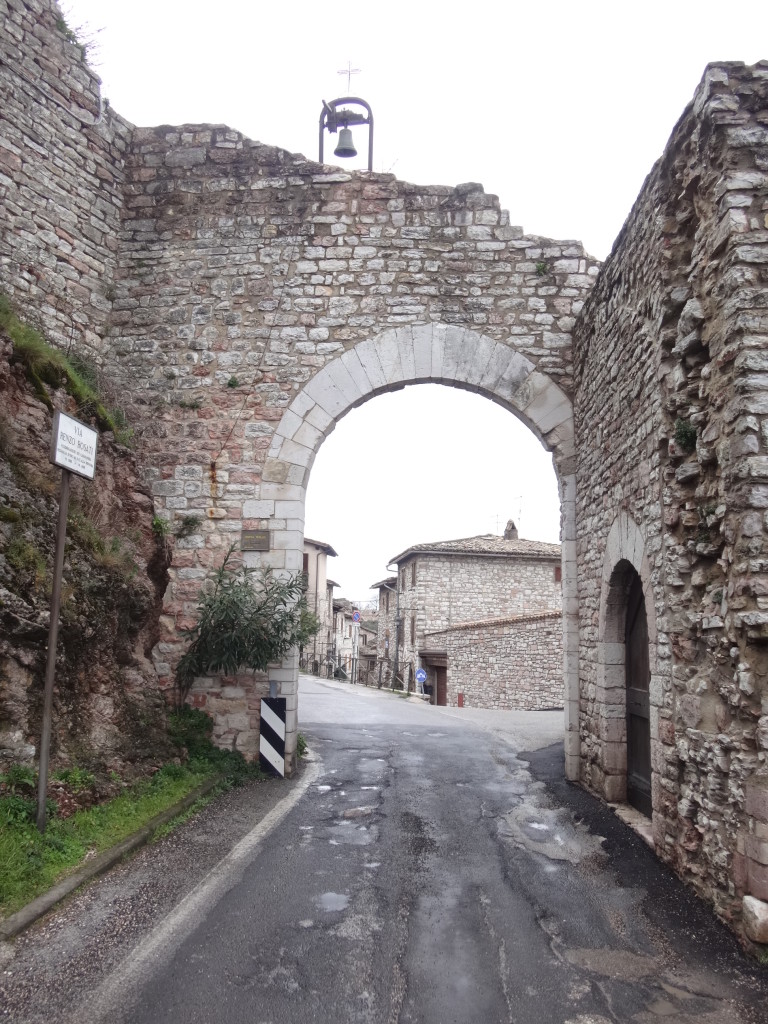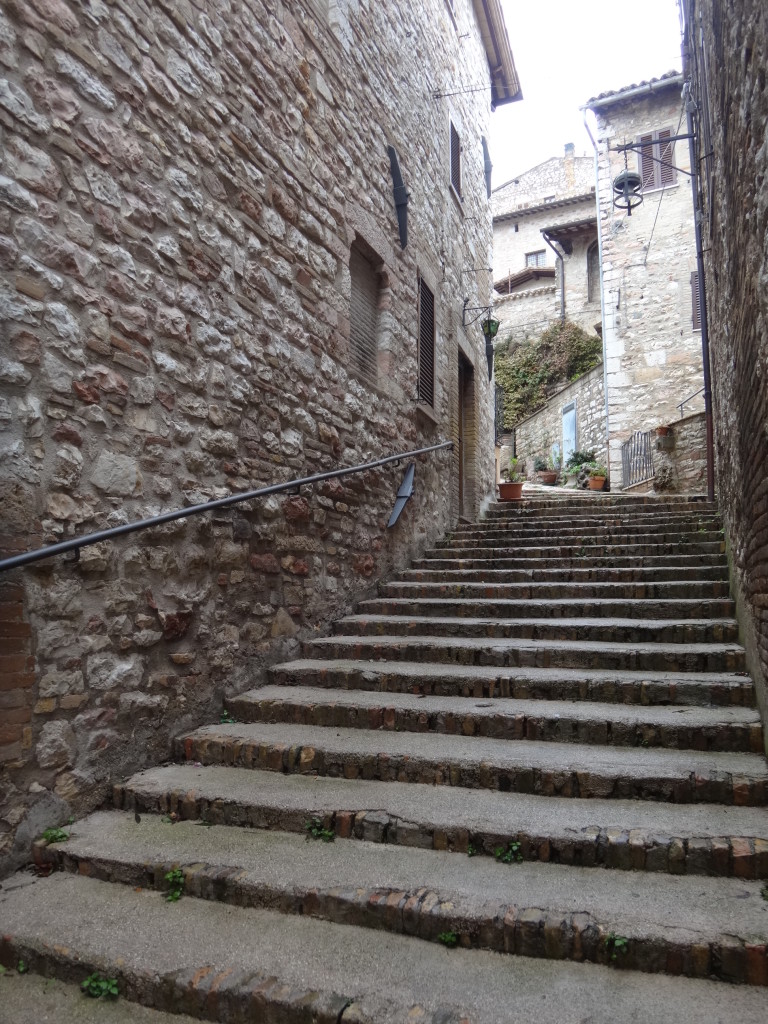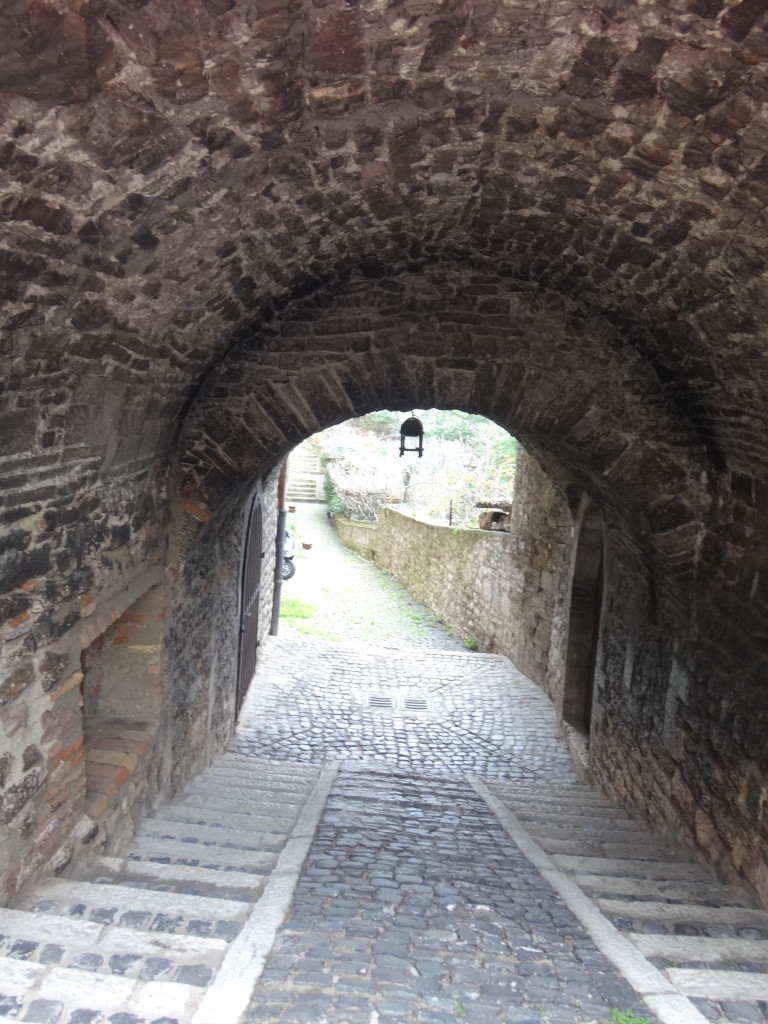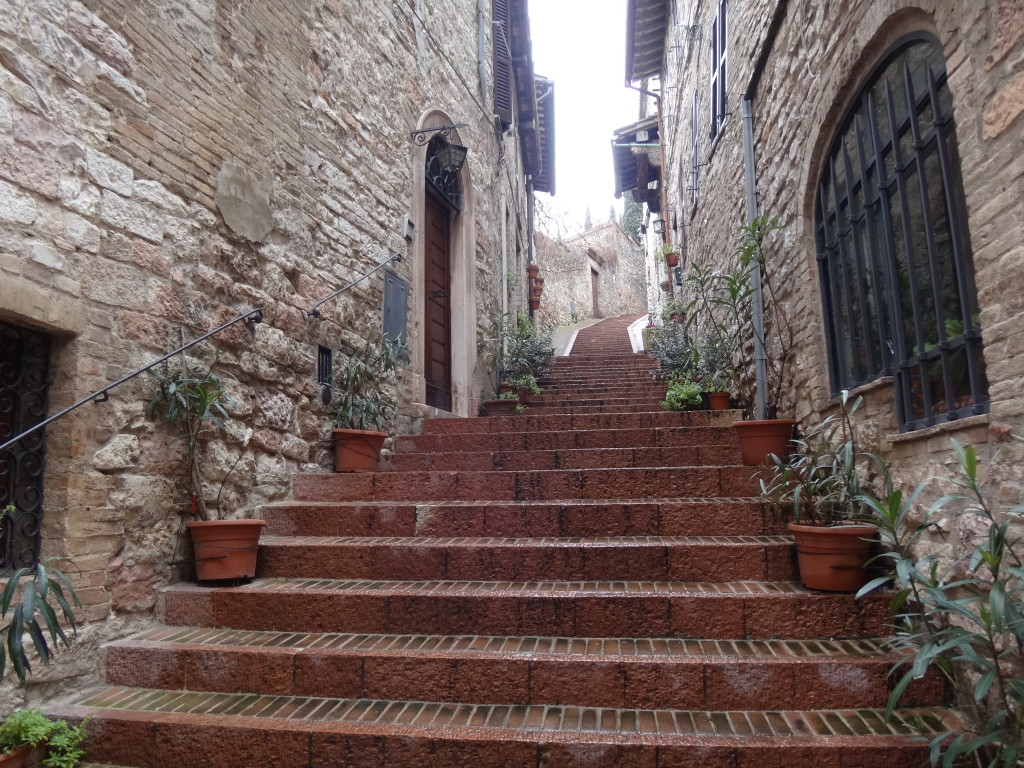 Assissi is filled with churches, each a treasure with a story to tell. The Cathedral of San Rufino is located just west of the Piazza Matteotti. Named after Assissi's first bishop and patron saint, the cathedral was built in the 11th century with a Romanesque facade.  Both St. Francis and St. Clare were baptized here.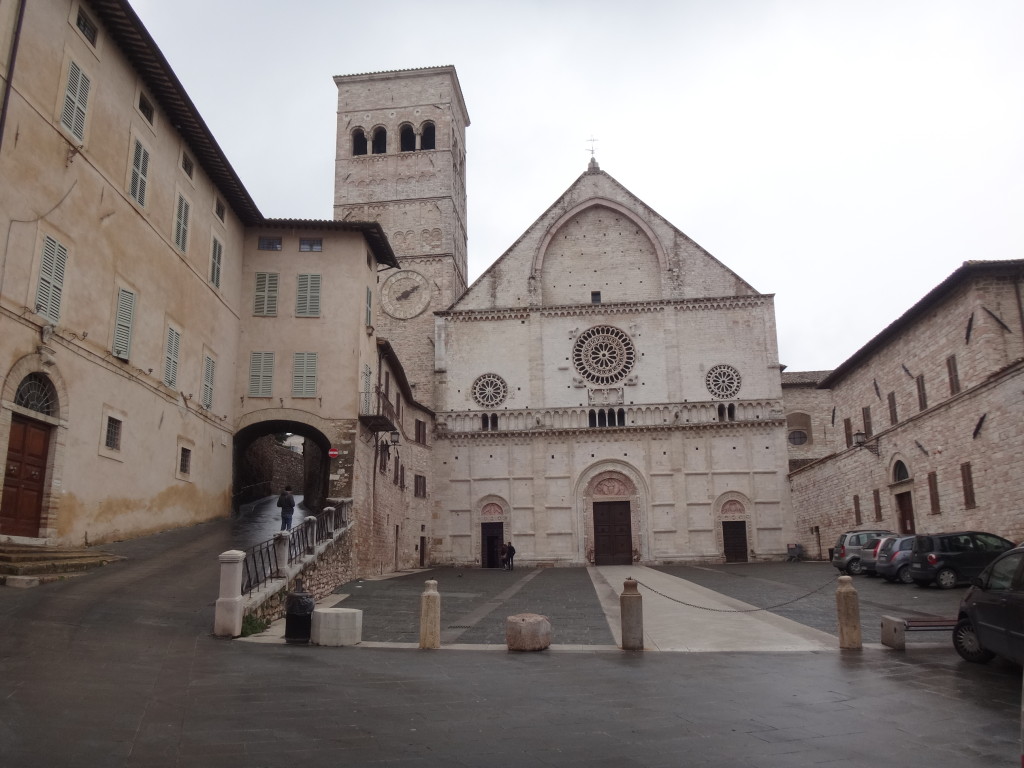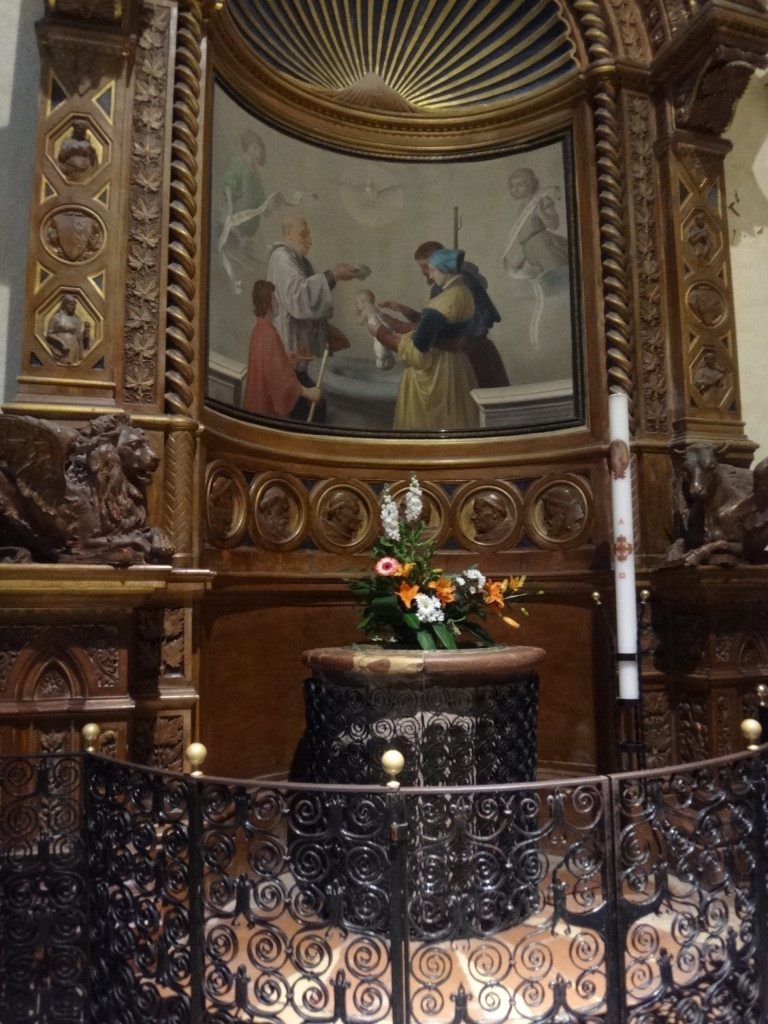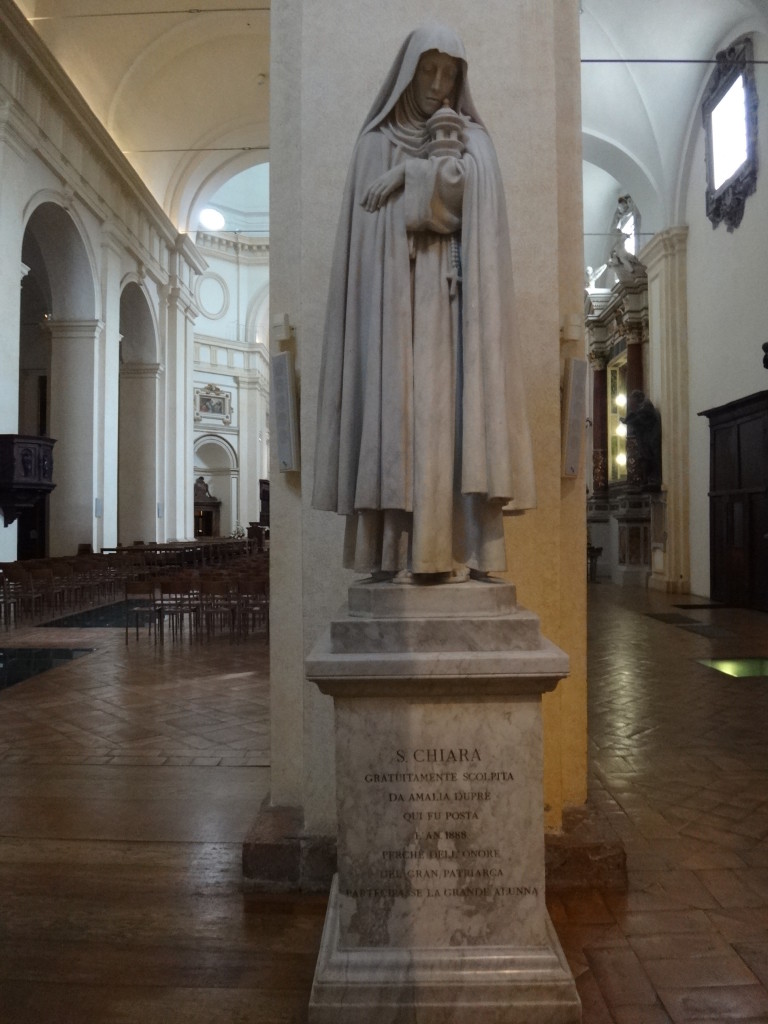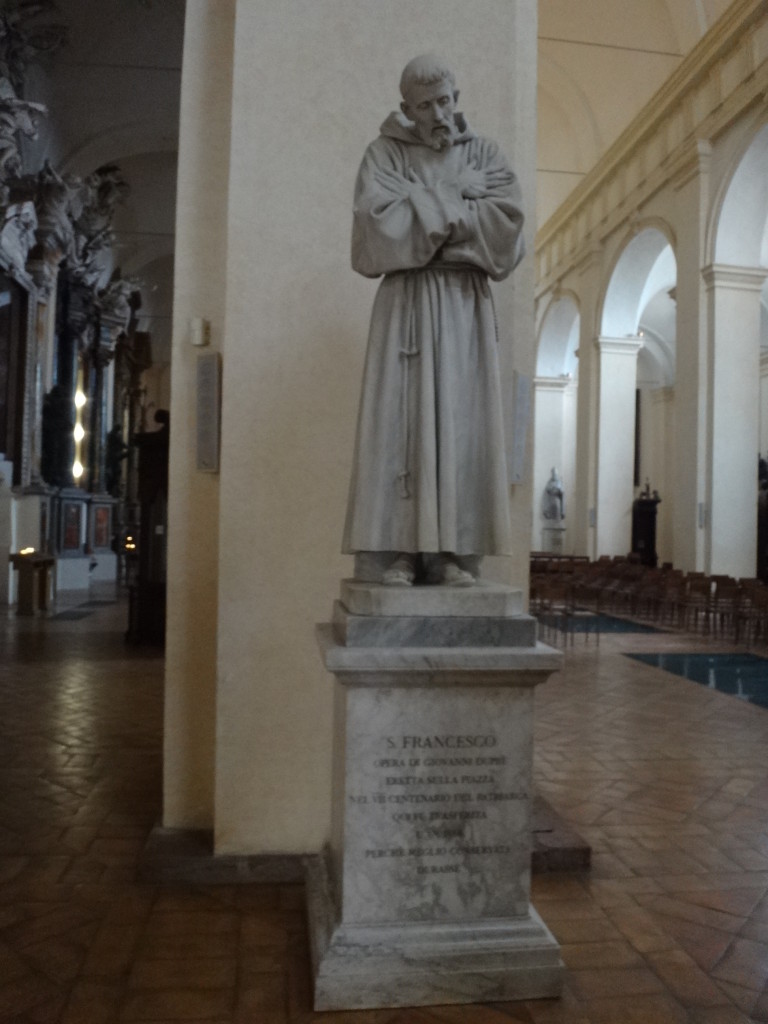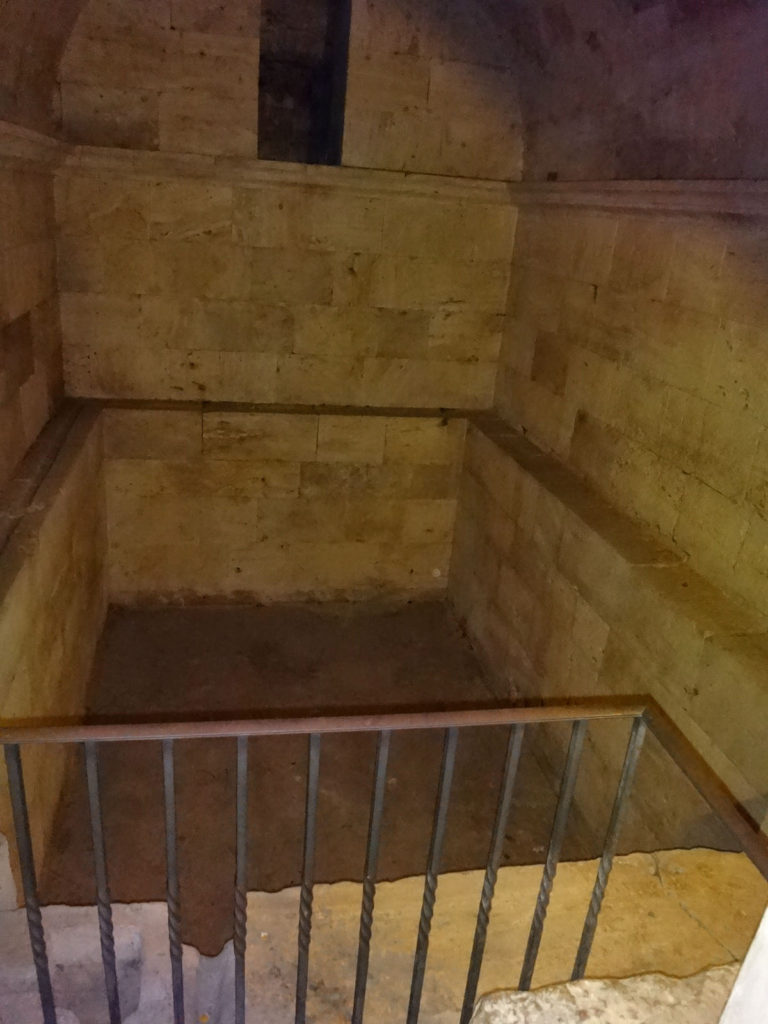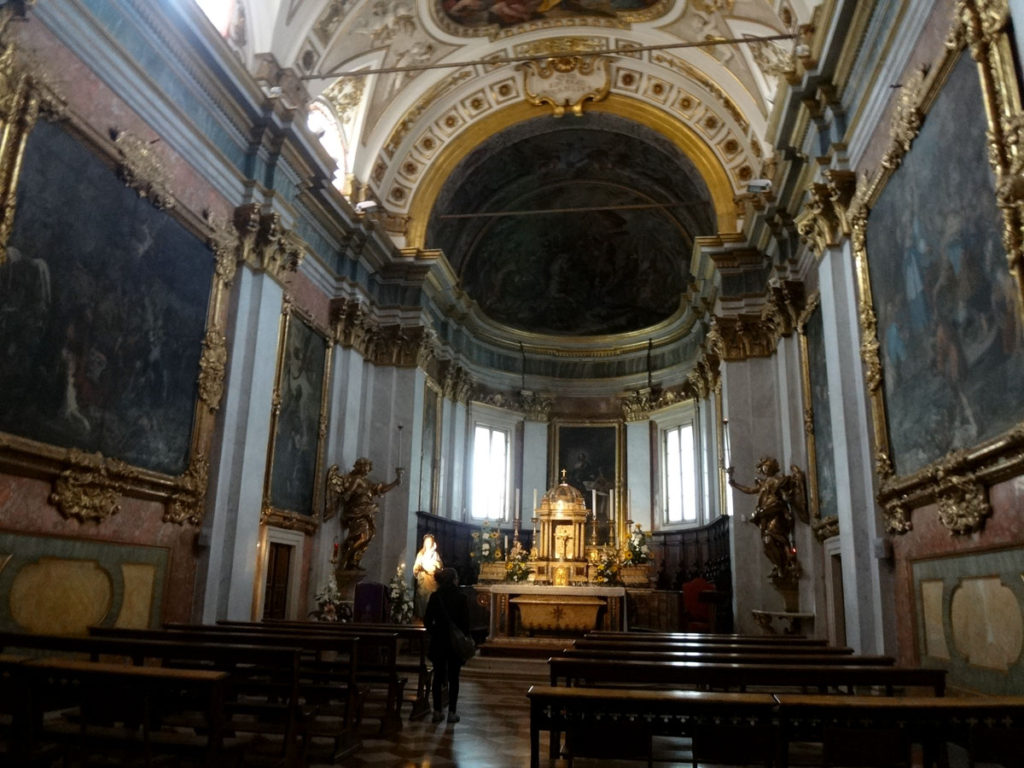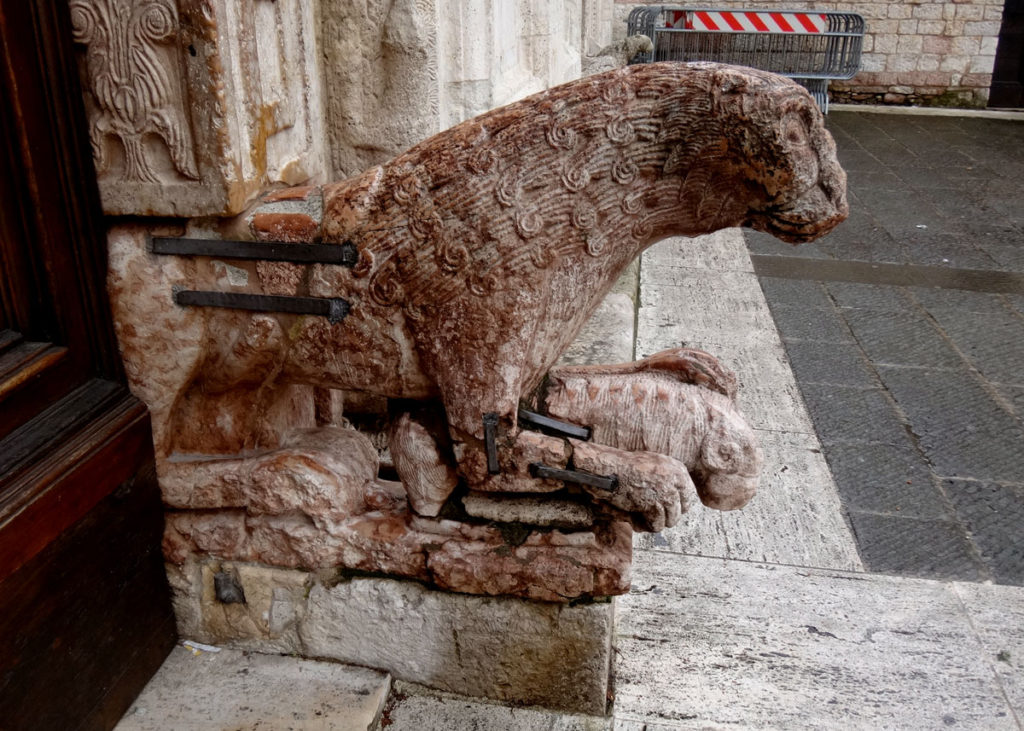 In spite of the importance of Assissi as a rich hill town along the trade route between Rome and nothern Italy, we were drawn to Assissi because of our love for St Francis.  He may have been the first saint we learned about after the Holy Family.  St. Francis loved animals.  St. Francis preached to the birds.  St. Francis was humble. We should be like St. Francis.  These were the teachings of our nuns, the Sisters of St. Joseph, when we attended St. Andrews School in Upper Arlington, Ohio.  I loved the reality of the paragons of virtue that our nuns presented to us.  "I should be more like St. Francis," I would think and make a mental note to be nicer to our little dog, Tiki.    The nuns' stories, however, never quite squared with the reality of bringing home a lost animal and asking, "Can I keep him?"  Mom always said no.   Obviously she had not taken the St. Francis story to heart.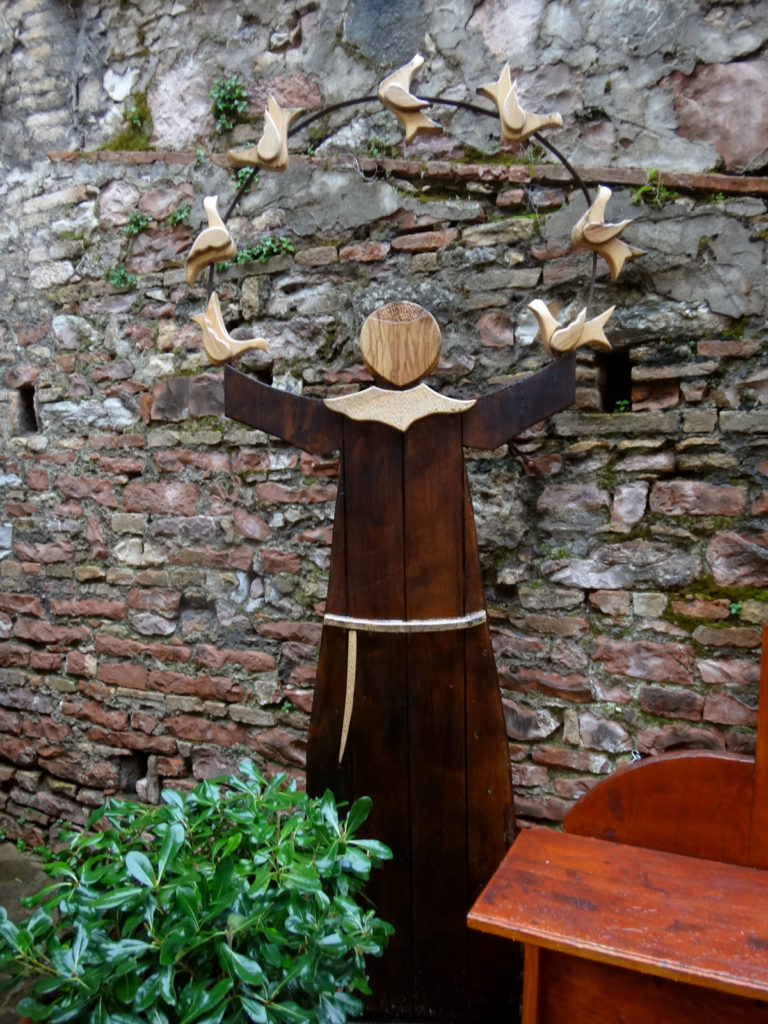 I was particularly touched by the honest approach of shopkeepers in Assissi.  They did not hawk their goods or gouge tourists.  Prices were fair. For example, I purchased a pair of hand-made olive wood salad tossers for under $10; in Rome, similar wood implements cost more than double that. Shopkeepers took their time, looked you in the eye, and wished you a pleasant visit.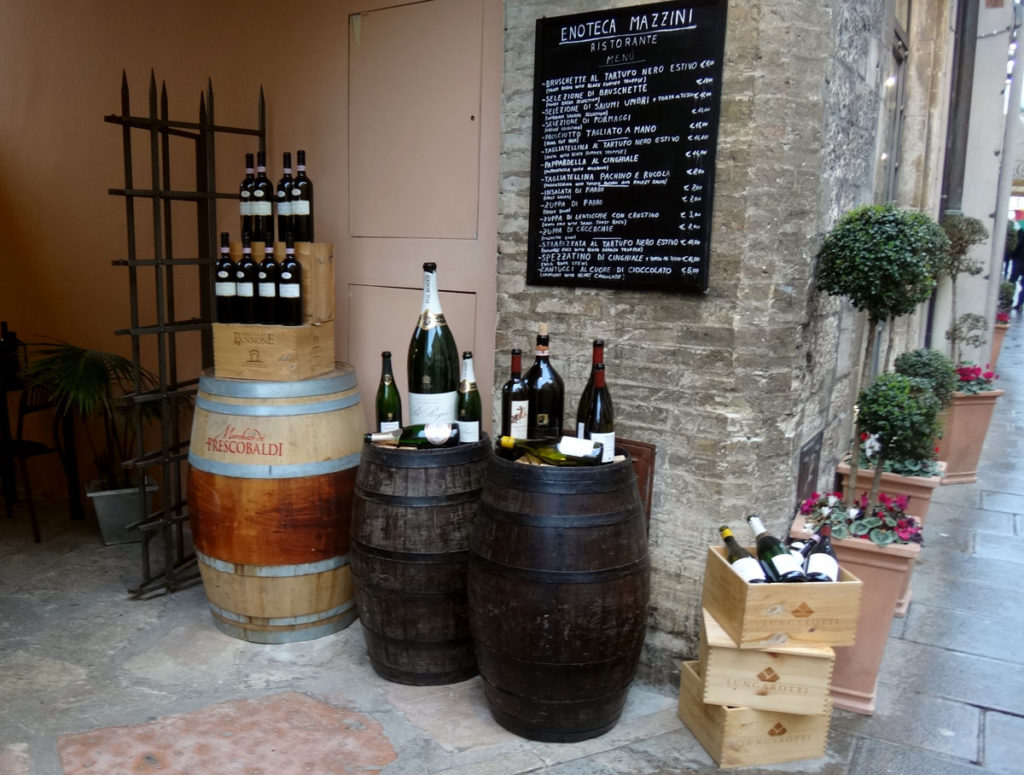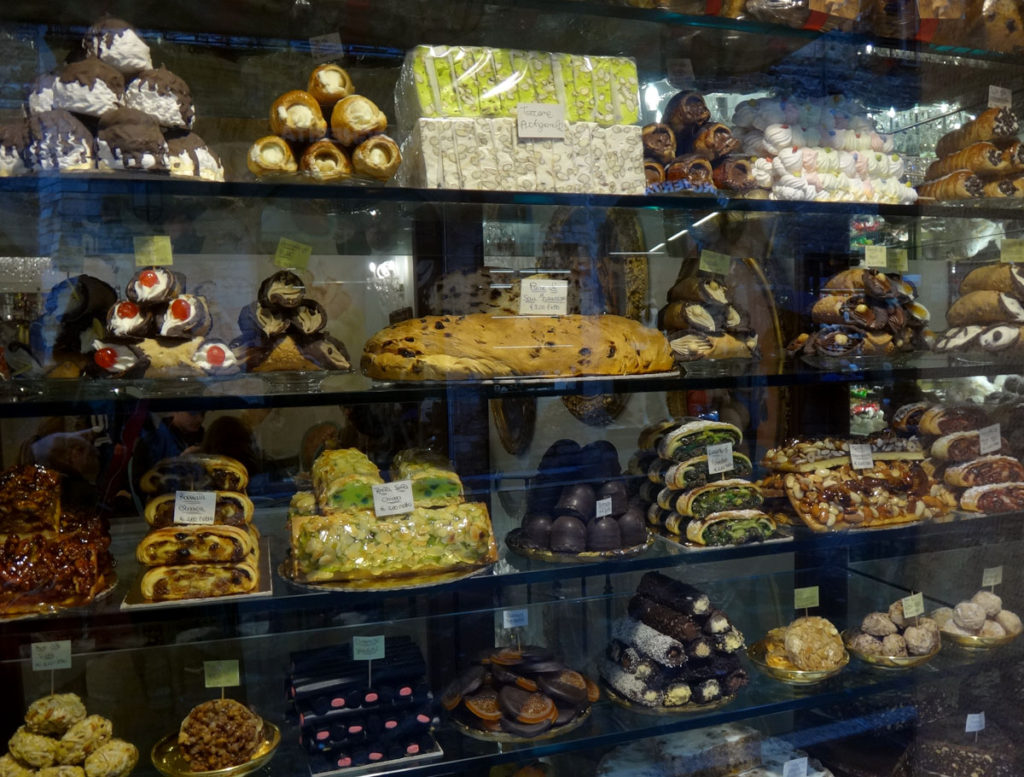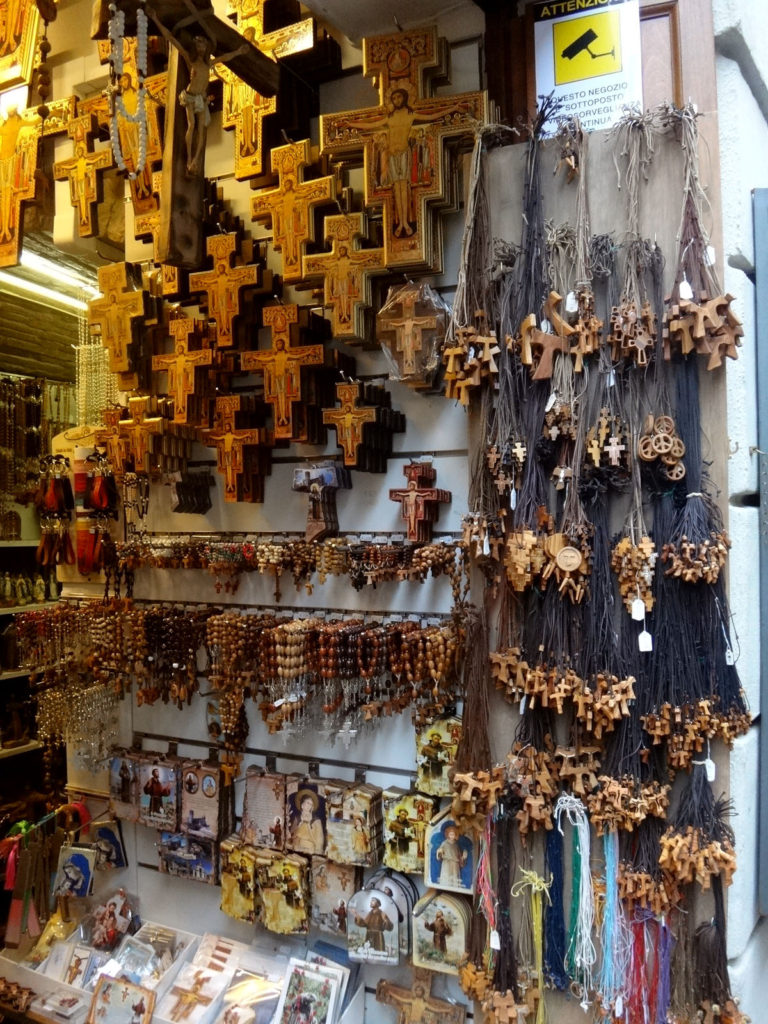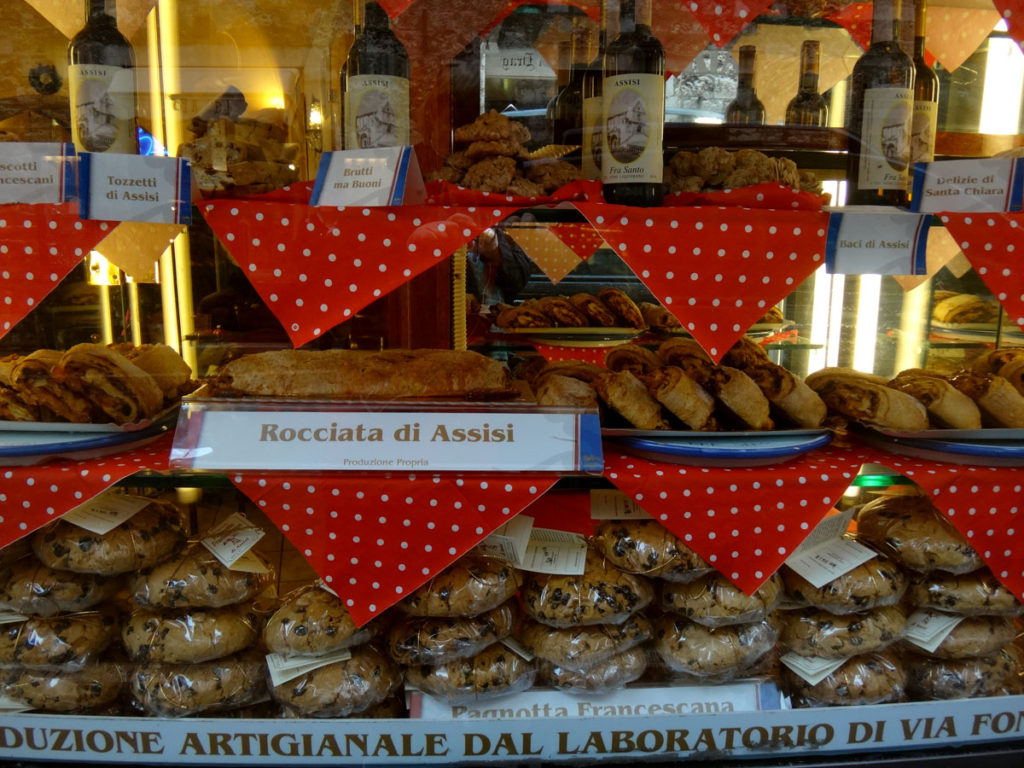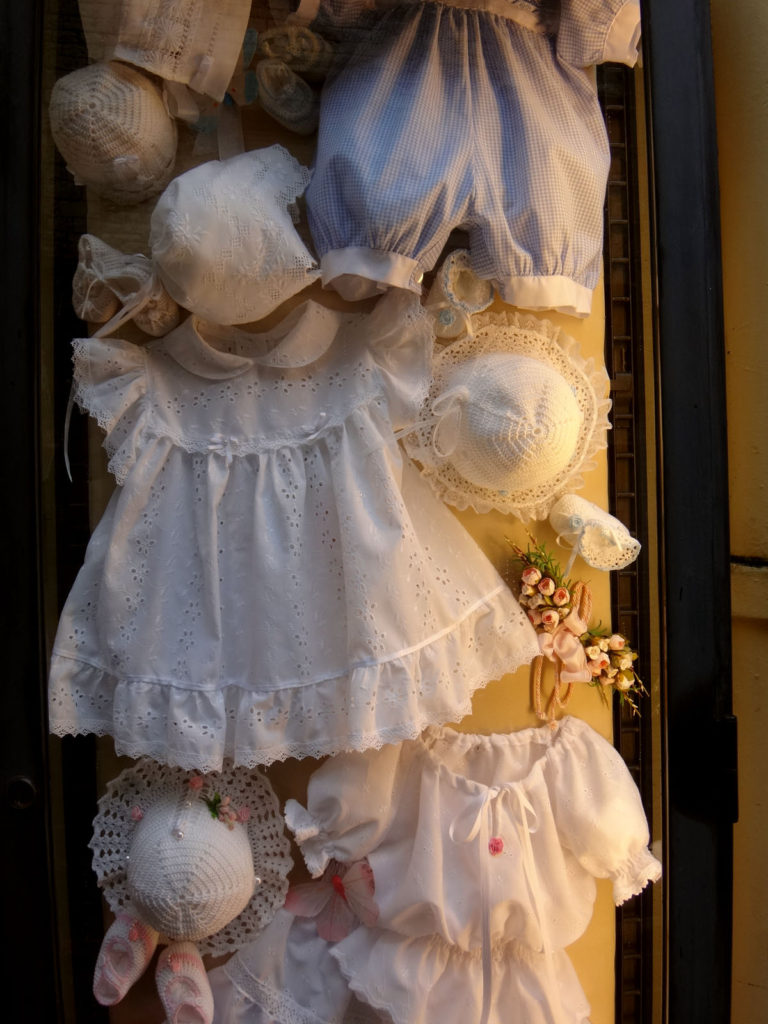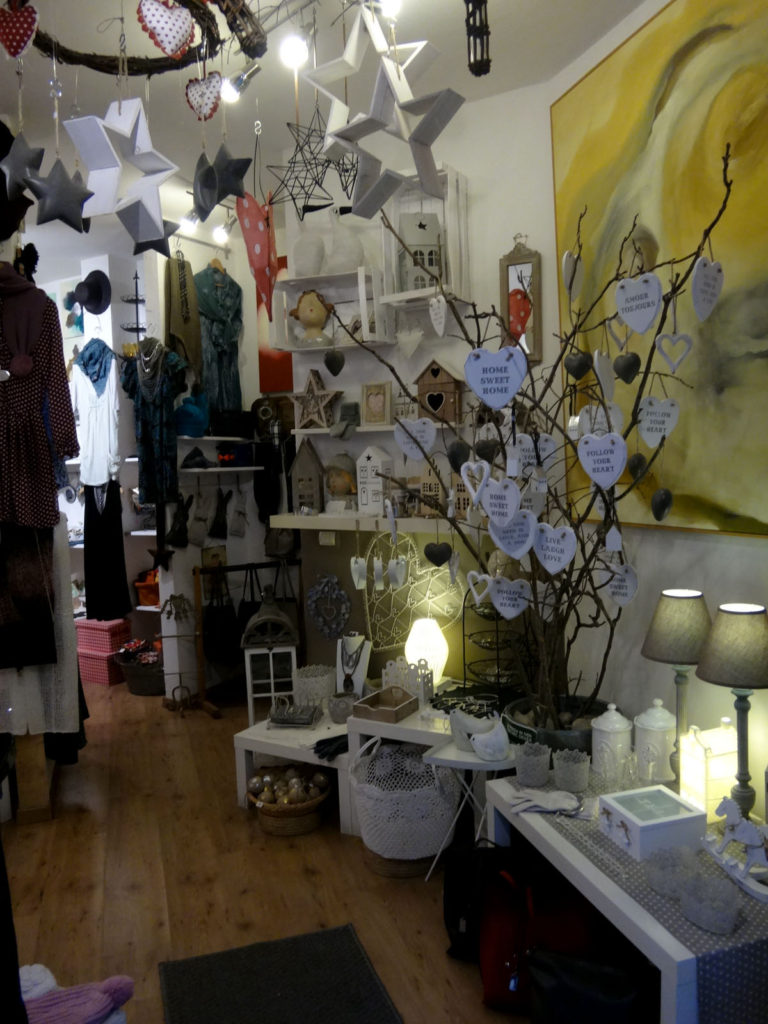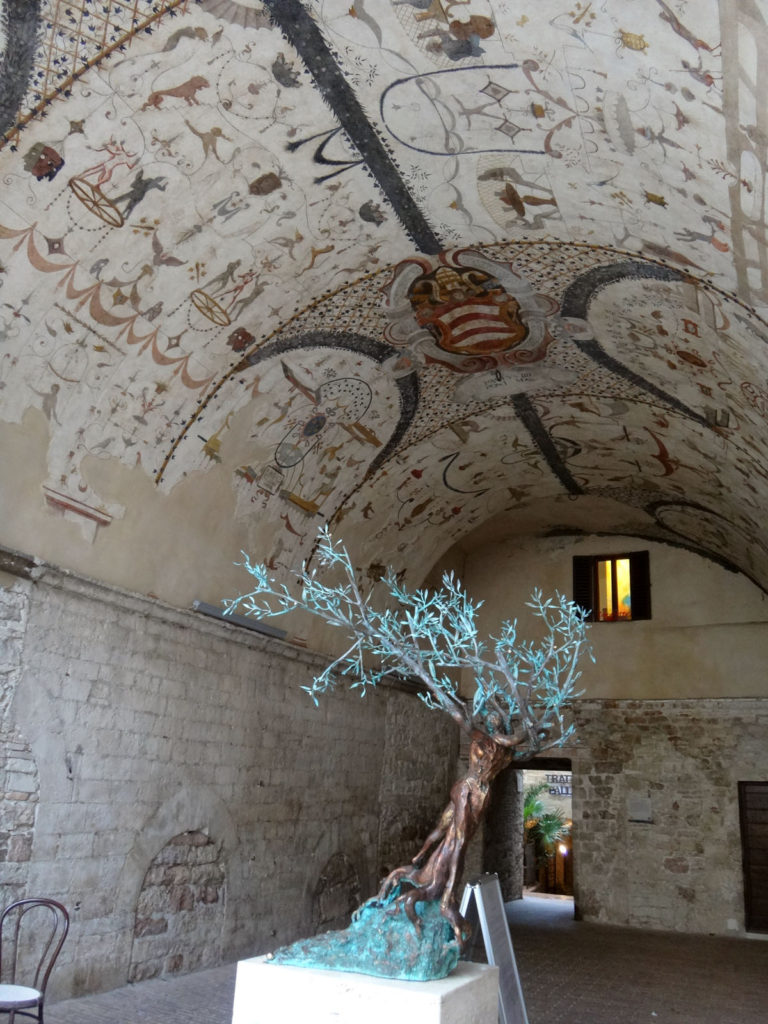 Assissi also features many monks walking the streets, often arm-in-arm with a visiting tourist.  I was never sure if they were proselytizing monks or monks-tour-guides-for-hire, or what, but they were prodigious and friendly on the streets of Assissi.  Rick Steves writes, "All over Europe I find monks hard to approach. But there's something about "the jugglers of God," as peasants have called the Franciscan friars for eight centuries, that this Lutheran finds wonderfully accessible. (Franciscans modeled themselves after French troubadours — or jongleurs — who roved the countryside singing and telling stories and jokes)" (Steves).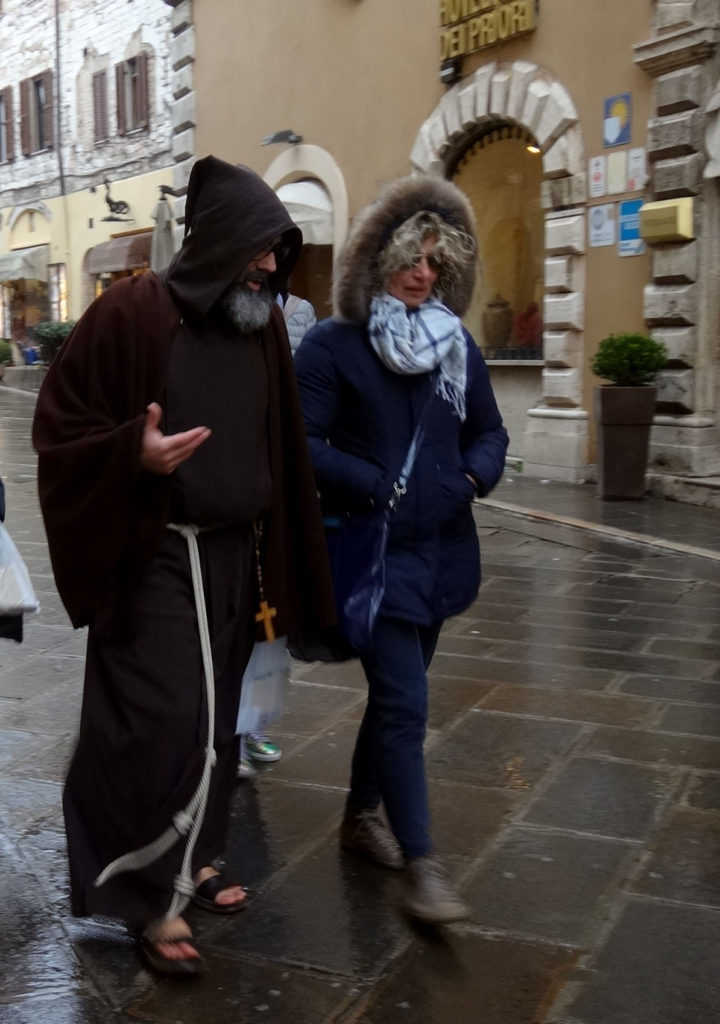 As we grew pscyho-glycemic, we began to search for a place to get out of the rain and enjoy a relaxing lunch.  We spotted this little Trattoria Spadini in a side street near the Piazza Santa Chiara and dashed in from the rain.  Many people laugh at the idea of a Tourist Menu, but we gamely ordered the tourist specials for 15 Euros and filled our tummies with superbly prepared food.  We also enjoyed the delightful company of two flirty bus drivers who accompanied some of the hundreds of students on tour of Assissi but chose to dine at the table next to us.  The old adage to eat where the bus drivers eat held true even in Assissi.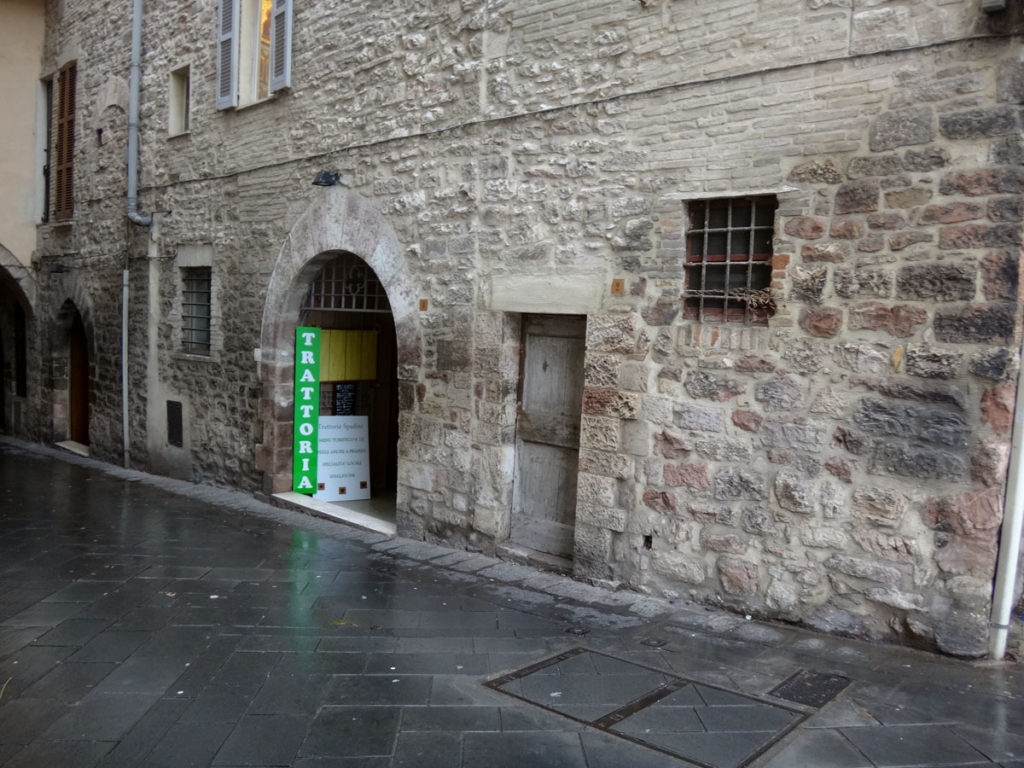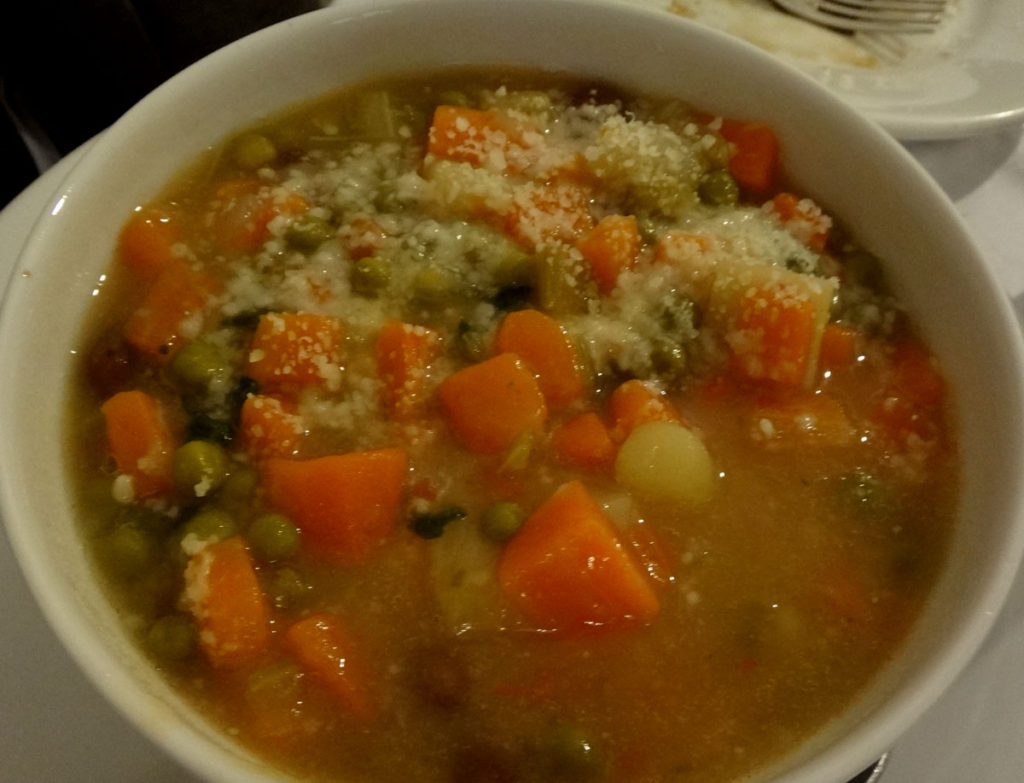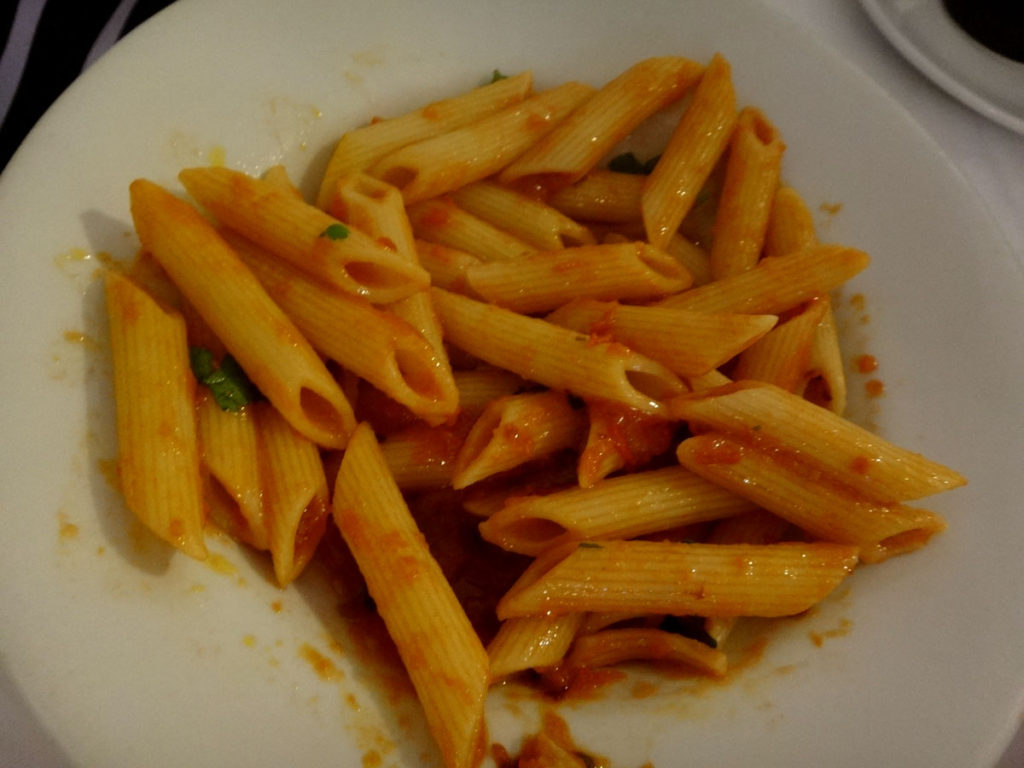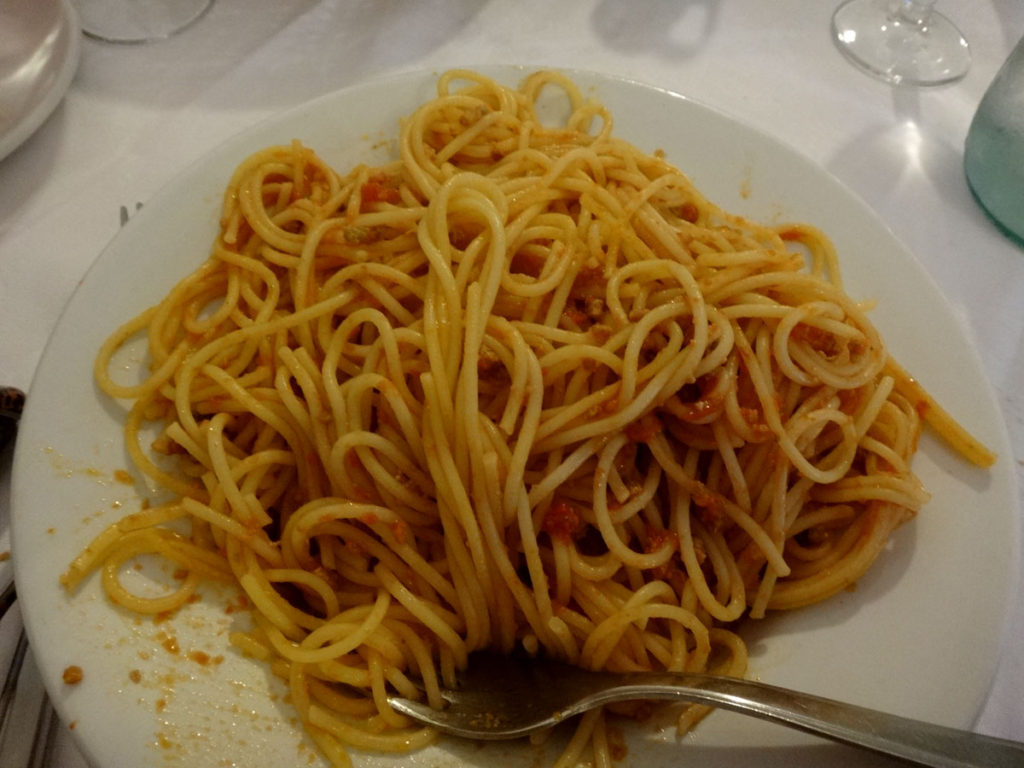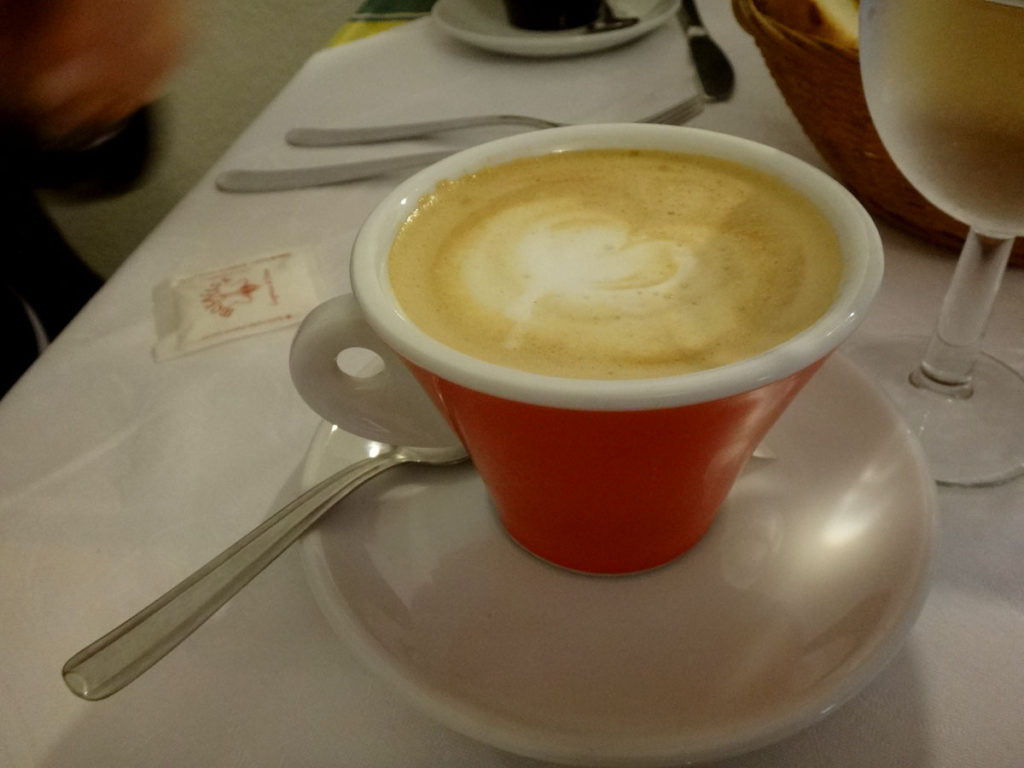 After warming up over our delicious lunch, we strolled to the Piazza San Chiara to see the Church of St. Clare.  We walked under lovely pink arches and came out on one of the large piazzas that Italians do so well.  I love these meeting places where people can gather to enjoy the sunshine and the company of others.  Empty in the rain, we treasured the quiet and enjoyed seeing the merry-go-round featuring a breast-feeding madonna.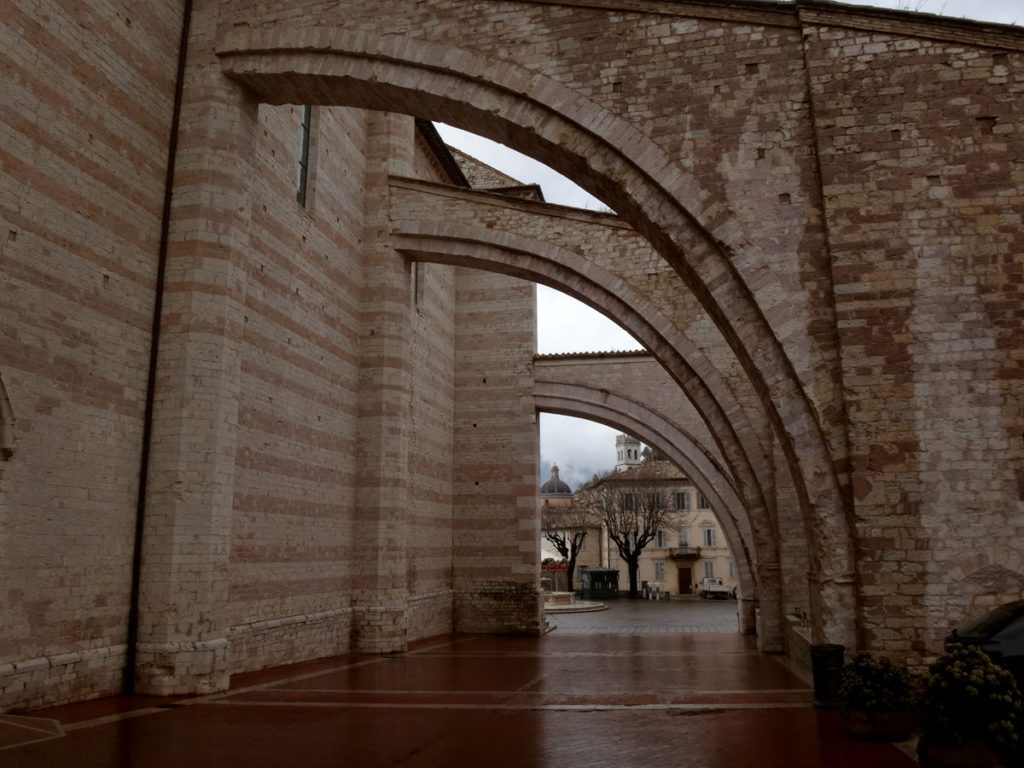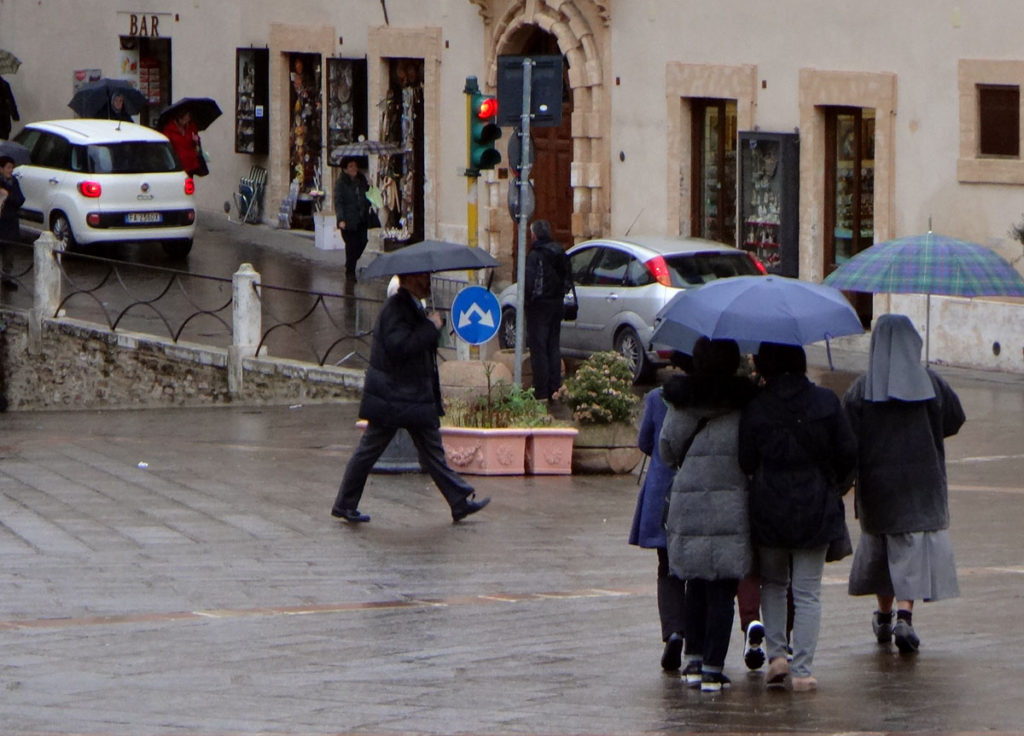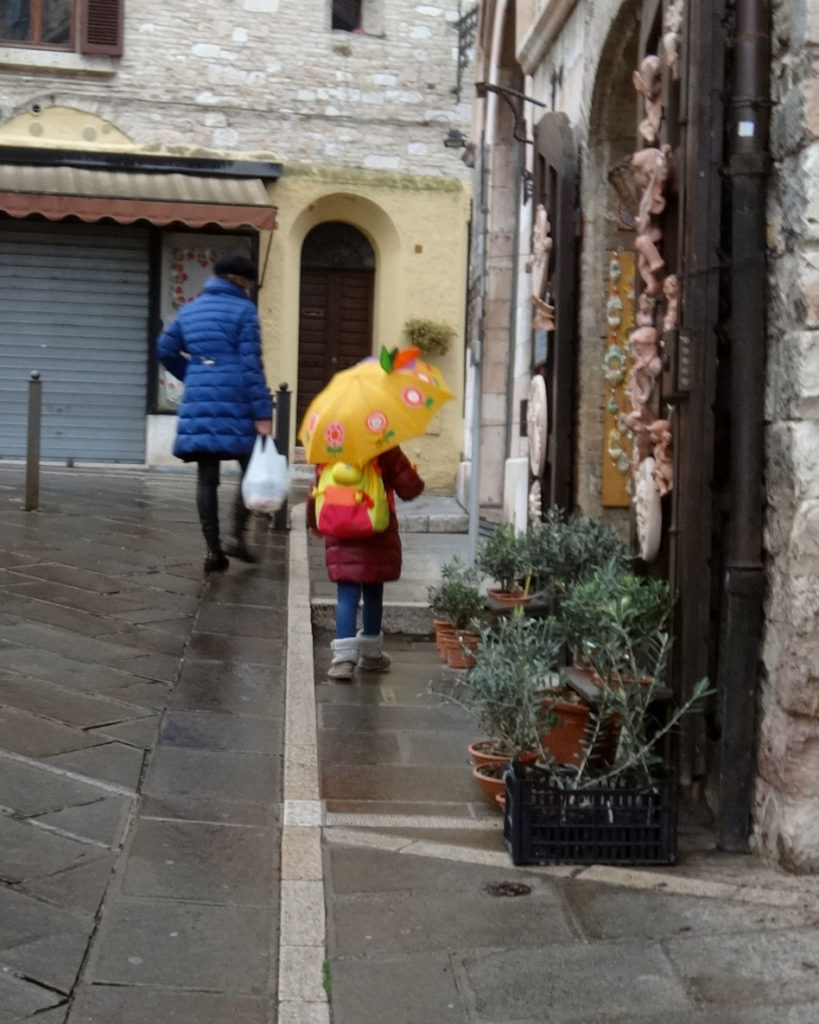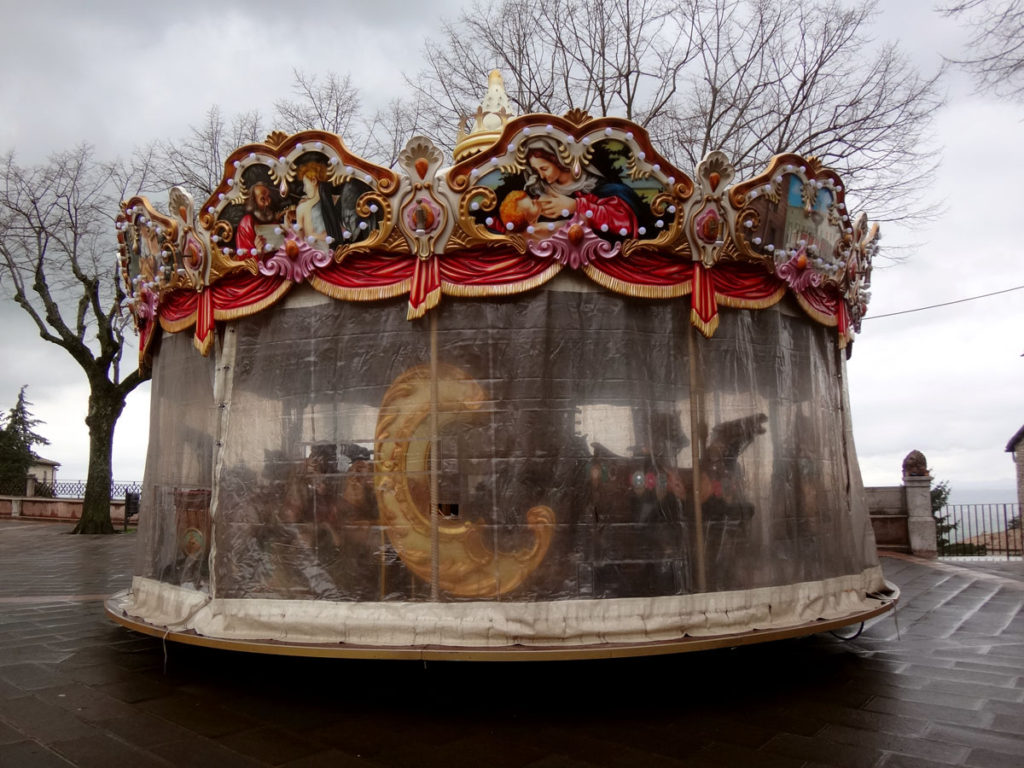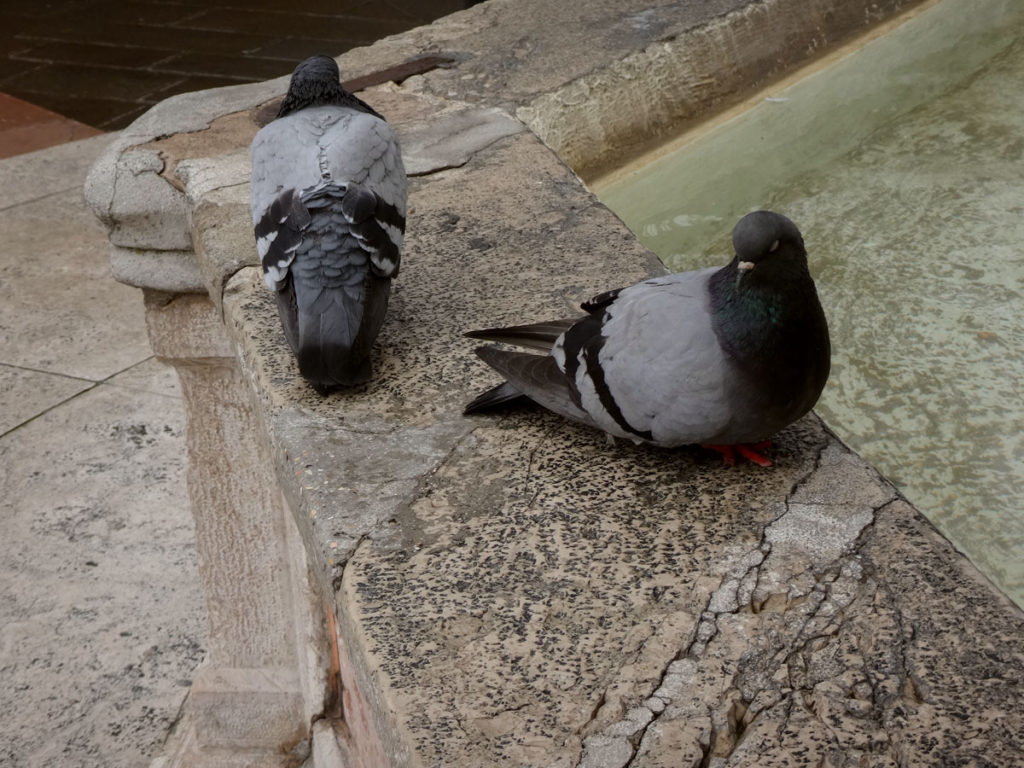 The Church of St. Clare is pretty and worth a quick breeze-through.  But we were tired of the cold, driving rain and intent on reaching the Cathedral of St. Francis.  So after a few minutes visit to St. Clare's, we continued wandering through the streets of Assissi and found ourselves at the Church of St. Stefano.
The rural Church of St. Stefano was built by local builders without a plan.  It's a typical Italian hill-town church built outside the city walls.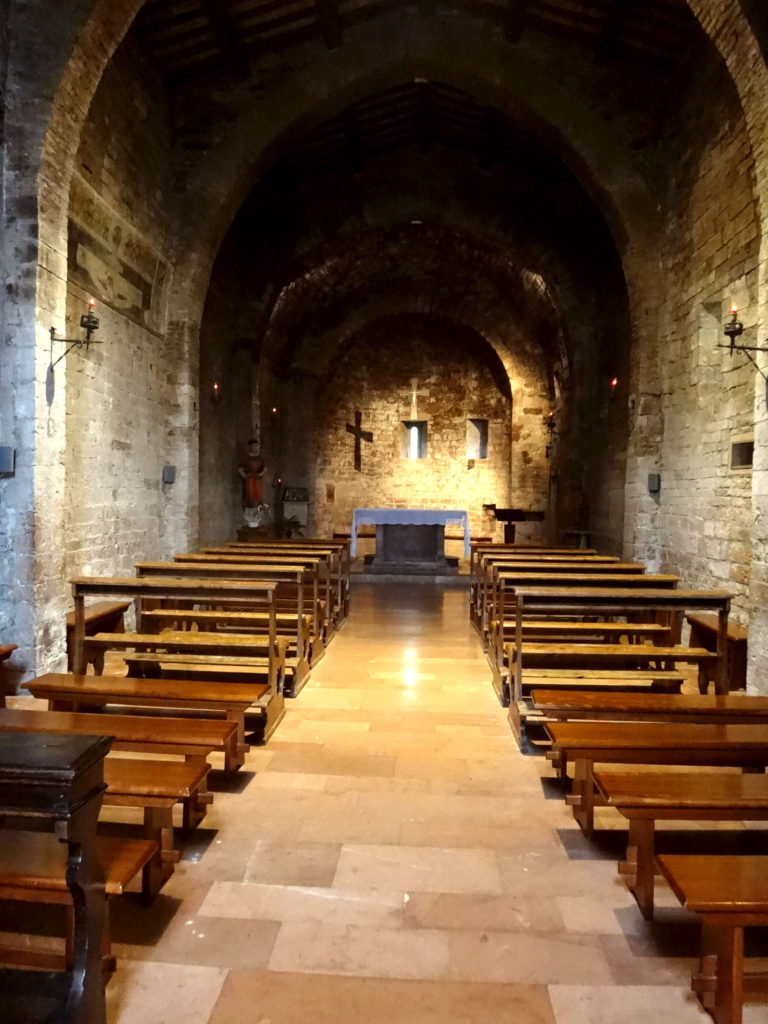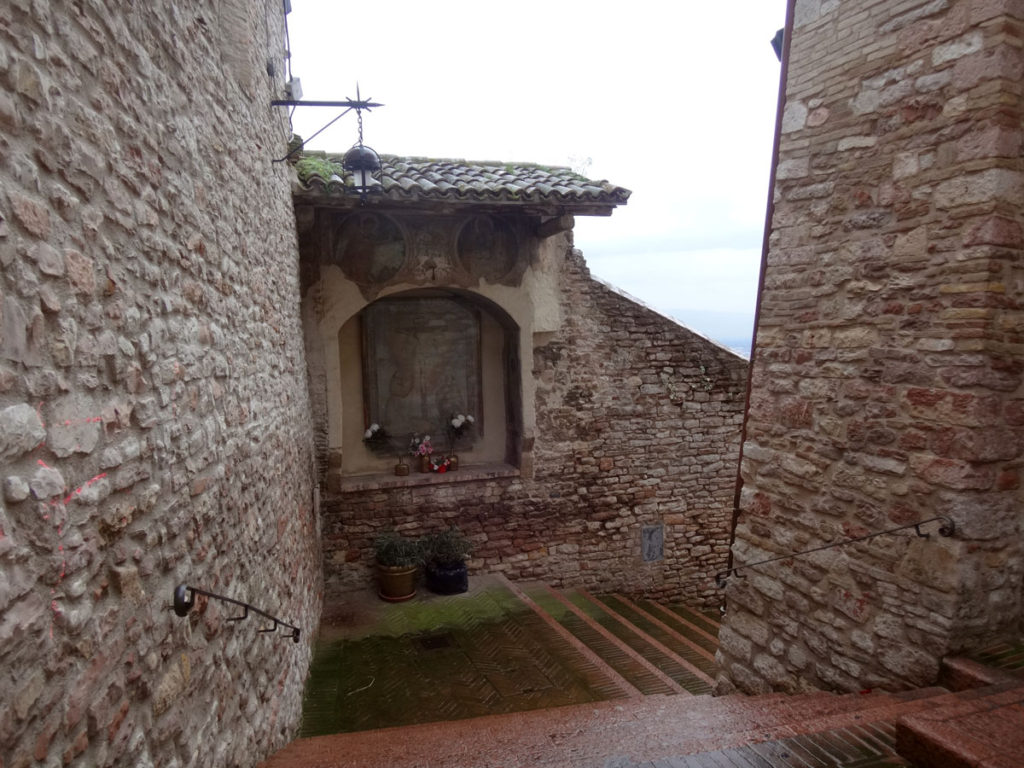 Most of Assissi was built on the ruins of an ancient Roman city.  The Temple to Minerva still stands.  We found students sitting on the steps, smoking cigarettes and ducking out from their roving chaperones.  Four boys, about 14 years old, laughed with us when we asked for a photo, and were friendly as they enjoyed their field trip away from school.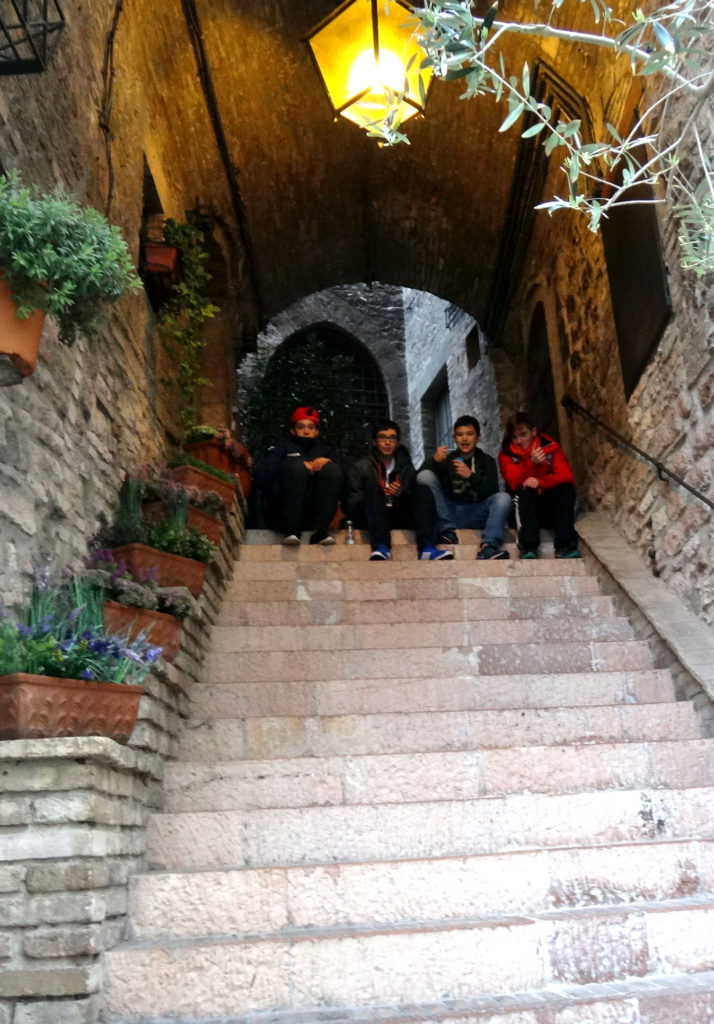 Located on the Piazza del Commune, the 1st century BC Temple of Minerva marks Assissi as always representing a sacred place.  The Temple once towered over the street but as the street was paved and repaved, the street just kept getting closer to the Temple.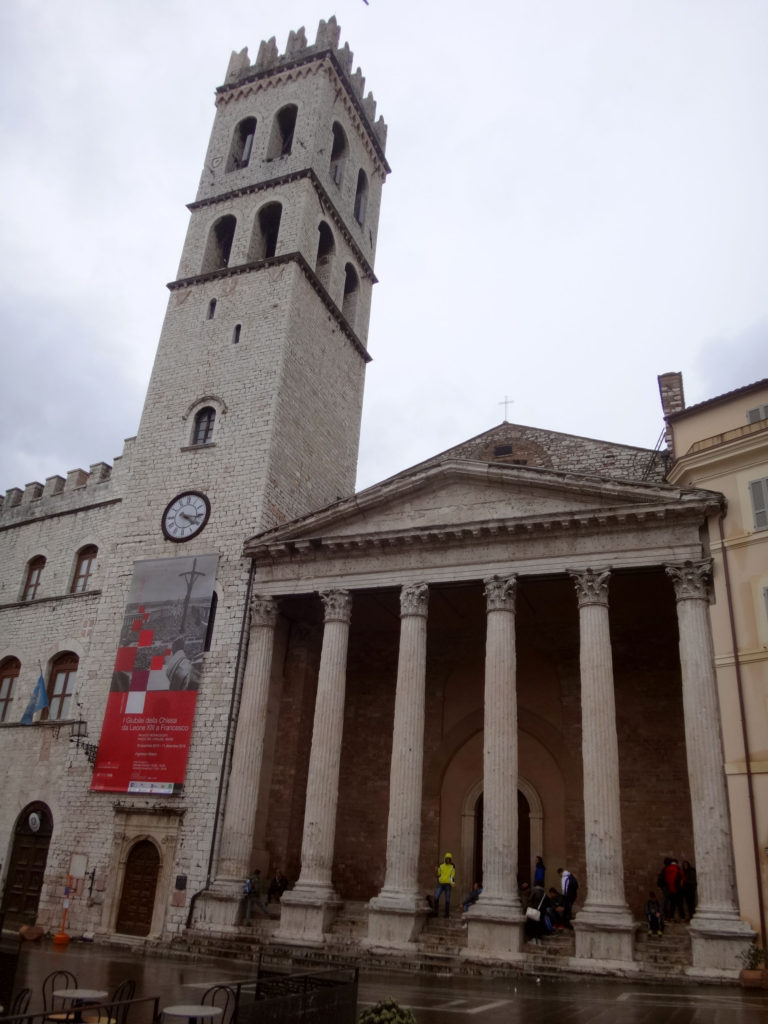 The very first Nativity scene, or creche, was created by St. Francis.  I love beautiful creches and enjoyed seeing the many creche displays located throughout Assissi.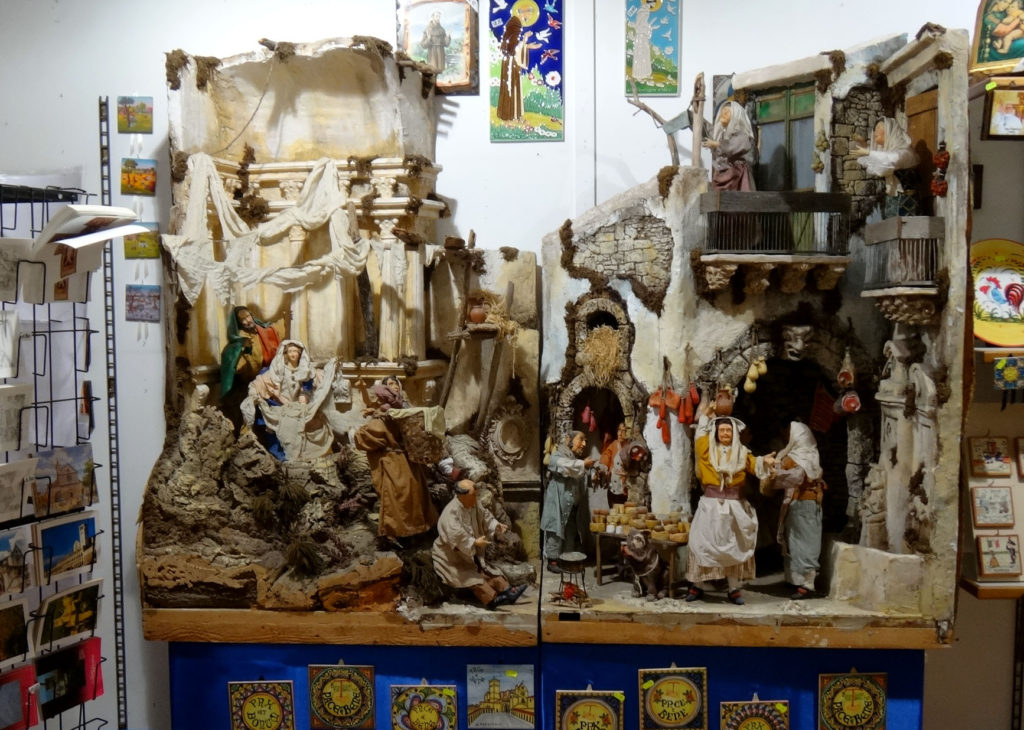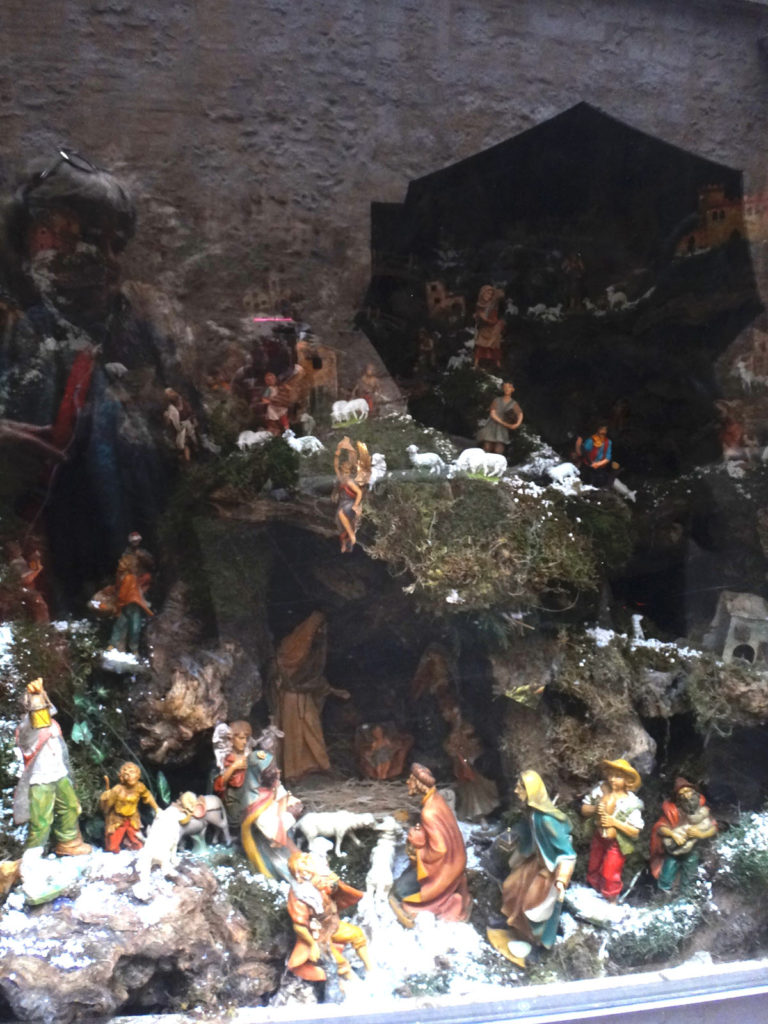 Here's my nativity scene that I put up every  Christmas.  My parents gave me nearly every Lenox piece and my father built the stable, one of my very favorite possessions.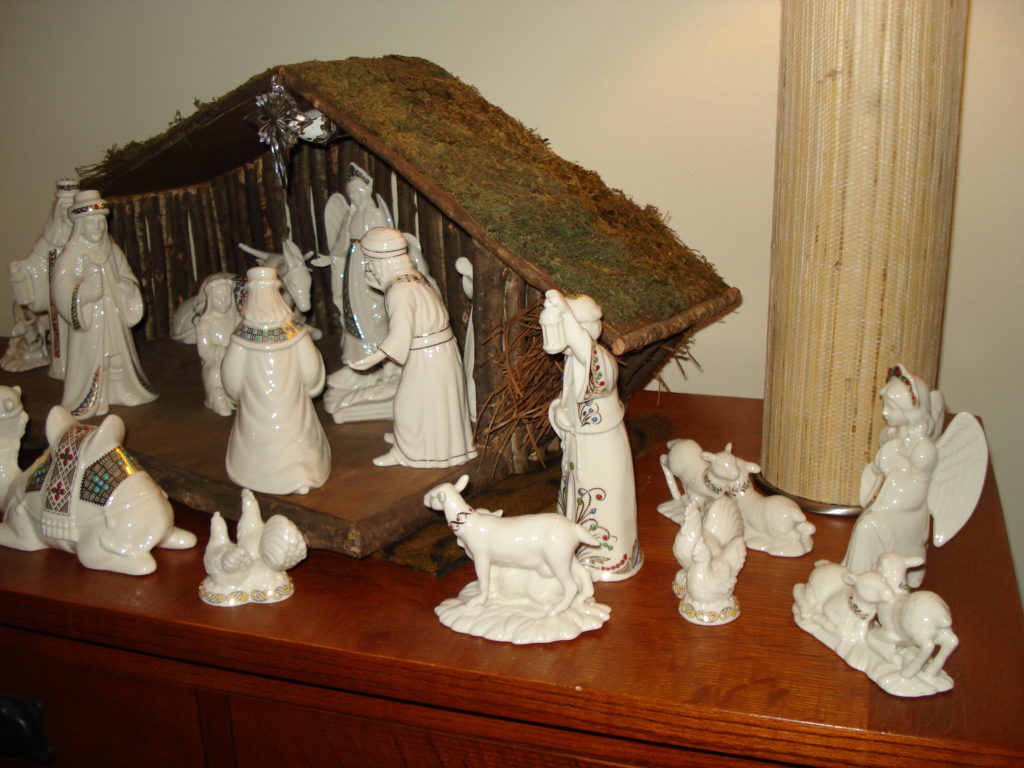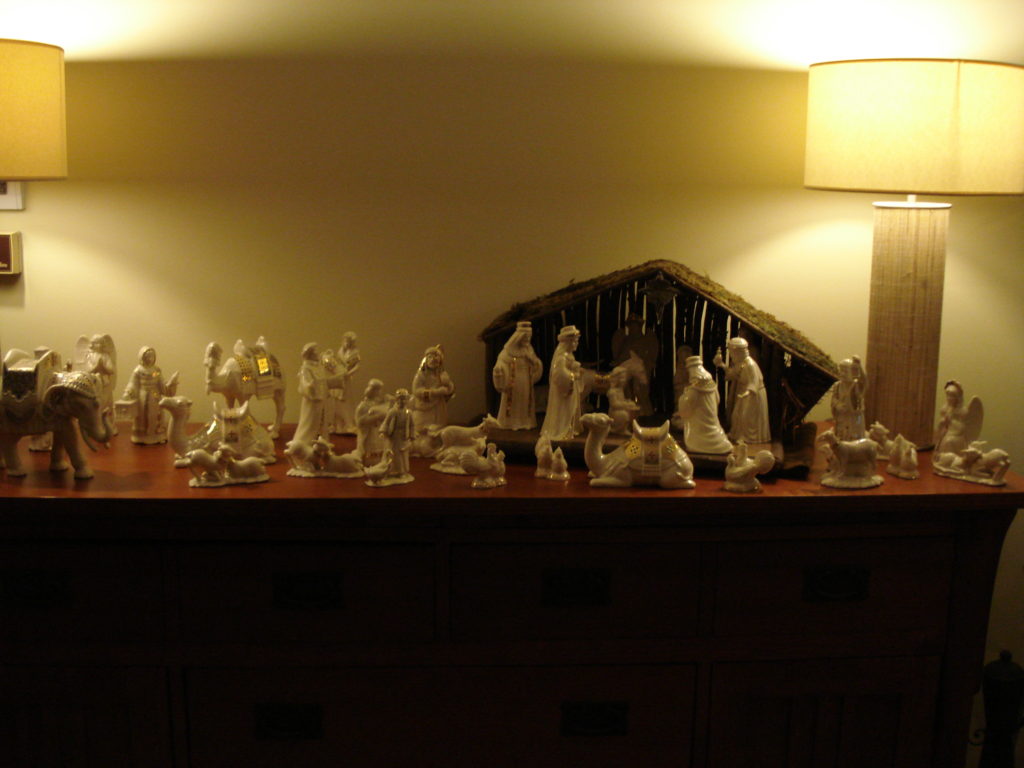 And now, on to the Basillica of St. Francis of Assissi!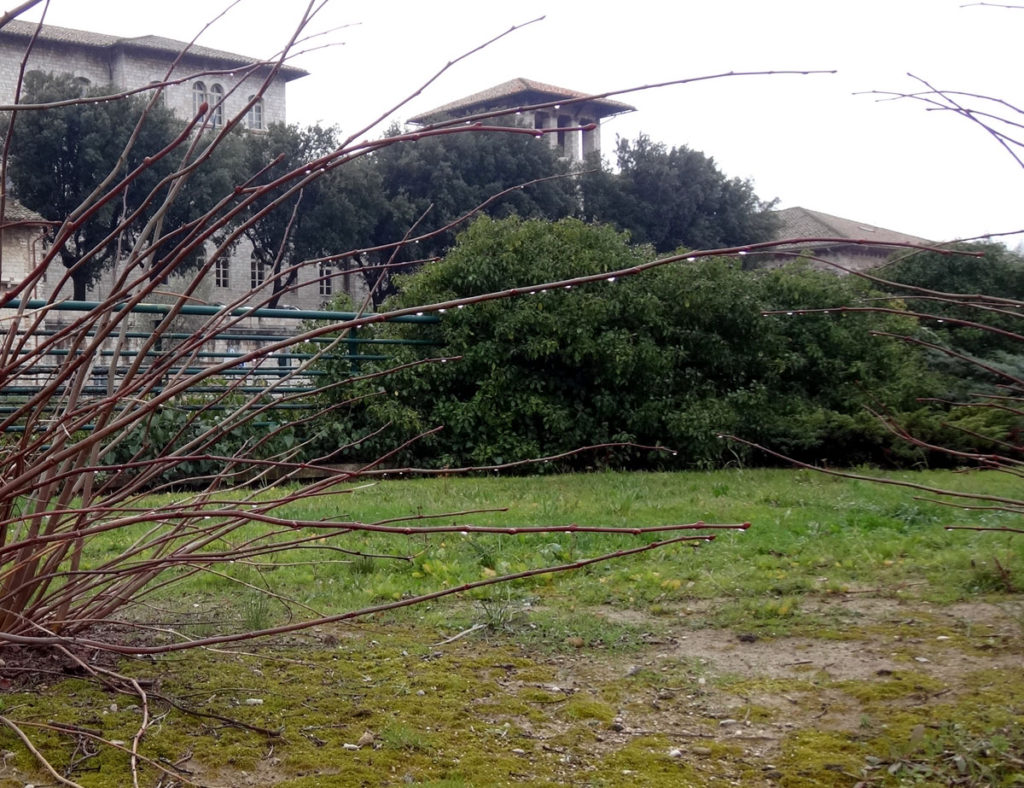 Just one closing thought:  Why is that every time I type out the word "Assissi" I keep wanting to spell "Mississippi?"
Sources
Steves, R. (n.d.). Franciscan Friars and Tourists Share Assisi. Retrieved from Rick Steves' Europe: https://www.ricksteves.com/watch-read-listen/read/articles/franciscan-friars-and-tourists-share-assisi