3 Culture  1 Churches  0 Castles   +++ Chocolate 18,439 steps
Grand Place
The Grand Place (The Grote Markt) is the centerpiece of Brussels.  Tourists twirl around the center of the square, snapping photos and shooting video.  Gold gilt trims the fairy-tale scene.  Graceful statues hunch into the facades of heavy, curleycued buildings.  Look up!  Winged sculptures balance on the rooftops.  You can't go wrong taking pictures here – every angle in every direction is photogenic.  Now add to all this beauty the gentle waft of sugar:  waffles and chocolate tickle your nose as you walk through the square.  This is like cuddling with sugar plum fairies on Christmas eve.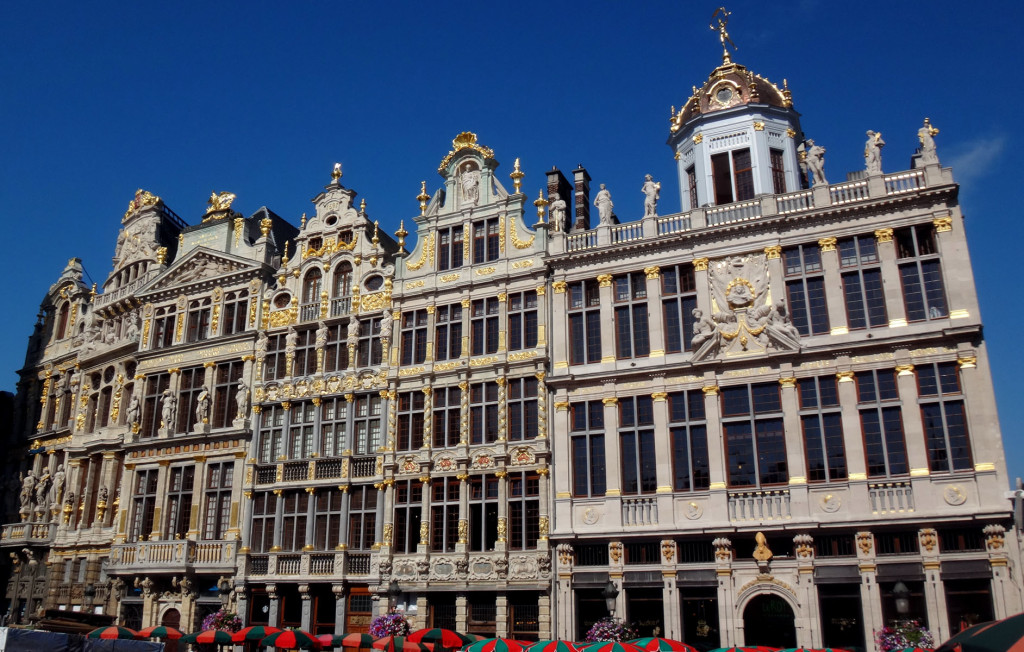 There's another side to Brussels equally enchanting.  It's the European Union Parliament located on the other side of Brussels.  I mean, really? Gold, chocolate AND power?  It's enough to make a girl swoon.
Let's start with my main reason for visiting Brussels:  the European Parliament.  Then I'll move on to fantasy, shopping and dessert. My daughter Megan has taught me how to spell dessert – as opposed to desert – there are more s's in dessert because you always want more. Maybe that's why Brussel has two s's – I want more!
European Union Parliament
The Parlamentarium is located two transfers by subway from the central train station.  It's the visitors center for the Parliament of the European Union. A friendly gentleman on the train helped me switch trains and then got off at the last stop to walk me towards the Parliamentarium.
The Parliamentarium is located on a large plaza surrounded by tall, glass buildings in the new part of Brussels.  I always think of Brussels as old stone buildings and gilt so I was surprised to see soaring blue glass office buildings in the downtown.  Once I realized that the old town is more for tourists and shopping and the new town is for business, I began to discover this split in cities throughout Europe.  Of course Europe is new and vibrant.  It just had never registered with my view of the  old country.
I absolutely loved the Parliamentarium.  Because of my visit, I better understand the roots of the European Union.  The EU is so much more than open borders and common currency.  It's about peace.  Because I report on the Parliamentarium extensively, I've created a separate blog.  If you wish to read more, please visit Parliamentarium.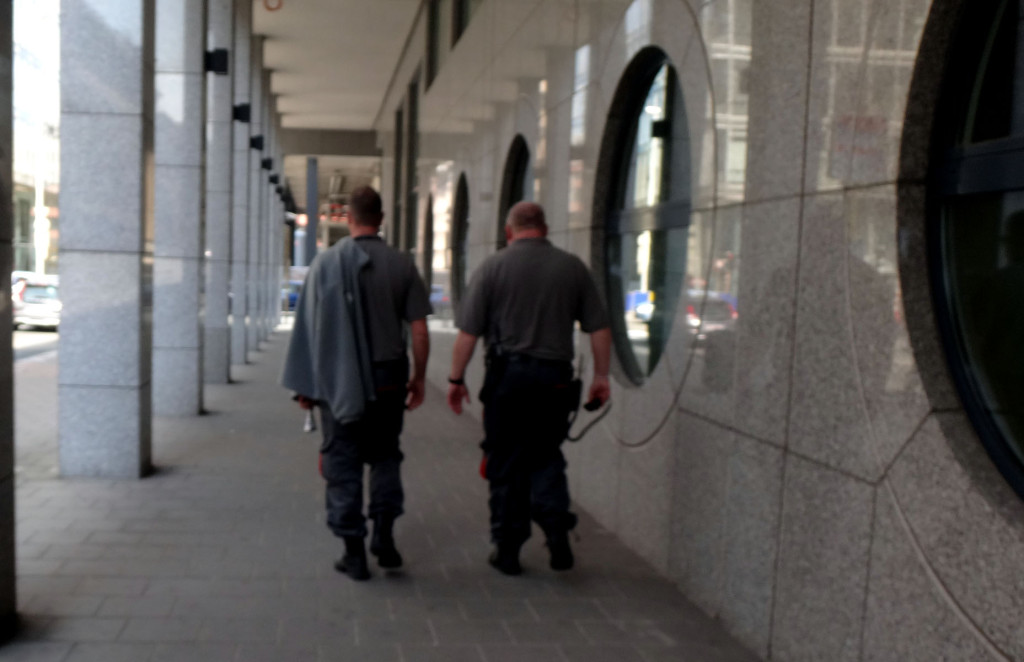 Security was visible throughout the city and I always felt safe everywhere I walked, even when I was alone at night.
Streets of Brussels
You can buy anything in Brussels as long as it is beautiful or it's chocolate.  There are more small shops than big made-in-China stores.  The shops are intriguing with winding interiors and rich appointments.  Each shop tries to be more inviting than its neighbors, drawing customers in with a mix of luxury, whimsy and quality.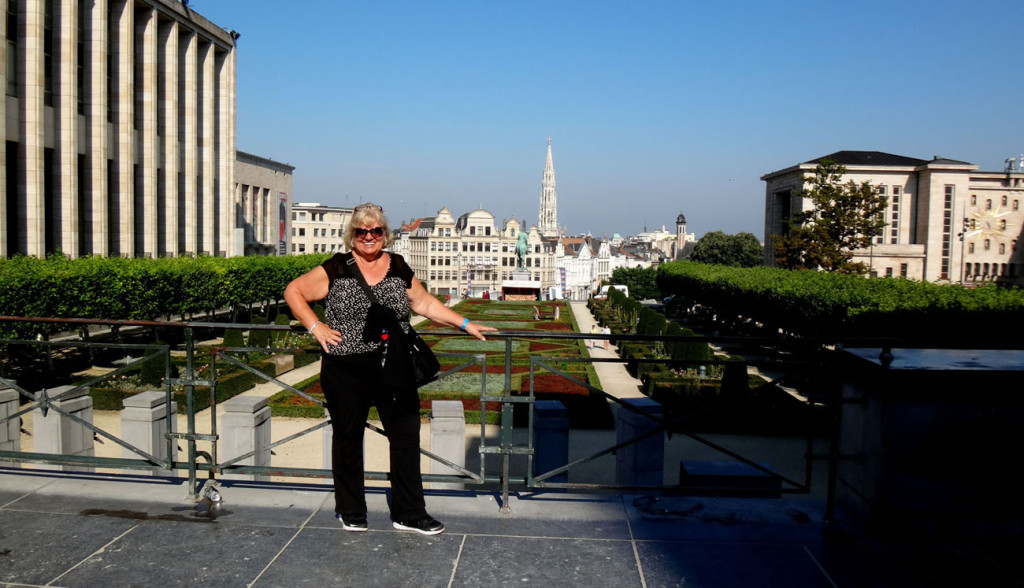 This is a view from high up a hill overlooking the city. I am standing in the plaza of the Mont des Arts, an area heavily laden with museums and galleries.  No time for a visit this time around but I will be back!  You can see the spire of the Brussels Town Hall right in the center of the photo.
We met two American women traveling together who were absolutely charmed by Brussels.  They gave us tips on shopping and sightseeing and pointed the way down long flights of stone stairs and twisting streets to reach the chocolate center of Brussels.  They were smitten by the city and wished us well.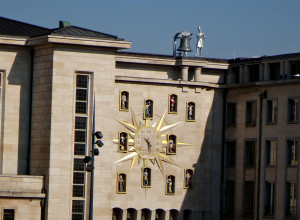 Right next to where I was standing in the photo above is this building in Brussels featuring the clock mont de arts.  Characters were built into the wall around the clock, a bell on the roof rang the hour, and a man with a cane stands next to the bell but I have no idea why.  He is called the Jaquemart.  A series of bells ring the hour and at 12:00 the figures used to come out of their niches.  They don't do that any more but it is still a beautiful clock.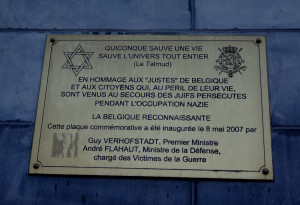 Right across from where I am standing at the city overlook, this plaque was mounted on the wall.  It recognized the Jews of Belgium who were persecuted during the Nazi occupation.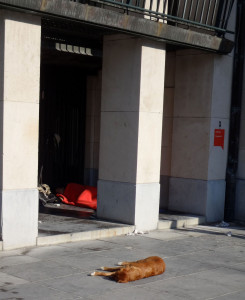 Just to the left of the plaque slept a homeless person bundled in a pink blanket.  His dog slept nearby on the plaza.  (He could have been a tourist without reservations but he looked liked he was pretty settled in and no one bothered him as he slept in the early morning sunshine.)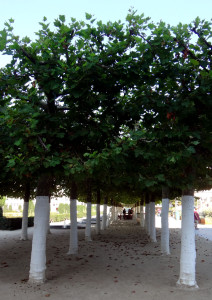 As I descended the plaza, I got to walk under this canopy of trees in the long park that leads to the Grote Markt.  People were setting up long tables covered with cloths under the trees.  I got the feeling they were setting up for a wedding feast but perhaps it was just an outdoor cafe setting up for the day.  Chocolate called so we did not stick around to see.
Grote Markt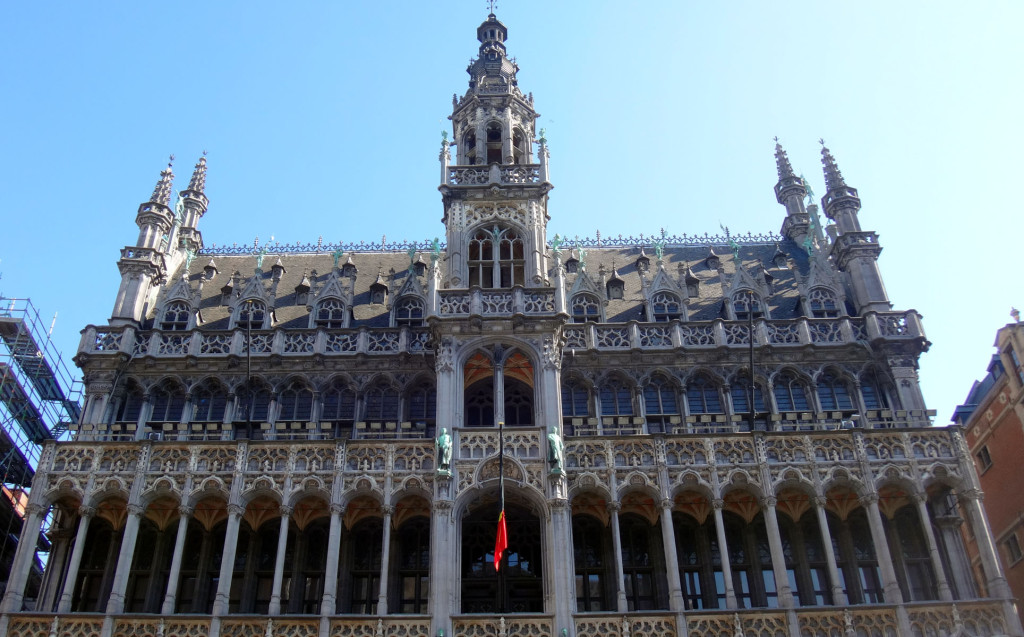 The Grote Markt is the central square of Brussels.  The Grote Markt is Brussels' Grand Place.   EVERY building is gorgeous and coated in flourishes and gilt.  You can turn in a full circle from the center of the Market and see nothing but beautiful gold and stone.  You would think it could not get better than that, but as you turn, your nose picks up the scent of chocolate wafting from every corner of the square.  This is, indeed, a grand place!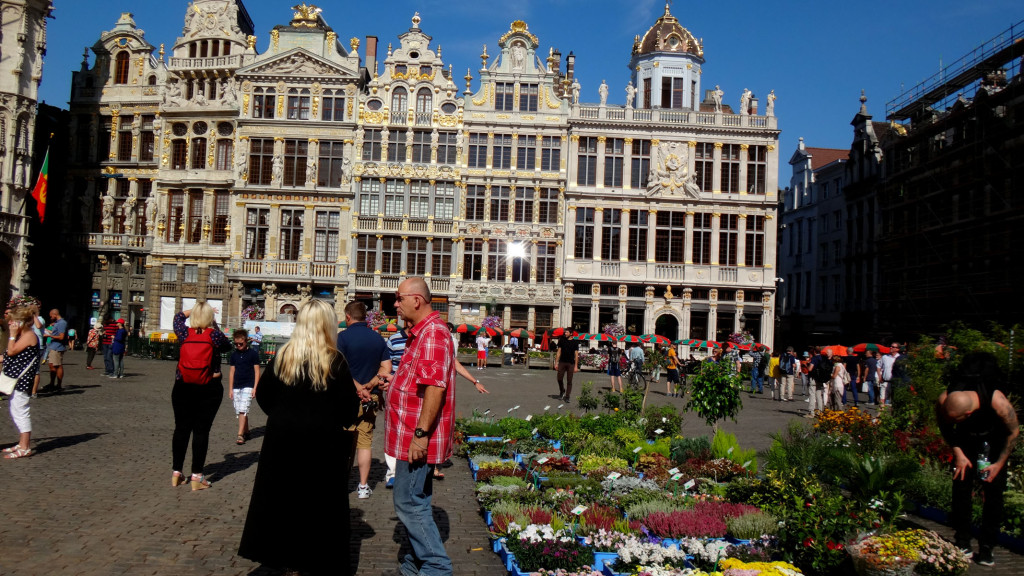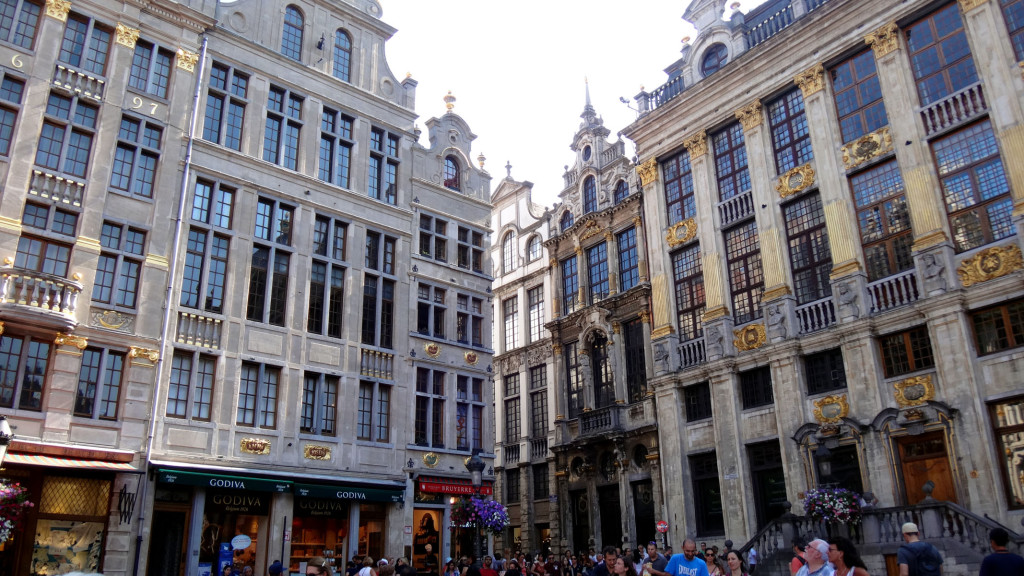 Comic strips and street signs
These images are a sample of the many signs posted high above eye level throughout Brussels.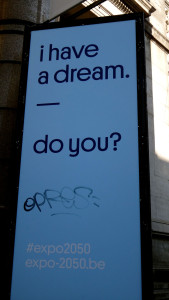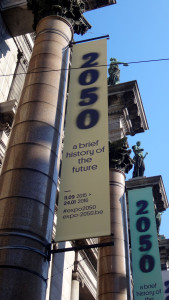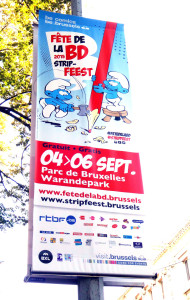 The image above is for the Strip Feest – a celebration of comic strips.  Belgium is known for its love of comic strips (some call it the comic capital of the world) and the Smurfs are huge hits here.  You can buy a map at the train station that shows you where to find comics and comic graffiti; it costs about 50 cents.   I prefer the chocolate tour.
Buildings of Brussels
So much time, so little to do.  Wait. Scratch that. (Willy Wonka.)  Thank goodness it was Sunday and these buildings were closed.  There just was not enough time to see everything in less than a day.  Still, we admired the architecture as we quickly walked by.
One smart thing we did was to start at the top of Brussels and walk downhill through the city.  It was hot and humid on this last day of August and at least we had gravity on our side.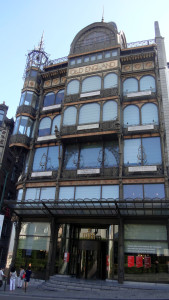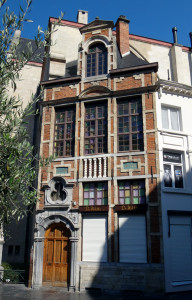 Subway
The subway is fast, safe and clean.  The Jump ticket is just 7 Euros for all-day transportation.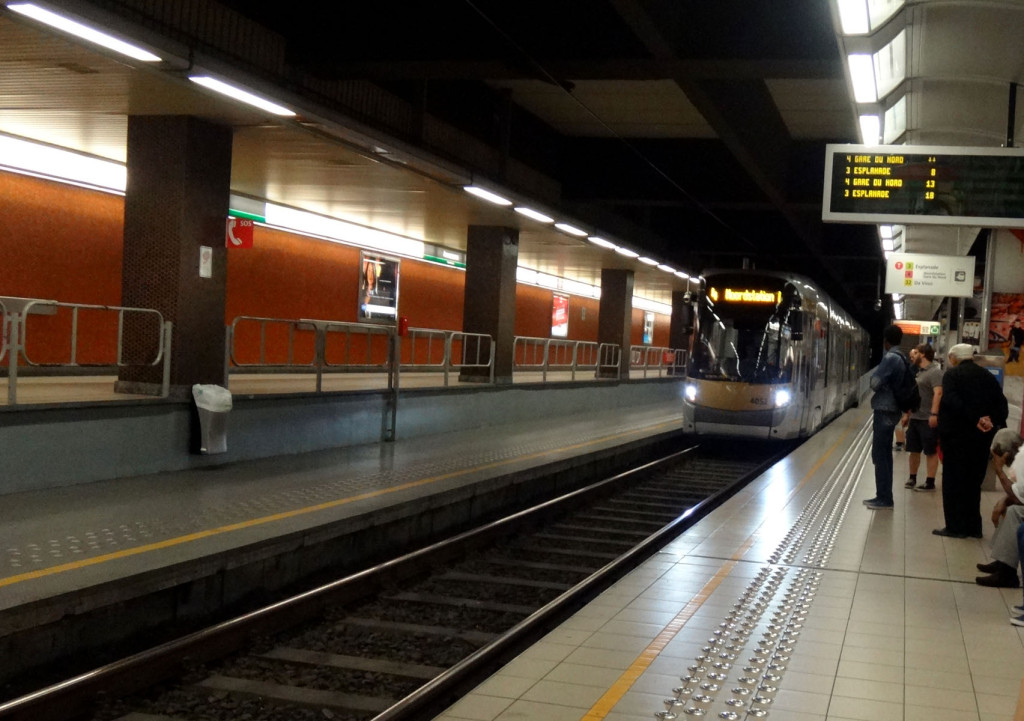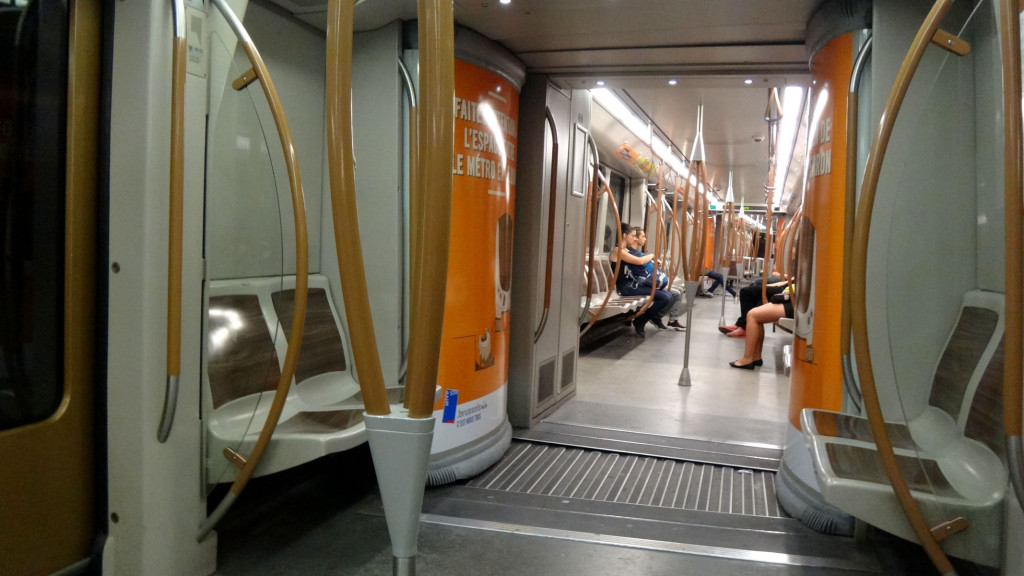 The cars are open one to another so when riding on the subway, you can look forward and back and see every part of the train…..except when the train goes around corners.  Then it's pretty strange to lose sight of the front or the back of the carriage and have to wait for it to "catch up" with the rest of the train.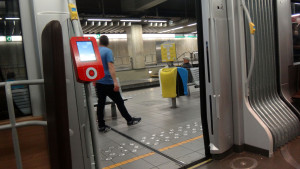 See that little red box in the photo above?  You have to punch that button to open the doors of the train.  Some of the older cars had handles but most had the push button feature.
Musée Royaux des Beaux Arts
We were traveling fast but did not want to miss the Royal Museum of Fine Arts.  It was an easy trip across town on tram 38 using my JUMP pass.  The grounds were burned out from the heat of the summer but people still lounged on the crisp lawn and visited with one another.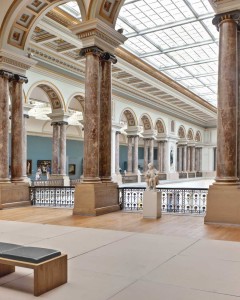 I always map out the paintings I want to see so I can move quickly through the museums I visit and not regret missing something important during my rush. In addition to ancient 14th-18th art,  I scheduled myself to see a Jacques-Louis David painting: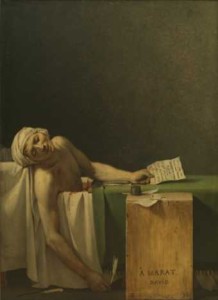 This painting is housed in Belgium because the artist David took it with him when he was exiled from Paris after the fall of Napoleon.  David, the master painter of the rich and powerful in Paris, supported Marat, a radical journalist and a leader of the French Revolution.  Marat had more than 200,000 of his political enemies executed on the guillotine before 24-year-old Charlotte Corday snuck into his bath and stabbed him to death to stop the killings.  Corday was guillotined the day after Marat's funeral.  David gave this painting to the Republicans but when they turned their backs on Marat two years later, they returned the painting to David.  David then became a Napoleon supporter but was ousted to Belgium when Napoleon fell. (thanks to 149 Paintings you really need to see in Europe).
This is why I love old art so much.  You can admire the painterly olive green blanket contrasting the deathly palor of Marat's skin but there's also a story behind the painting.  It's what the artist does with the story that I find so fascinating.  In life Marat had a terrible skin disease and withered arms but David painted a flawless, robust body to honor the man because Marat's supporters "want to see again the features of their faithful friend" (Jacques-Louis David).
Mannekin Pis
"Manneken Pis is a landmark small bronze sculpture in Brussels, depicting a naked little boy urinating into a fountain's basin. It was designed by Hiëronymus Duquesnoy the Elder and put in place in 1618 or 1619" (Wikipedia).
We had to walk a long way to find this little statue of a pissing boy.  There did not seem to be a direct route from the beautiful Grot Markt to the statue.  The streets turned along curved rows of buildings or seemed to be located around graceful squares.  That meant there was no sight-line to see a clear path to where we wanted to go.  This is what it looked like as we searched for a small pissing boy in a courtyard nook: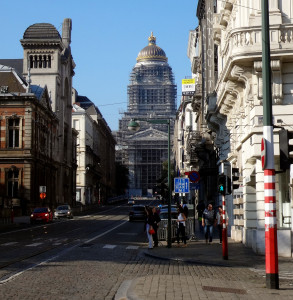 This is a pretty typical street view with cobbled walkways.  Those cobblestones are tough on the feet and ankles!  But the streets and walkways are immaculate.  Scaffolding such as that seen on the building above is everywhere in Brussels.  I think they must be rebuilding the whole city.
When we found Mannekin Pis, he was dressed in a Spanish costume.  Remember how it used to be the rage to dress geese back in the 80's?  Apparently little boy Pis is dressed for special occassions and you never know exactly what he'll be wearing on any given day.  Manneken Pis is so popular that he's even made out of chocolate and china and sold as a souvenir.  Having raised two boys and having cleaned a fair share of bathroom floors where the boys missed sinking the cheerios in the toilet bowl, I'm left wondering, what's the attraction?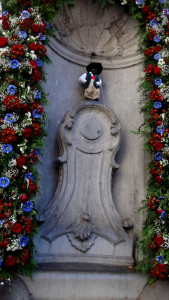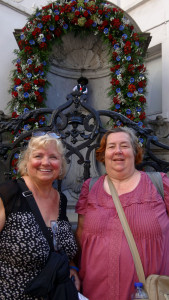 Along the way we saw lots of souvenirs for Mannekin Pis.  I took photos but made no purchases.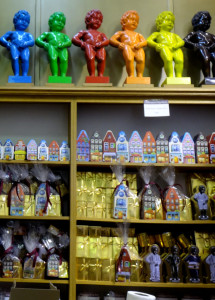 Sablon
We started out our day by shopping the Sablon antique market, the oldest antique market in Europe.  The market is held in the shadow of Notre Dame au Sablon. This market featured about 100 booths with exquisite merchandise matched with somewhat high prices.  Alas, no room in our luggage.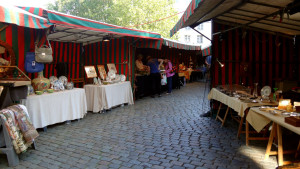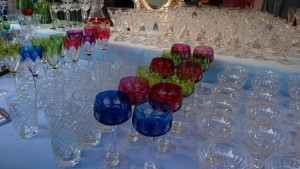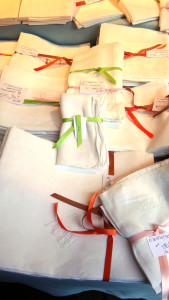 Notre Dame au Sablon (The Churck of Our Lady of Sablon)
You didn't think I'd visit a city and not visit at least one church, did you?  Here you see Notre Dame au Sablon, the church of Our Lady of Sablon.  Built in the 15th century, this church was once used by the wealthy and the noblemen of Brussels.
I approached the church early on a Sunday morning and thought it was closed until I noticed a person walking out a funny side door set at a 90 degree angle to the ornate huge entrance doors, which were locked.  I pushed on the little side door, stumbled into the church, and discovered a cavernous space heavily decorated with ornate church items:  chairs, statues, and a massive organ.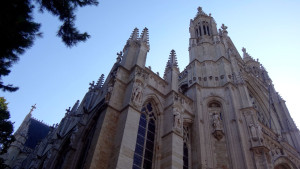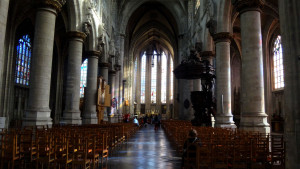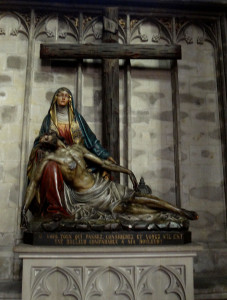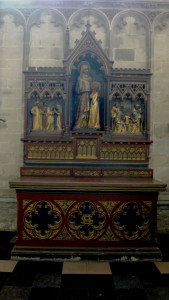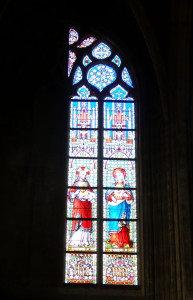 I've heard that the Renaissance churches where built to inspire people to believe in God through Gospel stories often told in stained glass (most people could not read and books were costly).  The organ was large and loud, meant to remind you of the voice of God.  I like to imagine a young priest telling the story of, say, Daniel in the lion's den, as he points from one image to the next to illustrate his story.  When his story is finished, the organ comes alive, inspiring believers to understand the glorious rewards that await them in heaven.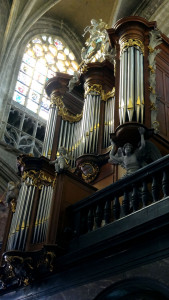 Royal Saint-Hubert Galleries
The  Royal Saint-Hubert Galleries reminded me very much of Cleveland's downtown galleries, built about the same time in the USA.  Both galleries have small shops on the lower floors and housing on the higher floors.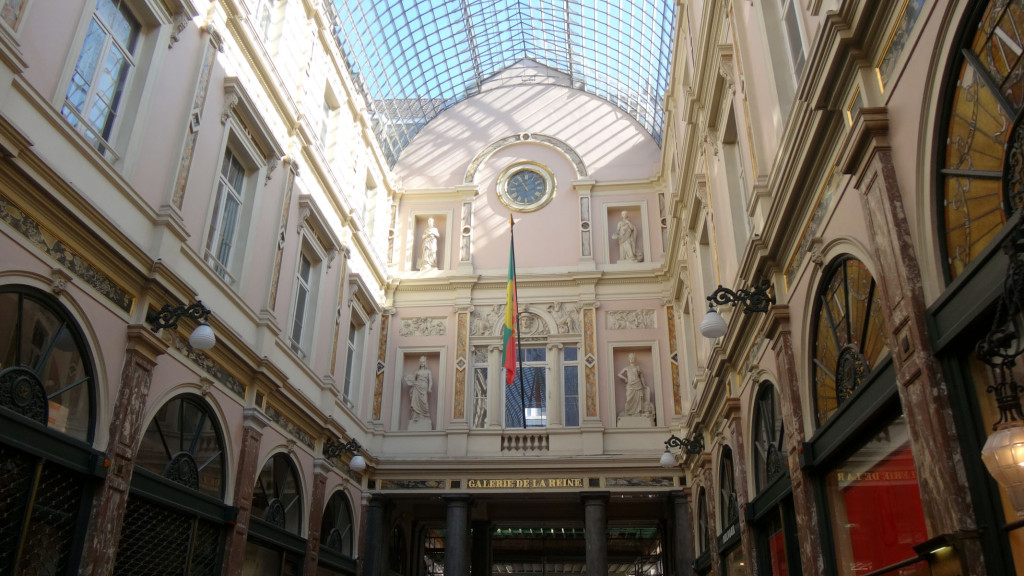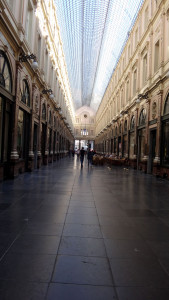 An informational sign at the Galleries said:
"Designed as a connection between two commercial poles, this monumental covered gallery was one of the first of this size built in Europe.  Inaugurated in 1847, the Galleries were designed in 1838 by J. P. Cluysenaar.  Both street and monument, the Galleries fulfilled commercial as well as housing functions and also had a social and cultural dimension, notably housing two theaters.  Built in Italian Renaissance style, they also bear witness to the prowess and the innovations of steel and glass architecture."
The best part of the galleries was lots of little chocolate shops.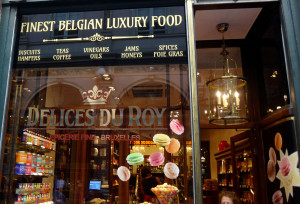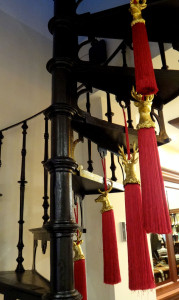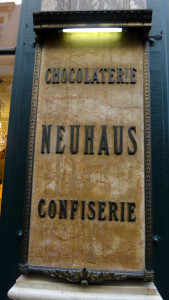 Chocolate and Waffles
Were you reading through all my Brussels report just to get to the chocolate?  I wish I could wrap up a piece of this deep chocolate treasure and hand it to you right through the internet.  Instead, you'll just have to see my photos and imagine fresh, sweet creamy fillings dipped into pure chocolate that is barely firm at room temperature.  It truly was as good as it looks plus each little packet of chocolate was exquisitely packaged, making a doubly delightful gift.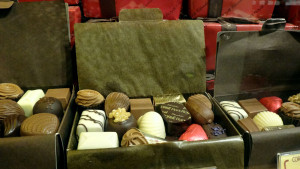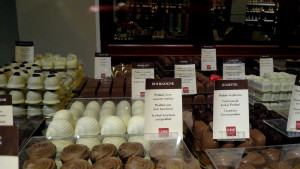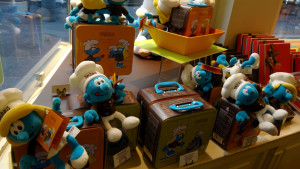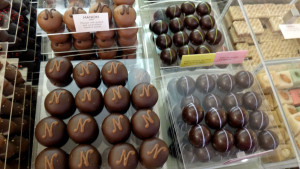 We created our own chocolate crawl which was super easy to do because chocolate was sold everywhere!  You can watch people making chocolate but most store clerks seemed to busy to stop to answer questions.  Here are some of the shops we stopped by:  Godiva, at #22, Neuhaus, at #27, Gallery at Rue au Beurre #44 (just off the marketsquare), Leonidas at Rue au Beurre #34.
Woman cannot live on chocolate alone, and so waffles were invented.  Light, sweet, and totally yummy.  They're also a real bargain at about 1 Euro each.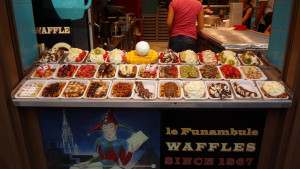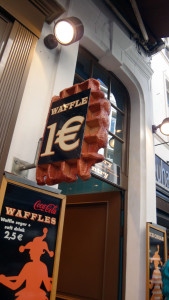 Modern Brussels
Government in important in Brussels and huge, concrete buildings house government for both Belgium and the EU.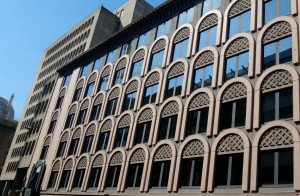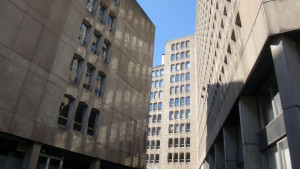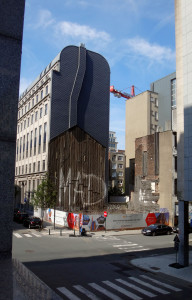 High-rise housing is under construction throughout Europe including this complex in Brussels.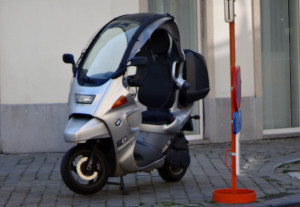 Motorcycles and small cars are popular for moving quickly through the cities.  Since we visited on a Sunday, the streets were not crowded with commercial traffic but we did get to see a contemporary enclosed motorcycle.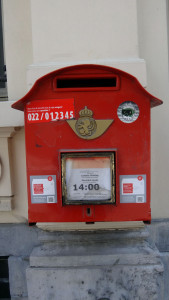 If you want to mail cards and letters, look for a little postbox like this one.
Euthanasia
So here I am in this gorgeous country with civil residents who graciously share their tidy city.  Not only is it home to chocolate and extravagant buildings…. Belgium is also the place where five people choose to die each day with medical assistance.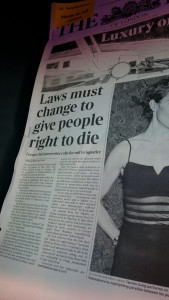 In 2013, 1,800 people chose euthanasia; in 2014, the chance for euthanasia was extended to terminally ill children.  I have a difficult time squaring euthanasia with the gentle charm of Belgium. It's hard to know I may be biting into the most extraordinarily delicious piece of chocolate and as it melts in my mouth, a human being is choosing to die just down the road.  I'm not saying you should live for chocolate; I'm saying I just don't understand.  I need to think about this some more.
Shopping
Brussels is a destination for high end shopping and we stopped in many, many stores as we explored the city.  These are a few of the shops we tucked into during our day in Brussels.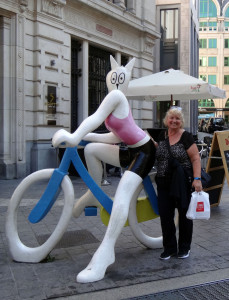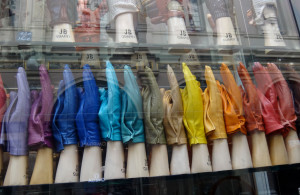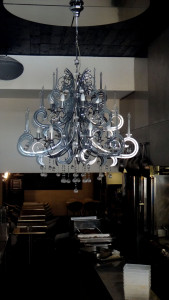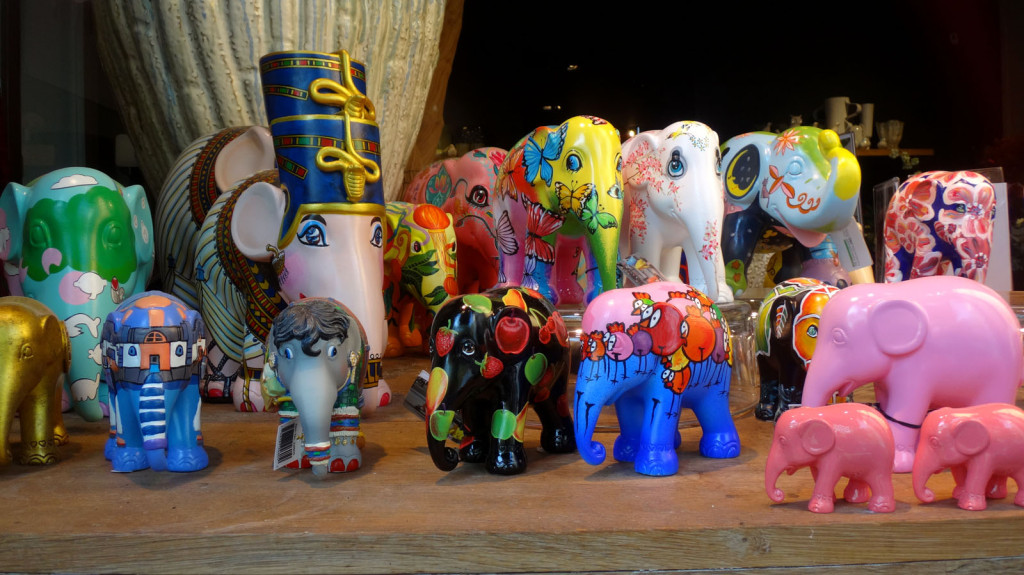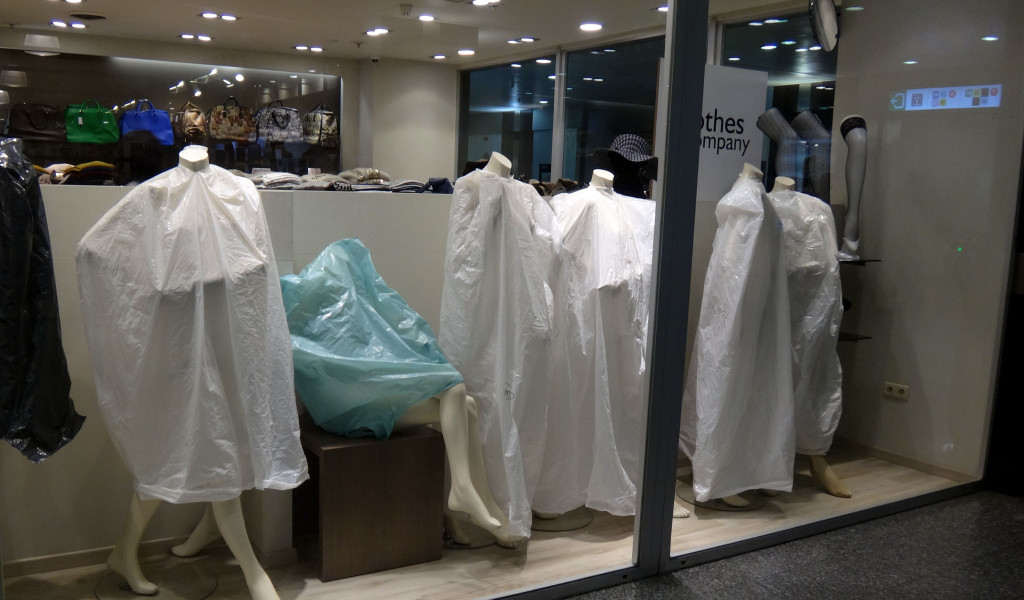 Train station – we're going to France!
Brussels was actually just a stop over on our way to a week in France.  Since we only scheduled a day here and I loved every moment, Brussels is at the top of my list for a re-visit in summer 2016.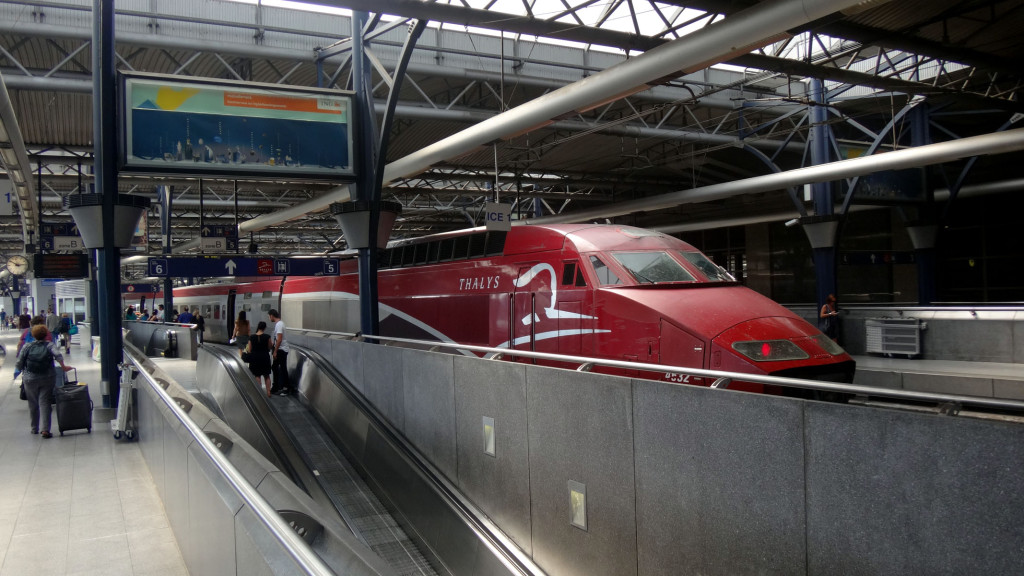 We traveled the high speed trains from Rotterdam to Brussels (1 1/4 hours) and on to Paris (1 1/2 hours).  The trains are sleek, comfortable, and fast.  Really good Tourist Information (TI) stands are located in convenient locations like the train station.  The attendants are courteous and well informed, making it easy to figure out our best options for tickets.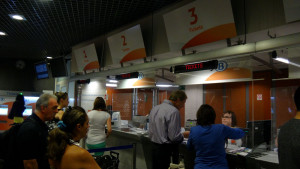 It is super easy to navigate the huge train station with information signs in English and video monitor signs in multiple languages. This sign, for example, tells passengers how to find their train car so they can quickly board once the train arrives.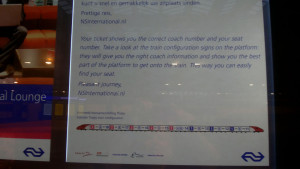 You examine your ticket and then look at the sign to find where to stand on the platform.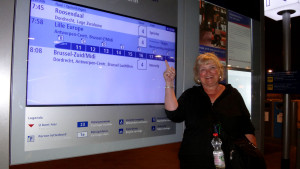 When the train rushes into the station, you are standing at the ready with your luggage and just hop onto your car.  Easy peasy.
If you want to work off a little energy while charging your cell phone before boarding your train, you might want to try one of these bicycle-rechargers.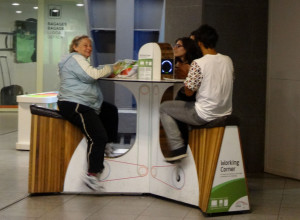 Or if you need snacks for your train ride, there's a well-stocked convenience store with lots of selection including fresh foods.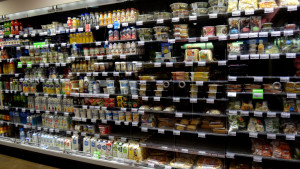 Make sure to visit my blog on the Parliamentarium – it's one of my very favorite memories of Brussels.