0 Churches   -1 Culture   0 Castles  3,279 steps
We got off to a late start from Wassenaar, putting us way behind our plans when we arrived in Antwerp.  This meant we had to skip some of the long-anticipated highlights of Antwerp.  But it also means I'll just have to return some day.  And I most certainly will because Antwerp is beautiful, energetic, easy to get around and who can complain about a city where diamonds sparkle from window fronts all along the main streets of town?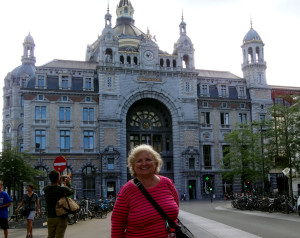 The Netherlands highways are flat, smooth and easy to navigate – so I'm thrilled I'll be returning next summer for a month!  I'm swapping my home with a family from Utrecht.  So, yes, while I am a total twirp for missing most of Antwerp, I'll definitely get to re-visit in Summer 2016 and I'll be just 90 minutes away.  Here's a look at my view from the passenger seat as we approached Antwerp – note the wind turbine.  You are much more likely to see a wind turbine than a windmill when visiting the Netherlands.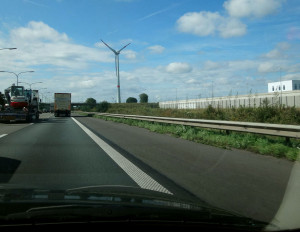 It's easy to get around on public transportation in most European cities.  Signs such as this streetcar map dot the streetscape.  When you see one of these, you know transport is nearby.  Look down!  Often you take stairs down to the trains and street cars.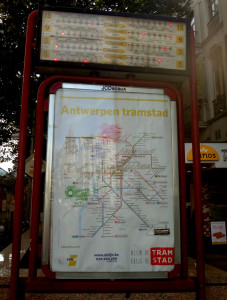 We parked near the train station because the train station was a must see attraction.  The "temple to the industrial age" was built in 1900 and still stuns.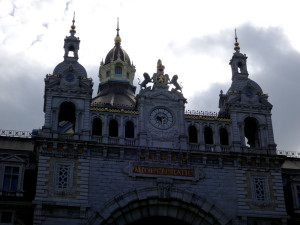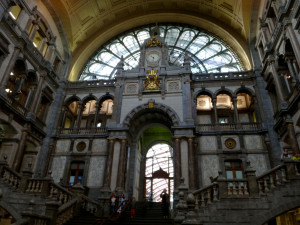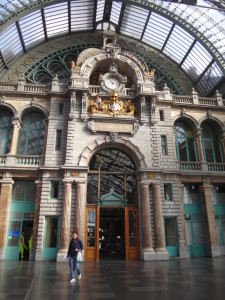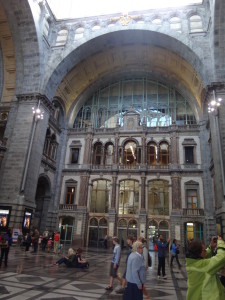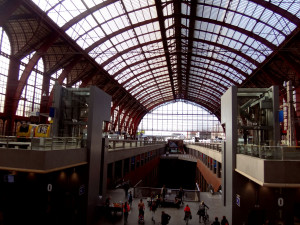 We were hoping to see Paul Ruben's home and we did.  We saw it but had no time to stay.  This is what we should have seen:  "Wander through the rich kunstkamer (art room), where Rubens indulged his passion for collecting, the studio where he changed the direction of art, and the garden in which he strolled with important visitors. But there is also the parlour, the kitchen, bedroom and linen room. They are furnished with everything a family would need. After all, an artist's house is also a home" (www.rubenshuis.be).   So, again, next summer!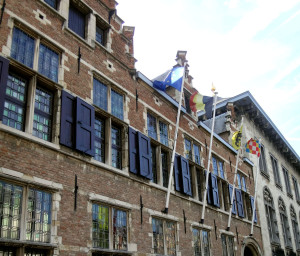 We also missed the Cathedral of Our Lady and the Rubens Descent from the Cross.  However, we had contradictory information and the painting may not have been at the church when we were there and it was already returned to the Royal Museums of Fine Arts Antwerp.  Either way, you can bet I'll track that painting down next summer.  This kind of hunt for paintings happened often during our travels due to loans (there's a marvelous exhibit of Dutch painters at the Boston Museum of Art which explains the spaces on the walls of museums we visited) and remodeling (in one German city all the paintings we wanted to see were in one room of the museum while the top floor was remodeled).  And, once in a great while, a painting has been repatriated to its proper owner (the gorgeous Klimt Adele Bloch-Bauer that once hung in the Vienna Belvedere and now can be seen at the NYC Neue Galerie).  I watched the movie Woman in Gold on our Norwegian flight to Europe and then again on the Disney Cruise ship home – you must see this movie!  Meanwhile, here's the Cathedral of Our Lady: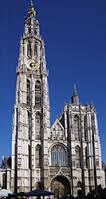 So when you think Antwerp, do you think diamonds?  It's hard not to have sparkle on your mind as you walk from the train station down the fabulous shopping street de Kyserlei.  In the top image, that's my reflection in the middle of the photo  with a gorgeous diamond necklace on my shoulder.  I truly believe it belongs around my neck.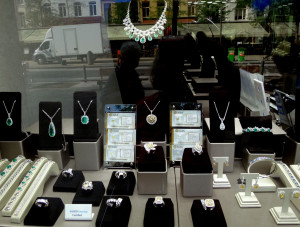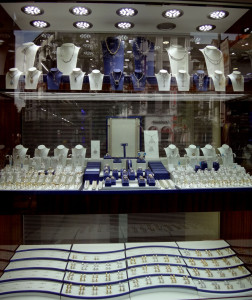 Many of the diamond sellers are Hasidic Jews, a branch of Orthodox Judaism.  My friend Rachel told me Jewish people often deal in portable goods.  Here's one man, I presume a diamond seller, texting on the street outside a diamond store.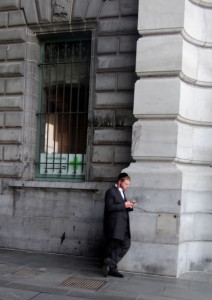 Here are some of the beautiful stores I want to visit next summer.  That marvelous turretted building?  Armani Jeans.  The next fabulous building?  H&M. And next, you can see the shopping strollers in front of Zara Home. Last, just the entry over the door to a store. OMG! No time this trip but there definitely will be time next summer.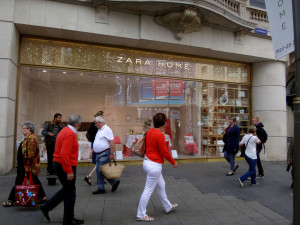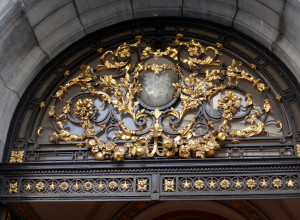 The stores look graffitti-free but the public statues are another matter.  Here's Antoon Van Dyck with graffitti flourishes.  I wonder if this 17th century portrait genius would appreciate the modern art?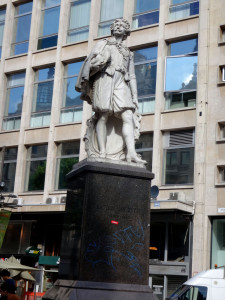 The graffitti artists don't seem as interested in David Teniers, painter of peasants from the 17th century.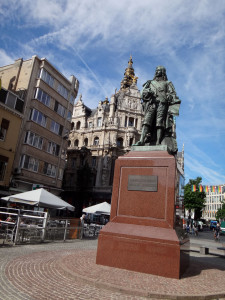 I remember a time when visiting Europe where eating meant stopping at a restaurant and spending hours over a leisurely meal.  Not so much today.  Food carts and quick food stands are everywhere making "dine and dash" possible.  I miss the old days but see a lot more now with food on the run.  Here's a cart selling yummies at the train station.  Imagine bicycling your cart to work each day.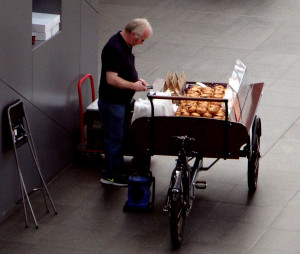 This is Belgium so there must be waffles, no?  Yes!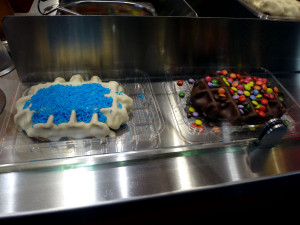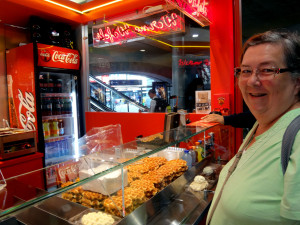 And, of course, Asian fusion food is huge, even in Antwerp.  Here's a restaurant getting ready for the day.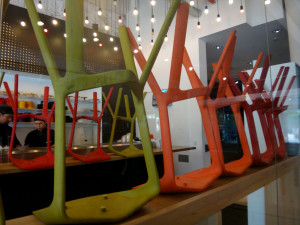 Would you expect to find a Mexican restaurant in Antwerp?  I was surprised!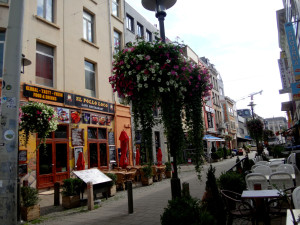 And when you are all done, remember to recycle.  Recyling is big throughout Europe and passersby will give you the stink-eye if you fail to recycle.  However, I do believe most of those folks giving us the eye were also tourists.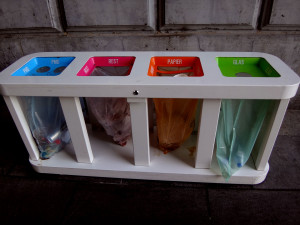 Then there is the clean up.  Folks clean the underground stations with these mini-Zamboni-like machines.  The floors gleam.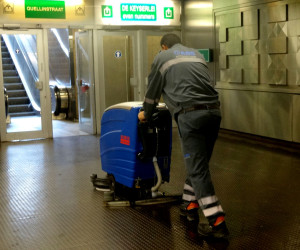 I'm a twirp with a plan – see you, Antwerp, next summer!