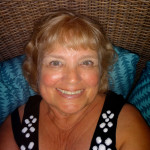 After tonight I'll be sleeping in someone else's bed/couch/blow-up-mattress for the next 70 days.  But I'm not enjoying the luxury of my own bed – I'm hopping around the house taking a bottle of lotion out of my bag (I'll buy it in Denmark), ruefully ditching the pile of magazines I planned to read on the plane (here, seatmate, are you looking for something to read?) and taking a favorite blouse out of the bag, putting it back in, then wistfully taking it out again.  How will I live with just 44 pounds of stuff for the next two months?  Here's my final packing list.
My traveling companion Maureen nicely summed up our adventure:
It's not really a secret – just didn't think y'all would be that interested in it.  It started off as a trip to visit Melody (Maureen's daughter in the Netherlands) while she's there and to take the river cruise from Basel, Switzerland to Amsterdam that has been on my bucket list forever. I think I had mentioned this and Barbara said she'd love to go -and since traveling with friends is usually more fun than traveling alone, I jumped at the chance. So then there were 2. Then Rachel & Tracy said they'd like to go, too – so then we were 4.
We leave for Copenhagen on the 3rd (arriving on the 4th).  That wasn't on the original plans, but flights to there were cheap, so we added it.  We spend a few days there, then fly to Berlin for a couple days.  Then we take a night train to Vienna. After a couple days there we will rent a van and will be driving to Salzburg for a day.  Then on to Munich, where we have a private guide, Tracy's cousin.  We go from there to Basel. While in Basel we're going to do a day trip to Our Chalet, Interlocken, and Lucerne.  When we're done in Basel, Barbara & I head out on the Viking cruise; Rachel & Tracy head to Amsterdam to spend the night with Melody. Tracy flies home from Amsterdam the next day & Rachel heads off to visit friends in Bruges, Belgium.
Barbara & I cruise the Rhine for 8 days, ending in Amsterdam, where we meet back up with Rachel. We spend several days in The Netherlands, staying with Melody and seeing Amsterdam, Rotterdam, Delft, Gouda, The Hague as well as a day trip to Antwerp & Bruges, Belgium.  We spend Melody's birthday with her and then head to France.
After leaving Melody, we take a train to Brussels (and Waterloo), and then on to Paris where we pick up a rental car and drive to Fontainbleau for the night. We see the Chateau the next day, then drive to Bayeux stopping at Mont St Michel on the way.  We spend a day on the Normandy coast, then head back to Paris – stopping at Monet's house & gardens on the way. We drop the car & spend several days in Paris.
We then take a train to Chur, Switzerland (stopping in Zurich for a while on the way) for the night.  We take the Bernina Express from there through the Alps to Italy.  We spend a couple days in Milan (where EXPO 2015 will be taking place).  From there we go to Venice, Florence, Rome & Naples (to see Pompeii & Herculaneum).  Our last stop is Barcelona.  Rachel flies back from there and Barbara & I take an 11 day Disney cruise to Miami.
We then head to Orlando for the Food & Wine Festival.  I should return home about Oct. 12 – unless I decide to extend my vacation.  I doubt that will happen because I leave for the KOE Kruise on Nov. 1!
So, I'm guessing this is going to be an epic trip and only hope I can keep up!!!!
Want to join us?  We'd love for you to come along.  (I really thought we were allowed 50 pounds of luggage – egad!)