Just approaching Kensington Palace, I feel a rush of anticipation and excitement.  The grounds are lush, elegant white roses dot the hedges, people move quickly and quietly around me, and I stand a bit awed as I wait in line by an aging green metalwork canopy marking the doorway to the Diana: Her Fashion Story exhibit.  My traveling companion has snagged tickets to this display of Diana's gowns – a treat I never would have considered during this trip to London, but an opportunity I am madly anticipating.
First, we will get a glimpse of Kensington Palace because the exhibit is housed here.  Then I'll share a little art (hey! it's me…there's always art), a look into Diana's closet, a stroll through the gardens, and lunch at the Orangery.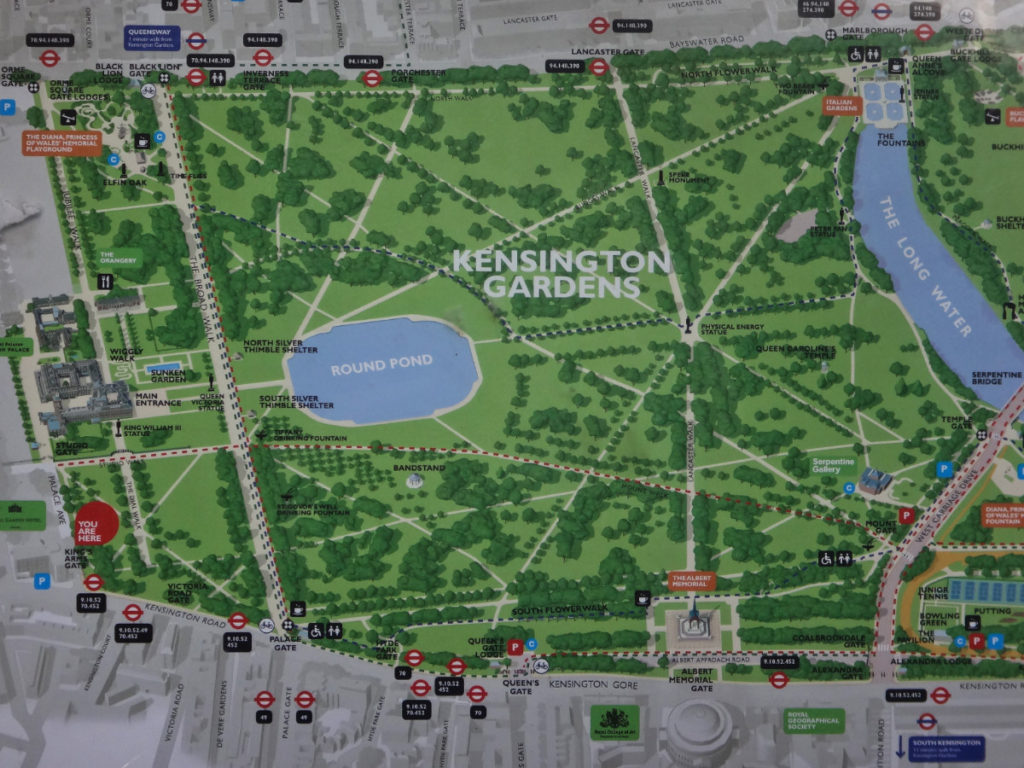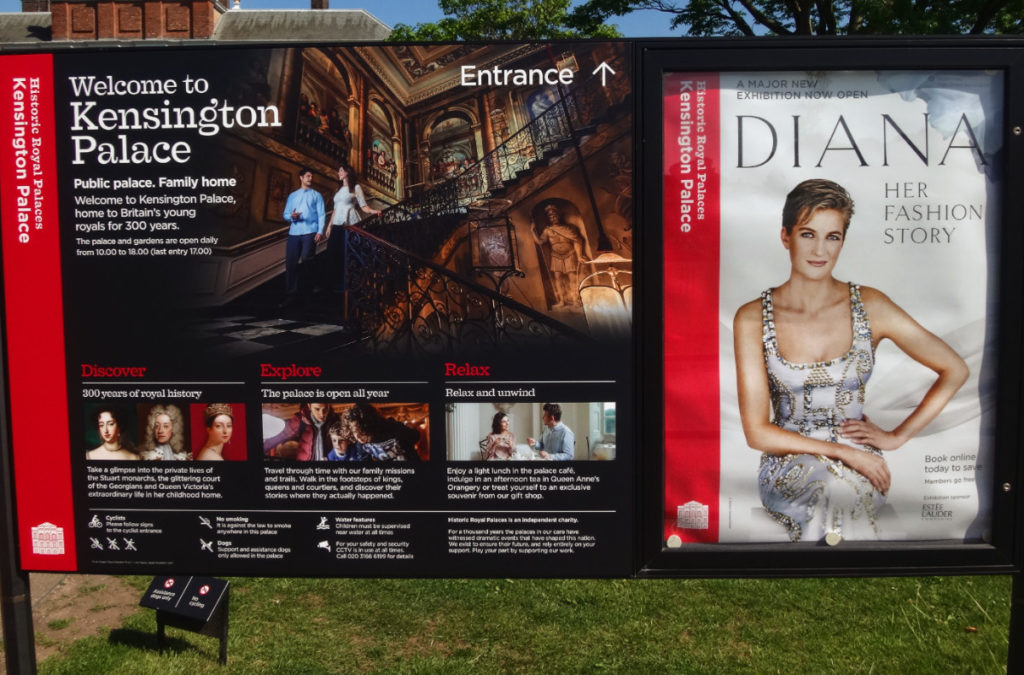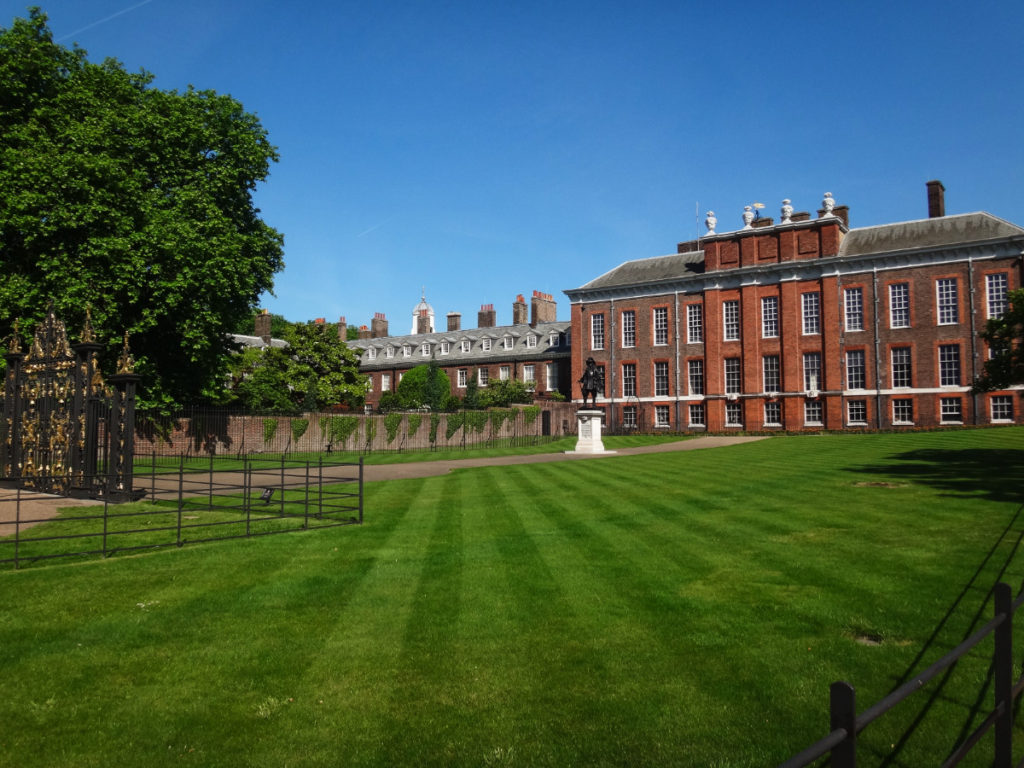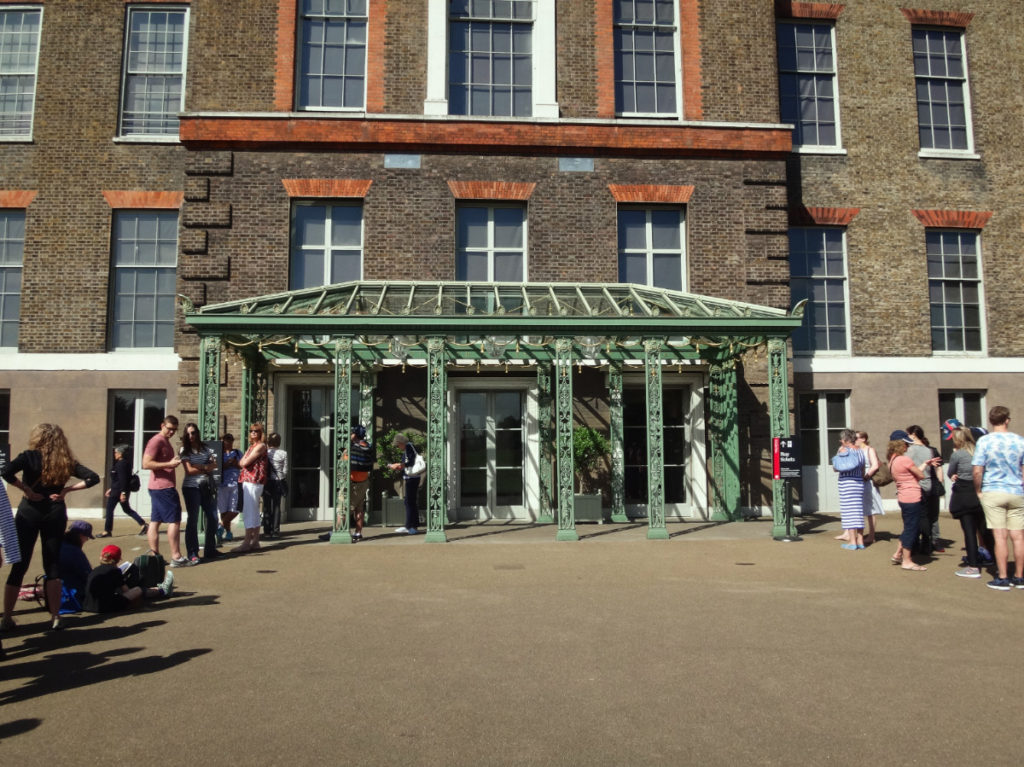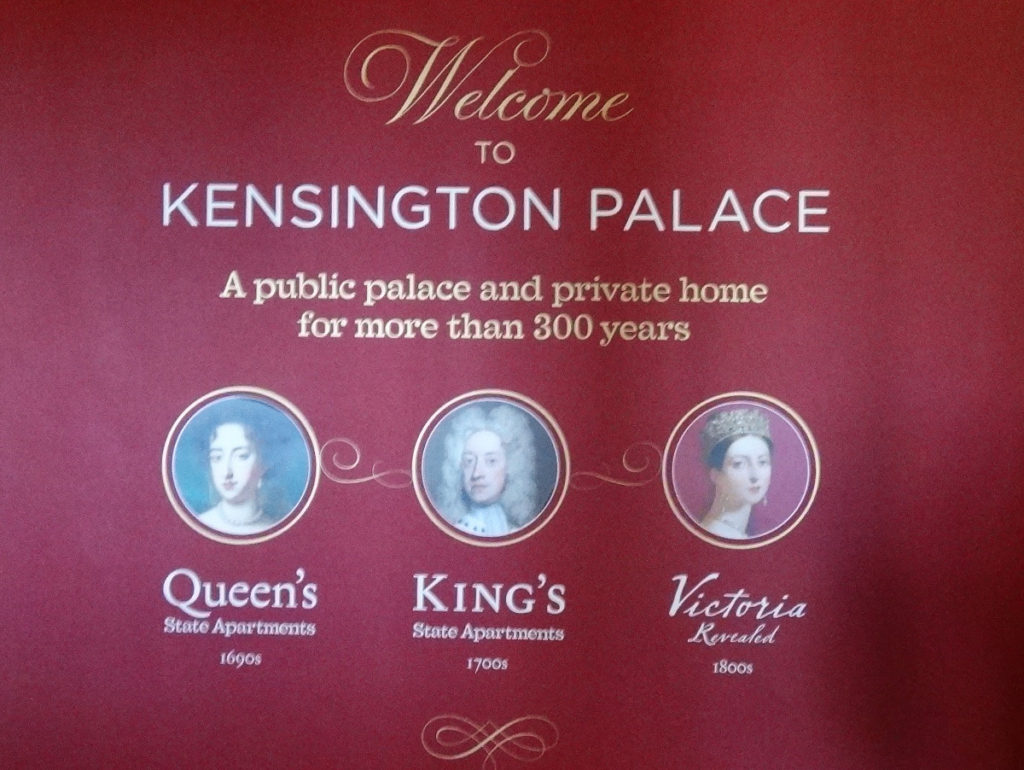 The King's State Apartments
Not only do we get to see Diana's clothing, we also get a mini tour of Kensington Palace.  A great two-fer!  We start with the King's State Apartments.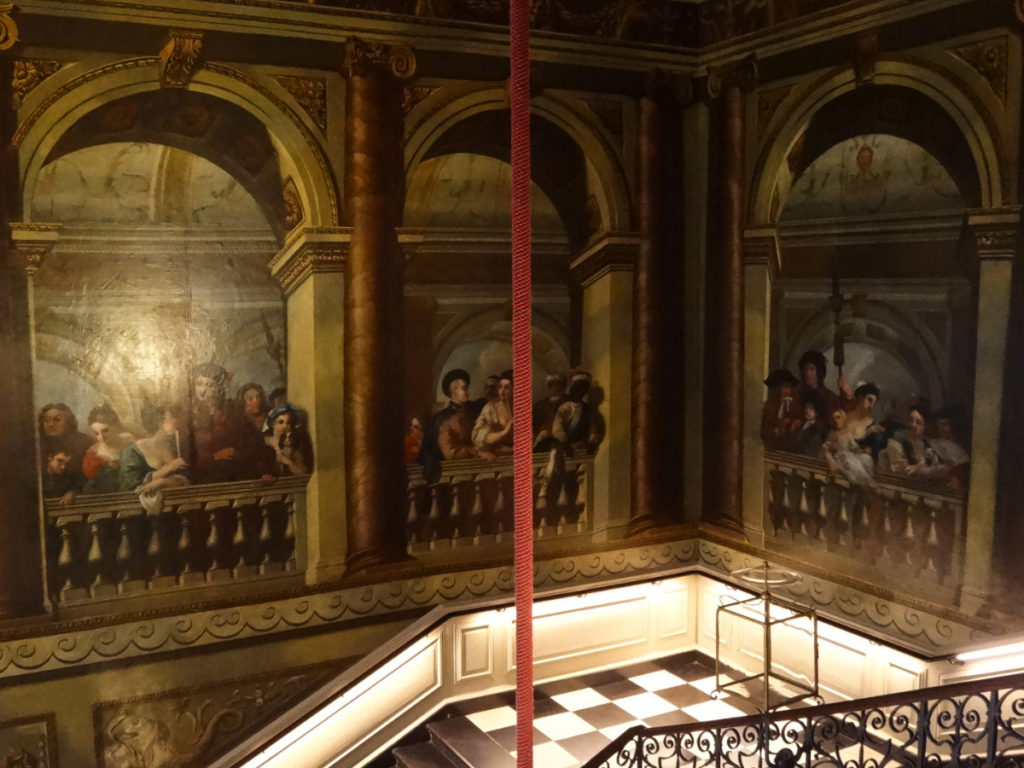 Most guests take the stairs but we are permitted to take the elevator to the second floor and work our way back to this interesting staircase.  The long red rope holds a chandelier.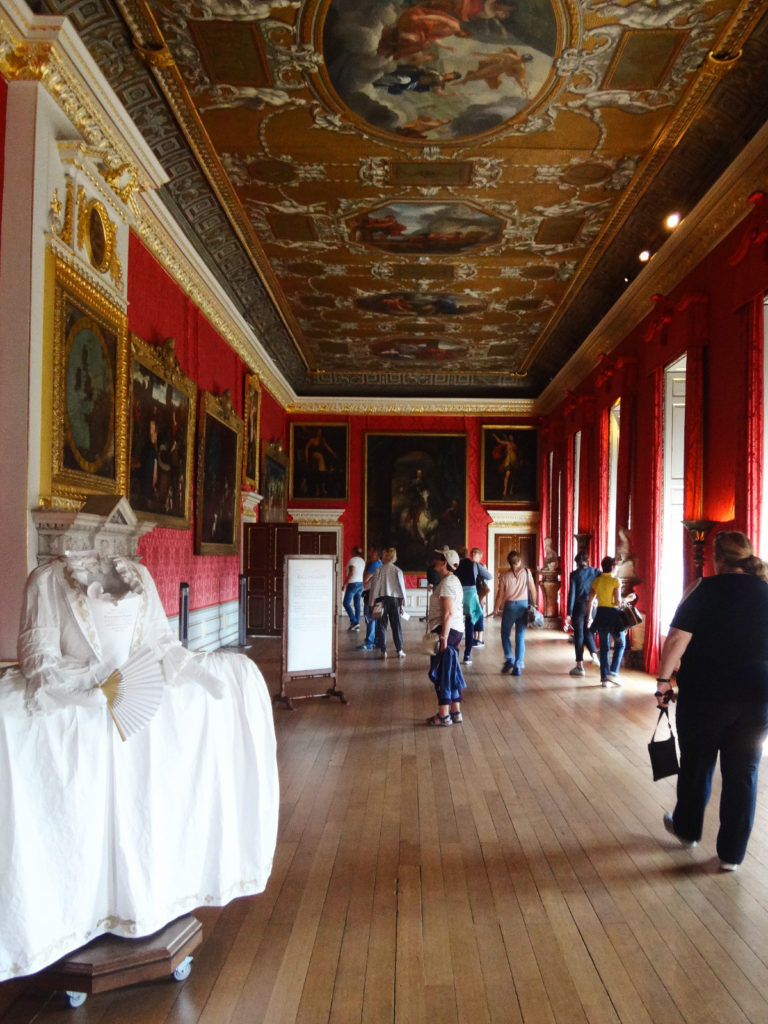 The King's Gallery with exhibits of ladies' gowns from the 18th century and row upon row of great art.
According to a placard in the King's Gallery, "Queen Caroline rediscovered a large collection of drawings hidden away in a cabinet at Kensington.  She found works by Michelangeo, Raphael, Michelangelo, and Hans Holbein, who became the most important artist at the court of Henry VIII… Caroline displayed all 63 of them in this room."
I have to admit that I feel like I'm the one who rediscovered these treasures.  Folks just stroll on by, in a rush to see Diana's clothing.  Me?  I'm just glad the guards don't stop me for drooling.  I snapped the photos of some of my favorites but the lighting was terrible.  So when I got home, I borrowed the perfect images from the Royal Trust.  Thank you, Royal Trust.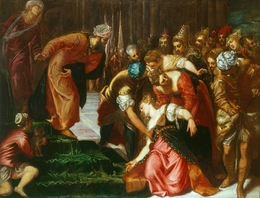 Just look at the color!  Of course, it's Tintoretto.  A little bit of Venice right here in London.  The Royal Trust writes:
"King Ahasuerus's second wife, Esther, learns that the King's chief minister is plotting to have all the Jews in the Persian Empire massacred. Esther intercedes with the King and eventually he grants her request to spare her people. The intense colours create an impression of exotic splendour, while strong light heightens the drama. This painting has recently been dated to c.1546-7, just as Tintoretto's career was about to take off with his first major commission, 'The Miracle of the Slave' (Accademia, Venice) of 1547-8…Ahasuerus is described as 'clothed in the full array of his majesty, all covered with gold and precious stones'; in the painting his golden robe originally had more piment – a bright yellow pigment. Esther enters with two maids, 'leaning daintily on one, while the other followed carrying her train'; she is 'radiant with perfect beauty, but her heart was frozen in fear'. Tintoretto was one of the first artists to show her fainting, a motif that linked her to that of the Virgin collapsing at the foot of the Cross."   Source:  Esther before Ahasuerus  c. 1546-7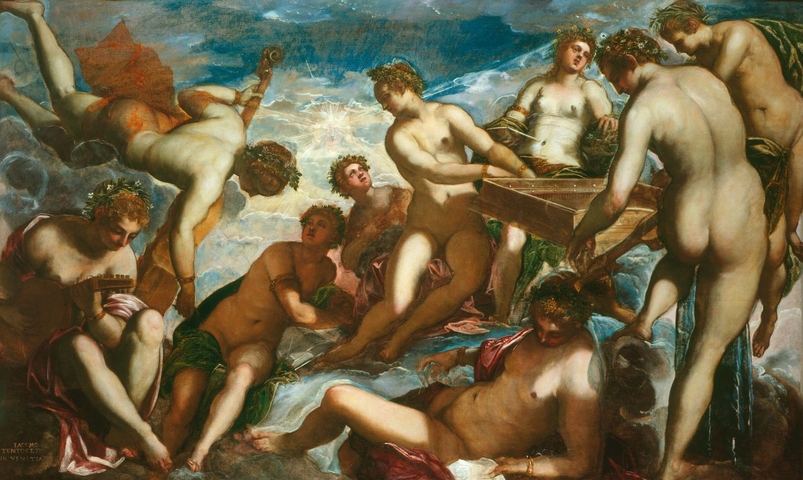 The Muses 1578 by Jacopo Tintoretto (1519-94)
"The nine Muses were originally seen as the divine inspiration for poetry, song and dance, but gradually became the emblems for all the liberal arts. With Apollo (represented as the sun) they also symbolised the 'harmony of the spheres'. Here Tintoretto's sweeping strokes have created powerfully articulated nudes who fly and turn with extraordinary freedom." Source:  The Muses 1578 by Jacopo Tintoretto (1519-94)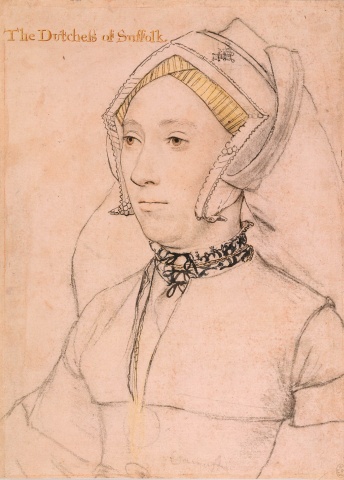 More images were scattered throughout the public areas of Kensington Palaces.  They were paintings that would have been show-stoppers in most art museums; here, they were just the backdrop on the walls.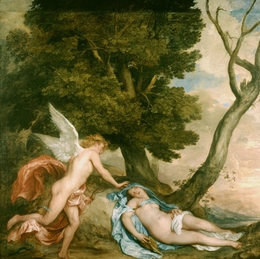 In the Privy Chamber (a private palace apartment – say that fast five times!), hangs Van Dyck's Cupid and Psyche, c 1639-40.  It is "the only surviving mythological painting from Van Dyck's employment as Charles I's court artist."  Source:  Cupid and Psyche, 1639-40 by Anthony Van Dyck (1599-1641)
The Queen's State Apartments
After all my oohing and ahhing over the dazzling art, we follow the line of visitors to the Queen's State Apartments, the oldest part of Kensington Palace.  This part of the palace was designed by Christopher Wren in the 17th century.  It is quite basic with wooden floors (if this were Flip or Flop, workers would be trying desperately to refinish the old floors and save the shiplap) and often-patched plaster walls.  Ornate wood paneling lines many of the hallways with pretty blue and white ceramics posted on shelves high above our heads.  I wonder if they are anchored with some kind of gum?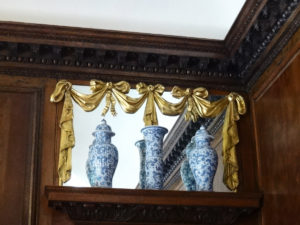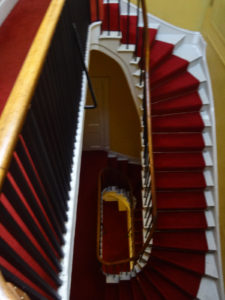 Diana: Her Fashion Story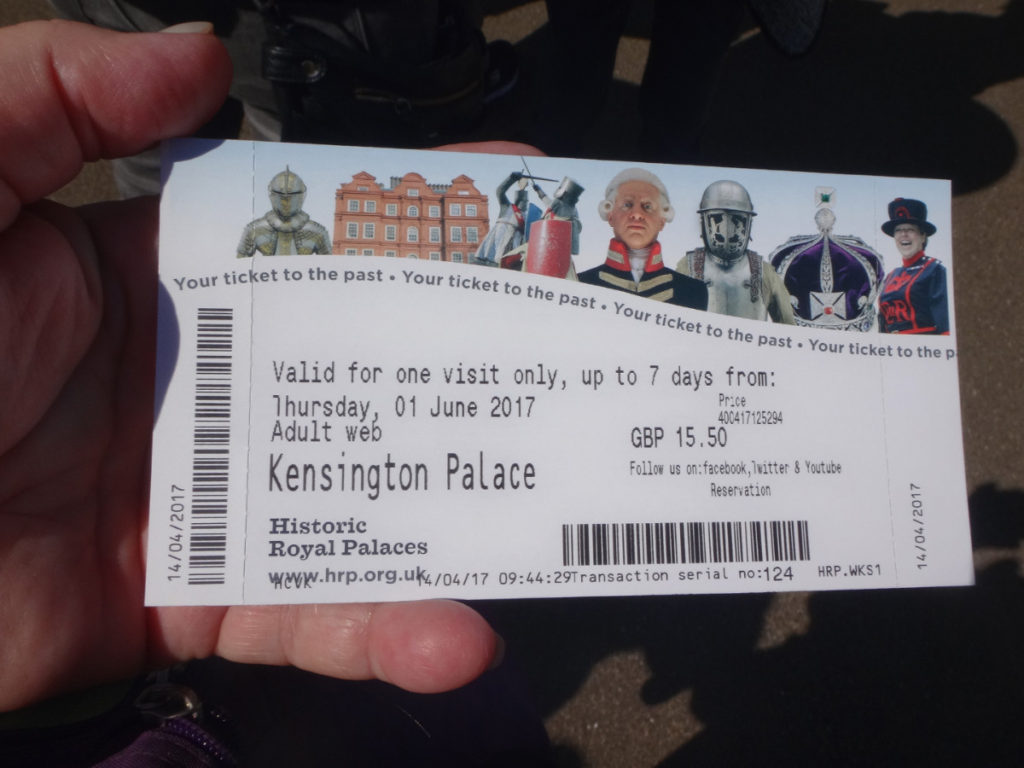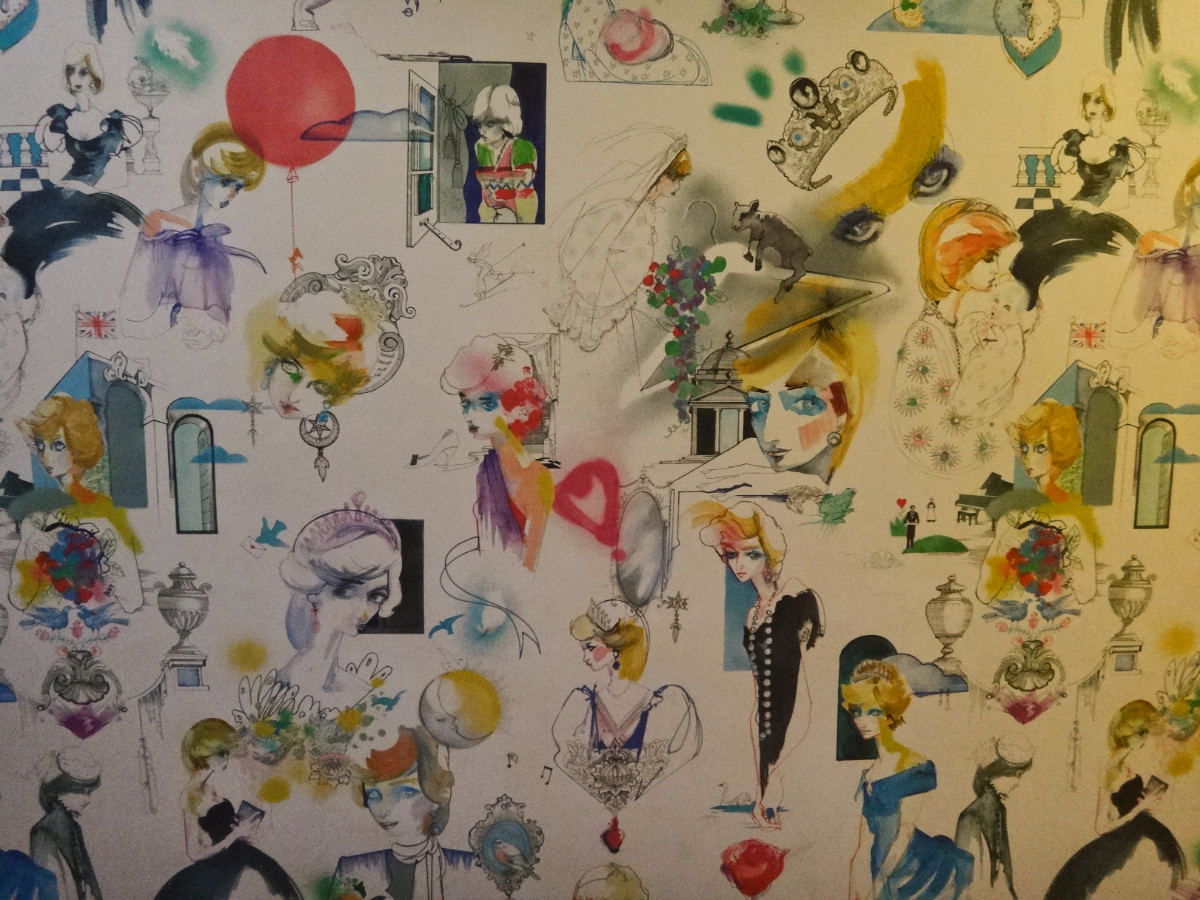 Greeting us at the entrance of the Diana exhibit is a sign that reads:  The outfits of this exhibition track (Diana's) evolution as a princess, trend-setter, humanitarian and woman, whose ability to connect with people remains powerful today.
I get to take my time as I wander through the exhibit, snapping photos. People are so courteous!  I wait my turn and then the other visitors stand back and wait as I frame my picture and focus my camera.  There is a heavy glare on the glass and a few of my photos are borrowed from the internet; if the photos are not mine, they are cited.
I love that the exhibit displays the designers' sketches as well as Diane's dresses.  It gives me a better idea of the creative process.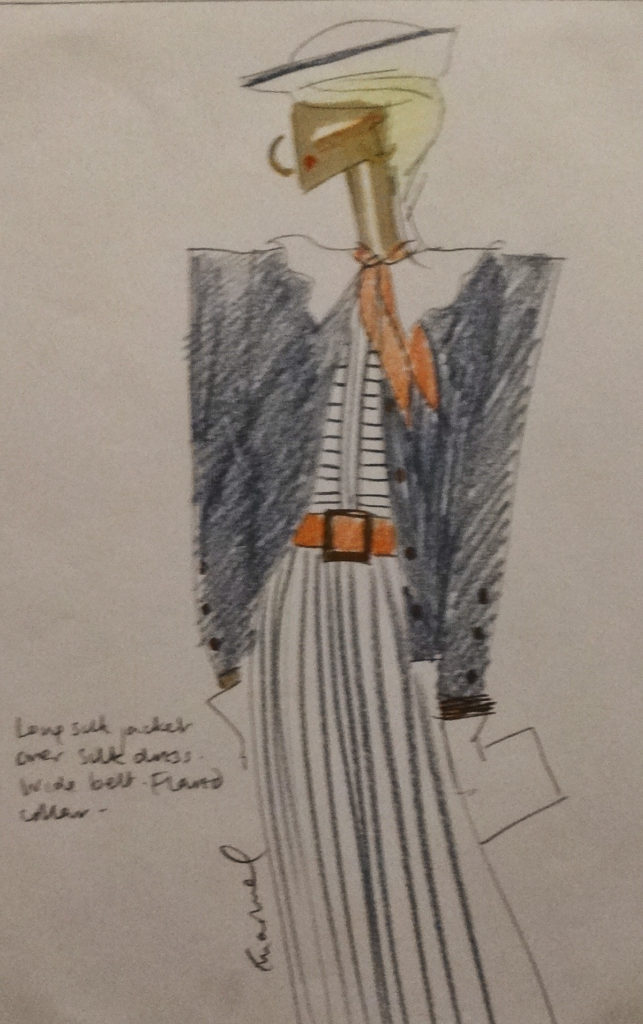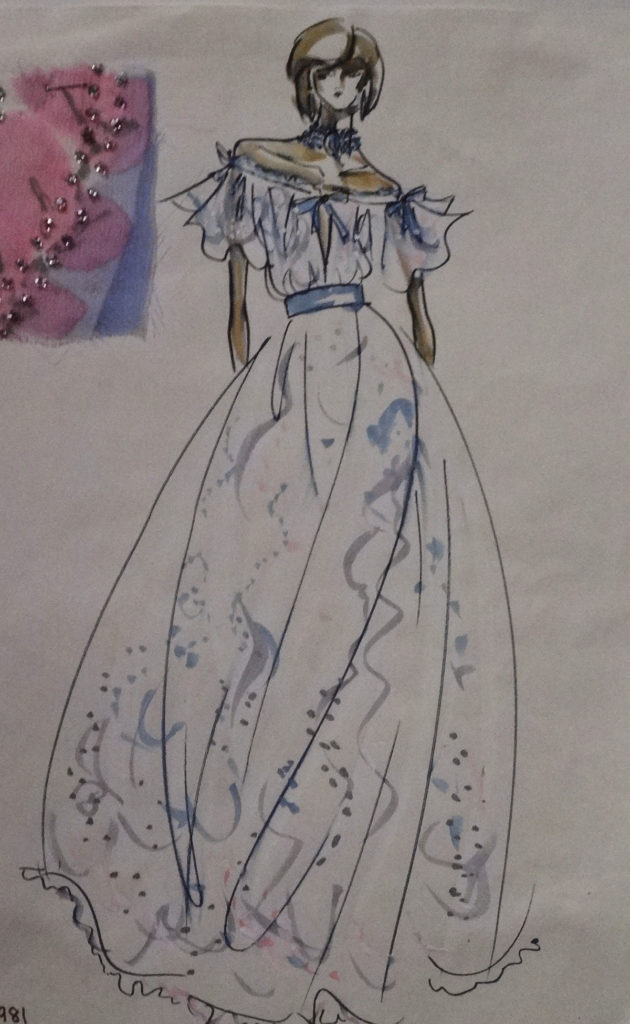 Catherine Walker created more than 1,000 looks for Diana and you can see her creativity in many of the gowns in this collections.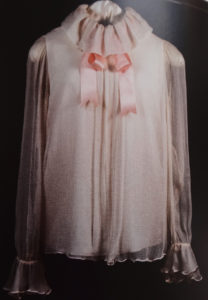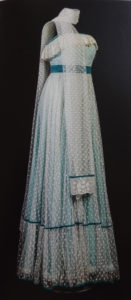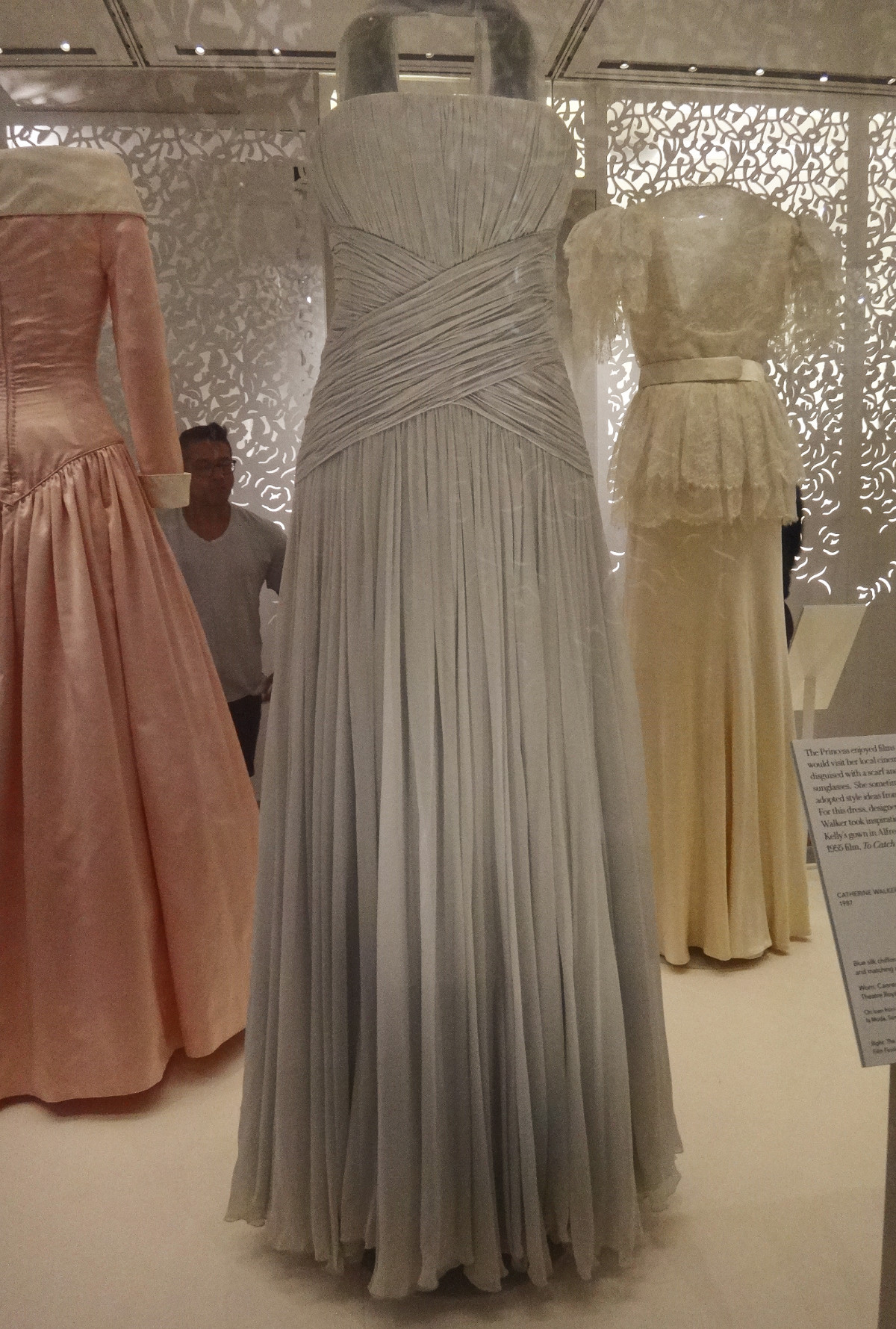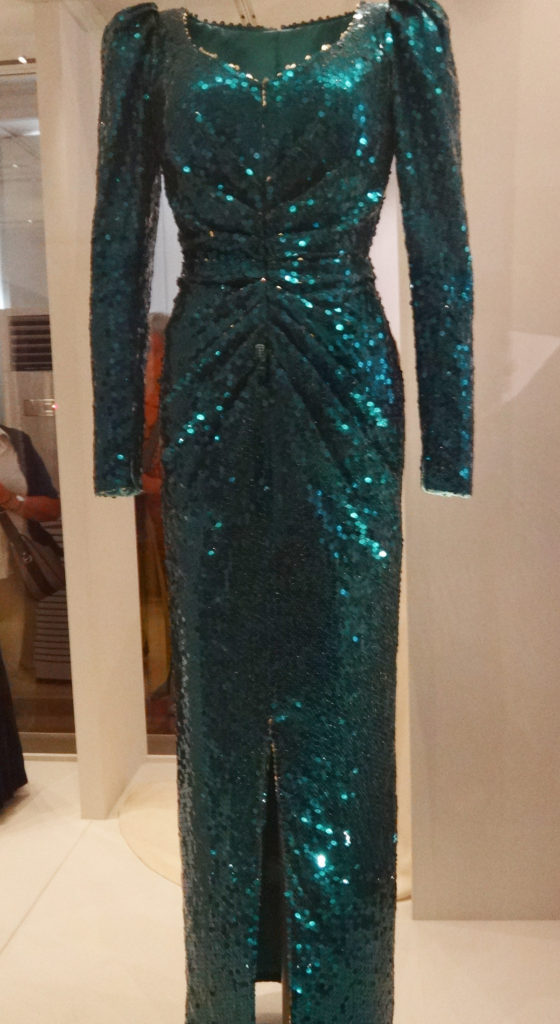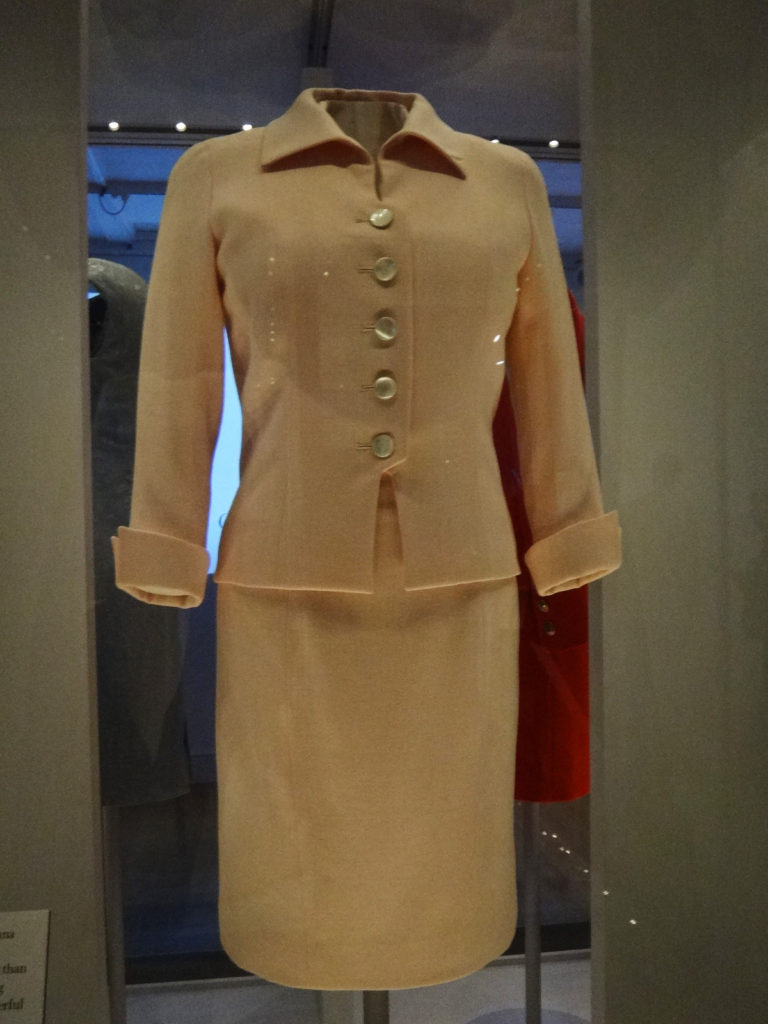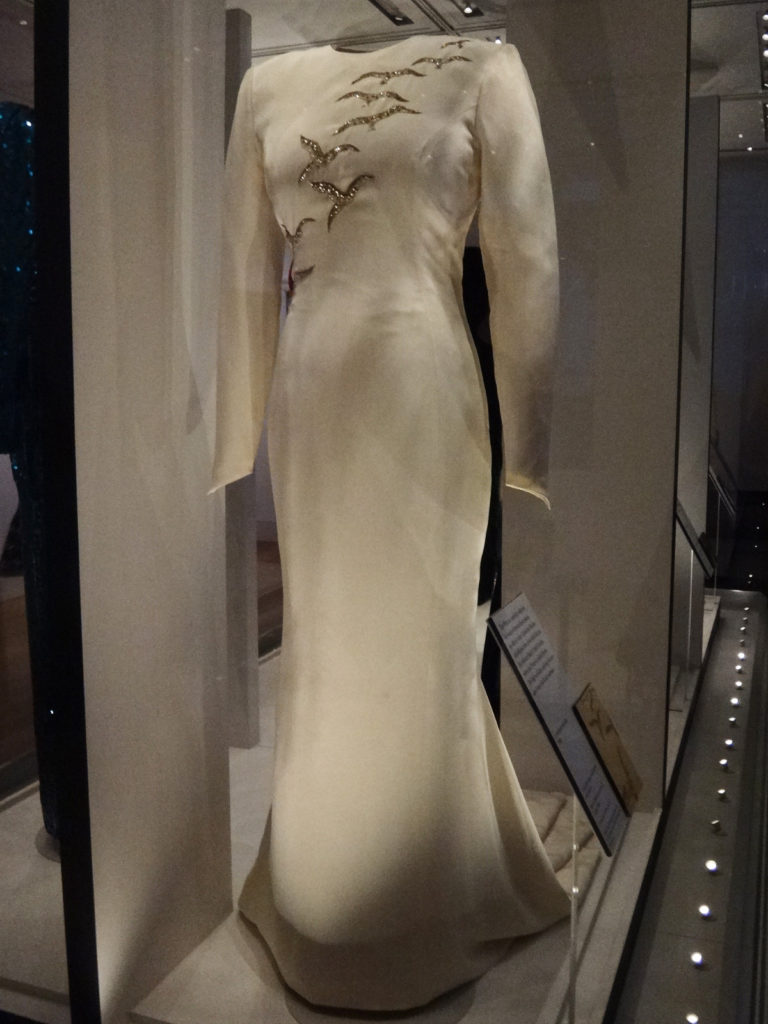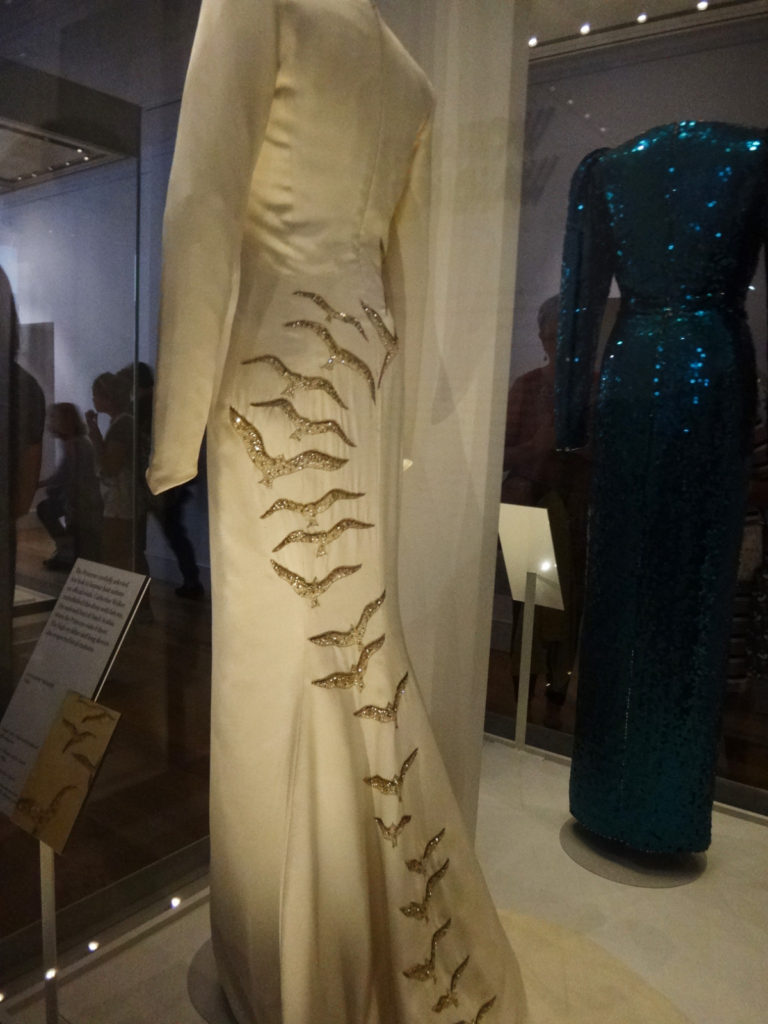 Diana sold 79 of her most iconic dresses at a Christie's gala auction in New York City in 1997.  The auction raised more than $3.25 million for cancer charities.  She wore the dress, below.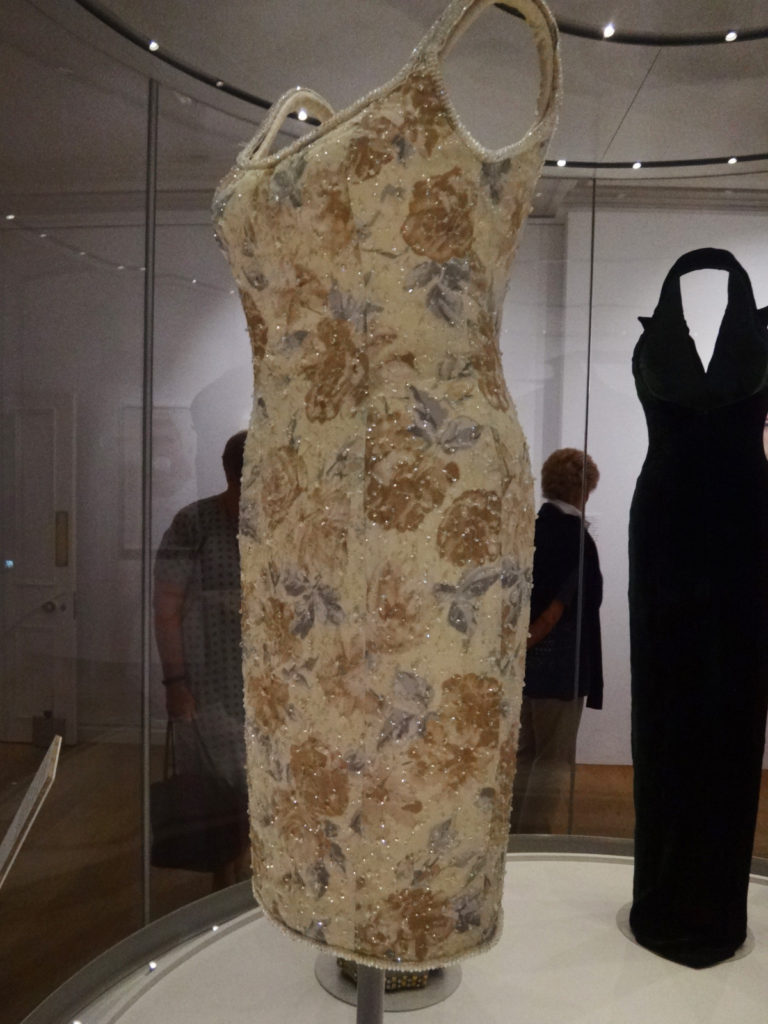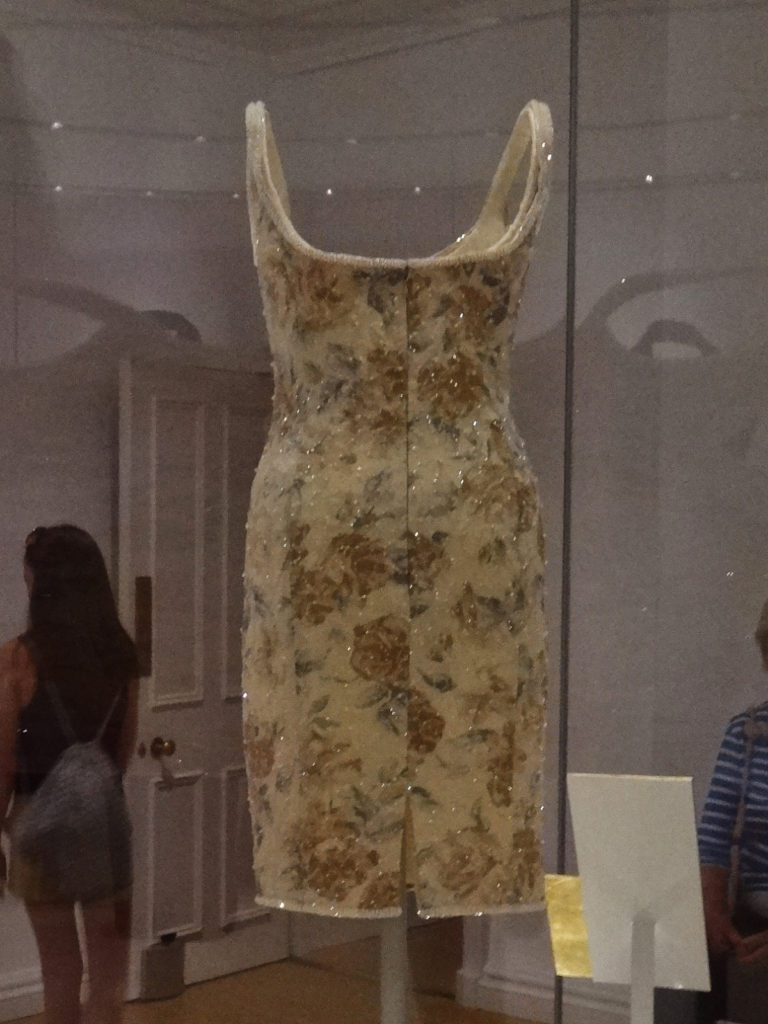 One of my favorite dresses is an Atelier Versace ice-blue silk dress studded with hundreds of stones.  Created in 1991, it was one of Diana's first non-British-designed dresses after her separation from the Prince of Wales. As a princess, she focused heavily on British designers. After her separation, she could spread her wings.  She wore this dress for a Harpers Bazaar shoot.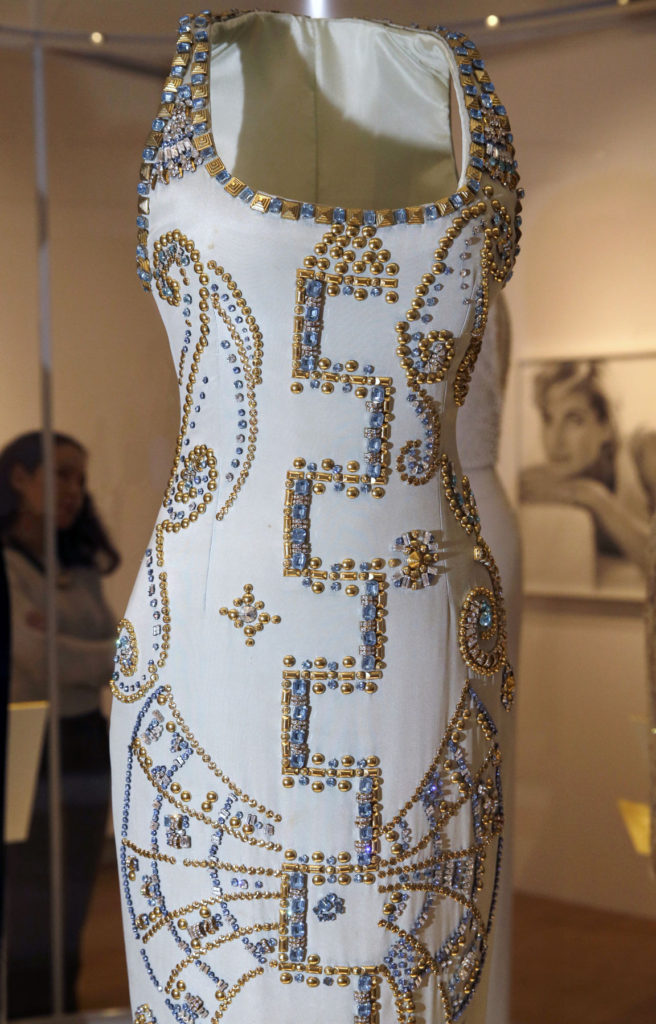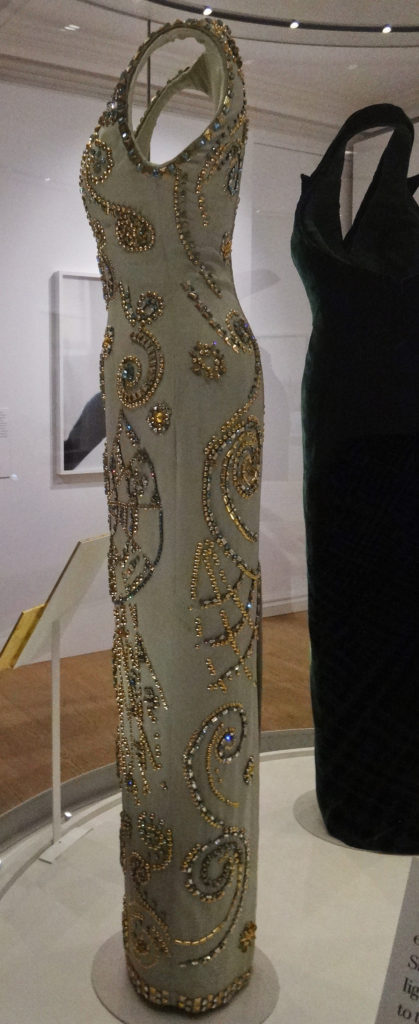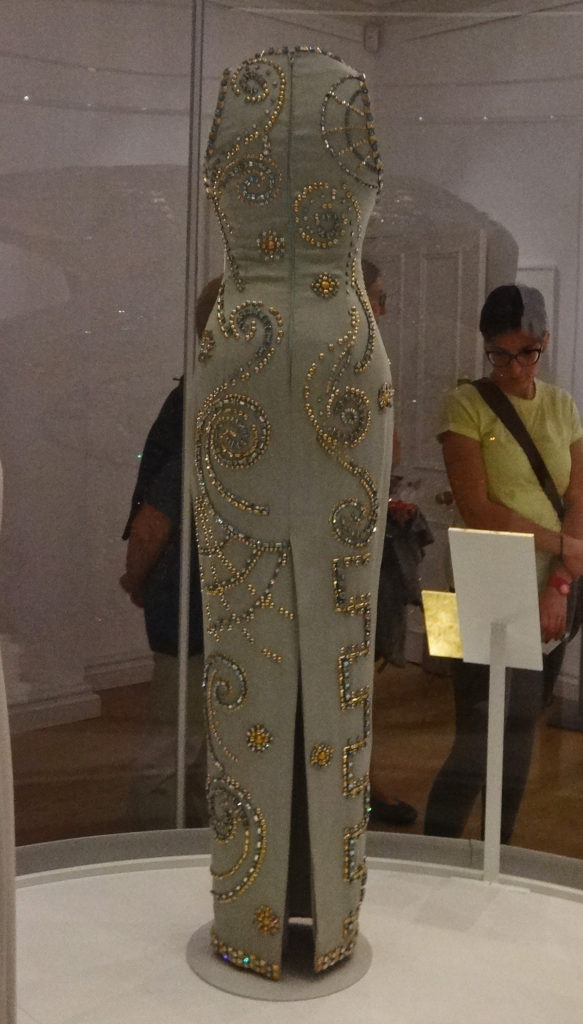 As I leave, I read the signs printed to the gallery walls:
She was a princess.  She had style.  She did everything with grace and charm.
–David Thomas
Of course, the signs of praise are not the end.  There is still the gift shop!  I am sorely tempted to buy, buy, buy but my wallet cries, no! no! no!  I decide to save my pounds for a fabulous luncheon.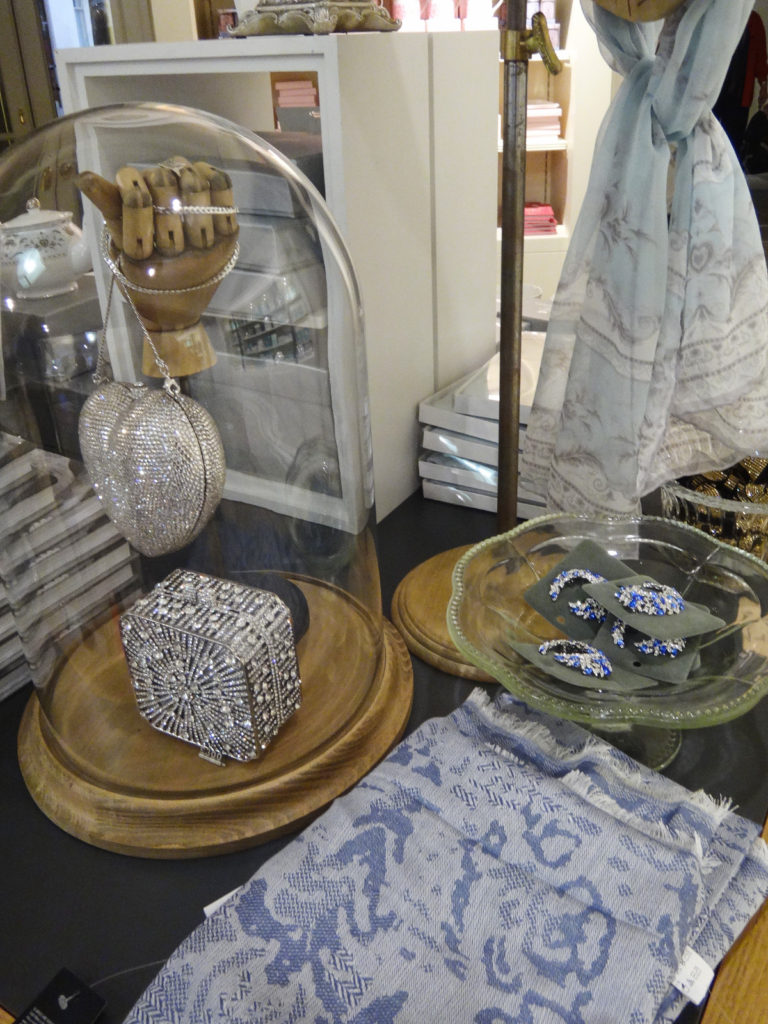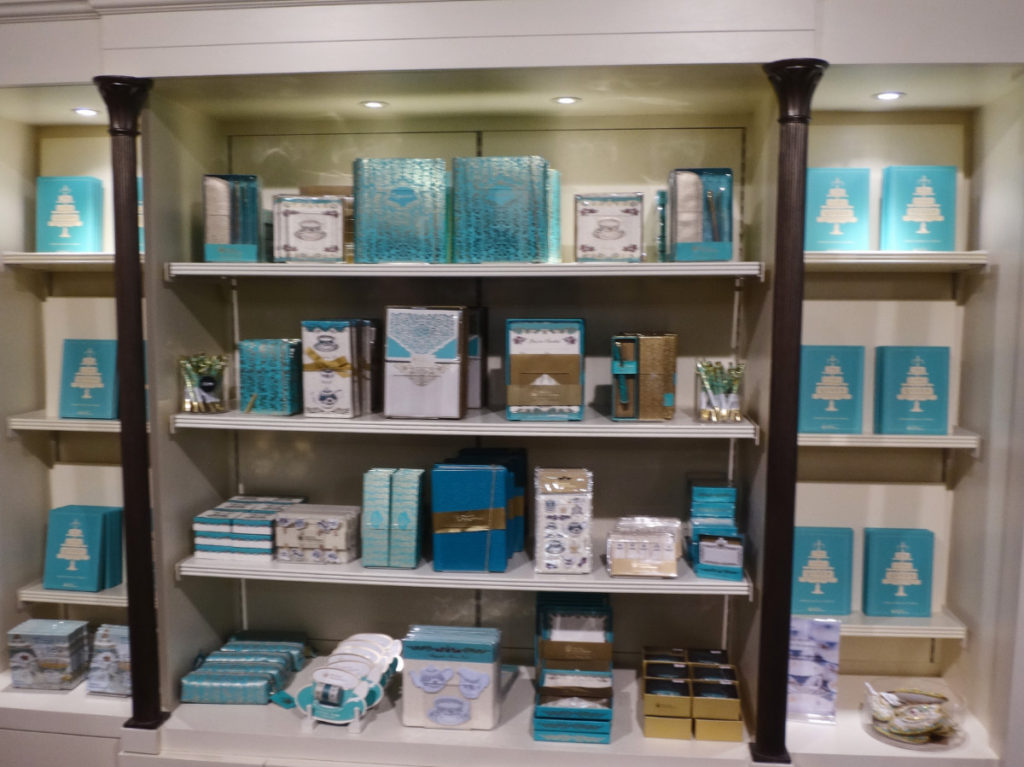 The Kensington Gardens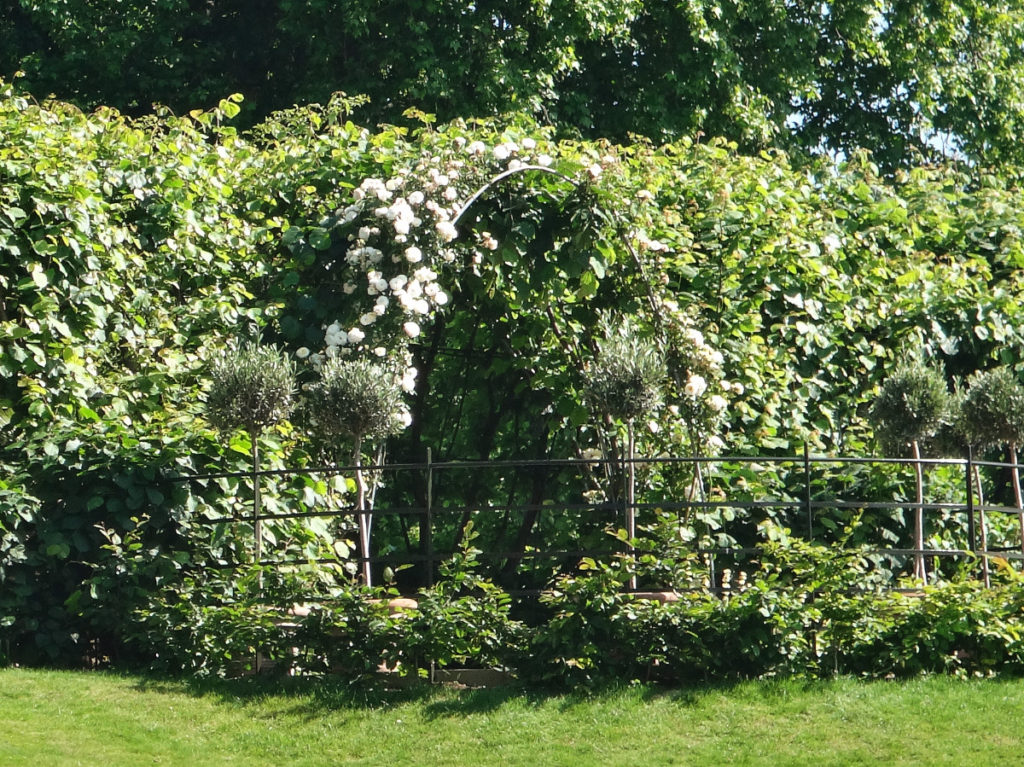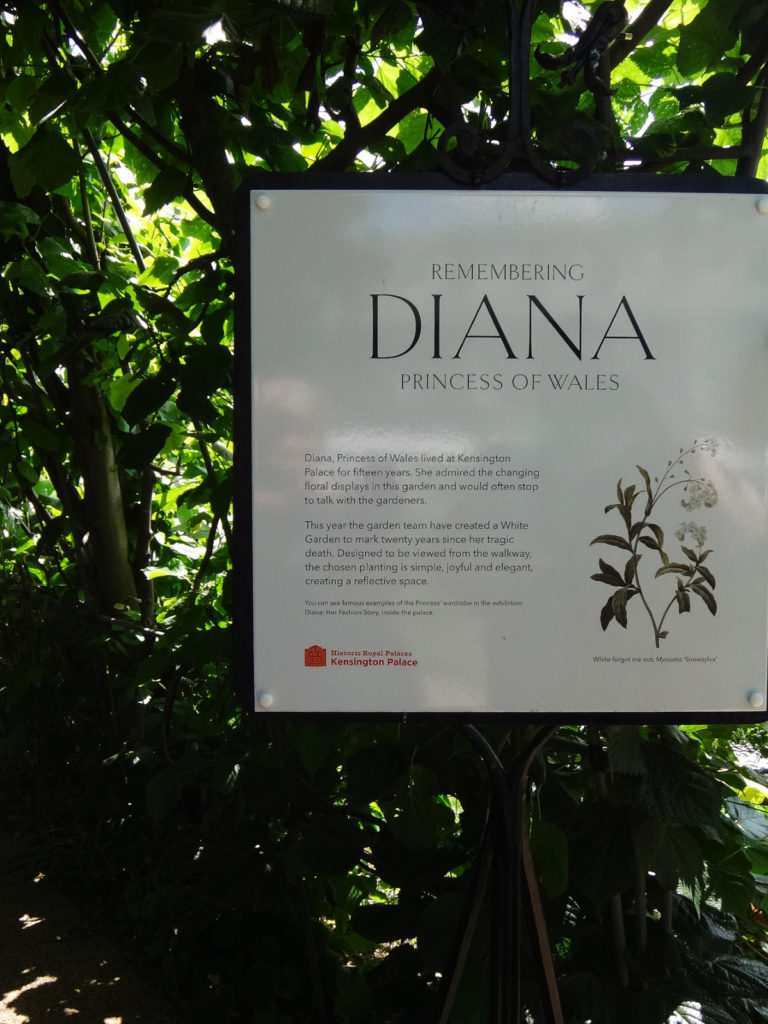 This is what the sign says:
Diana, Princess of Wales lived at Kensington Palace for 15 years.  She admired the changing floral displays in this garden and would often stop to talk with the gardeners…This year the garden team have created a White Garden to mark twenty years since her tragic death.  Designed to be viewed from the walkway, the chosen planting is simple, joyful and elegant, creating a reflective space.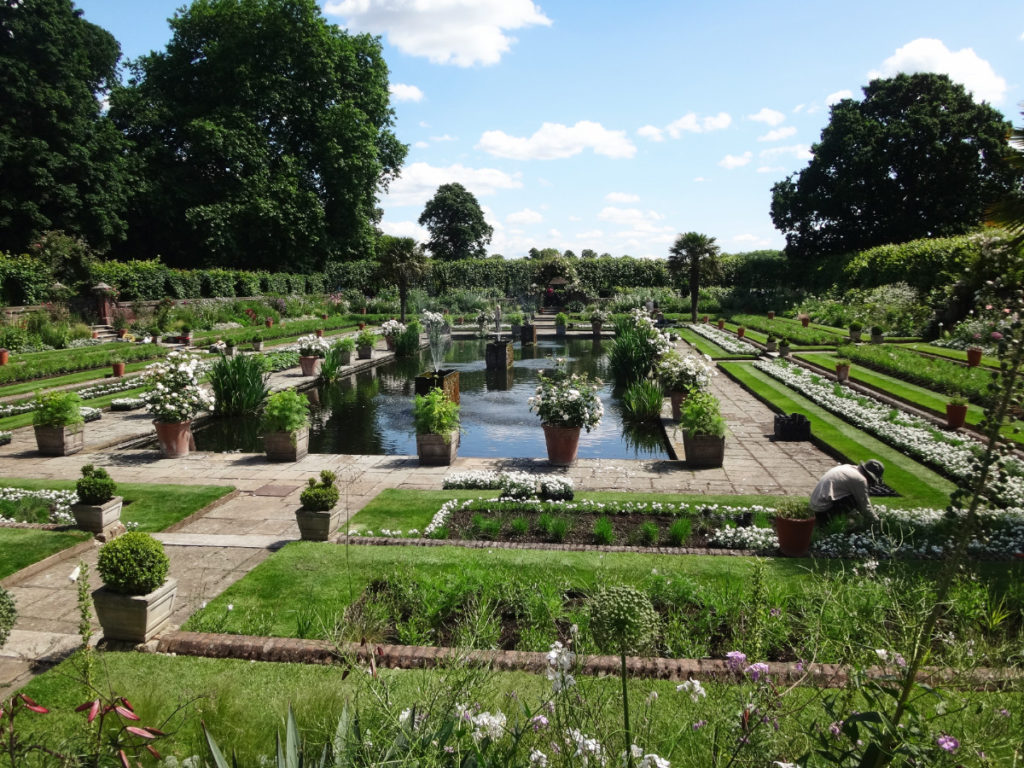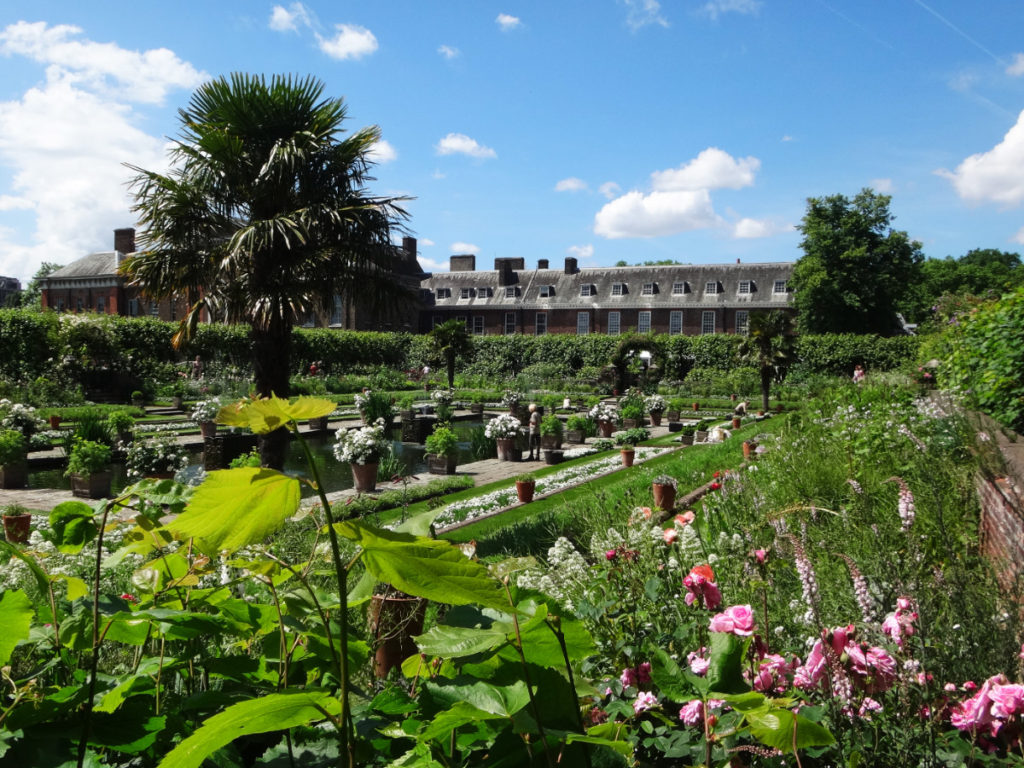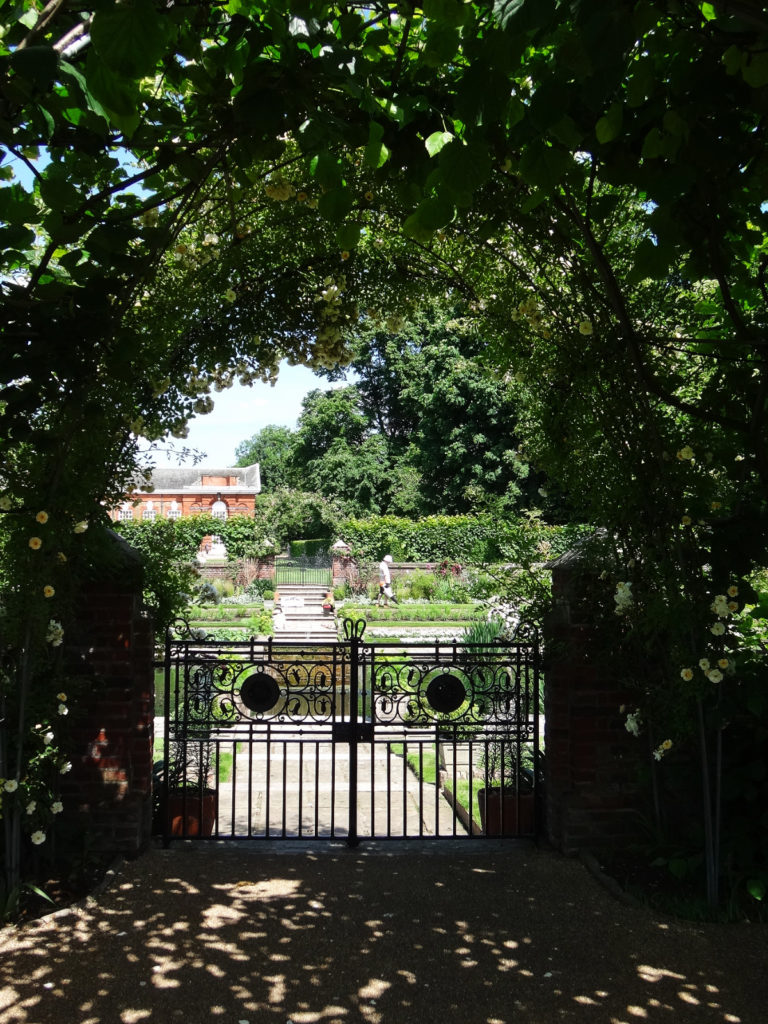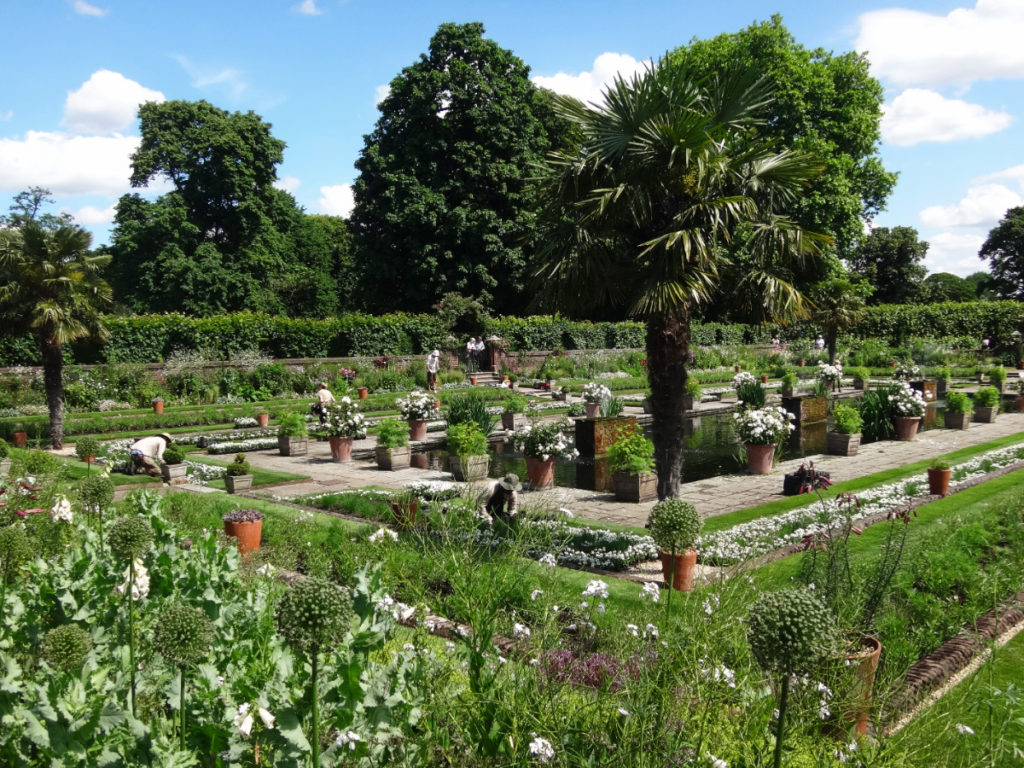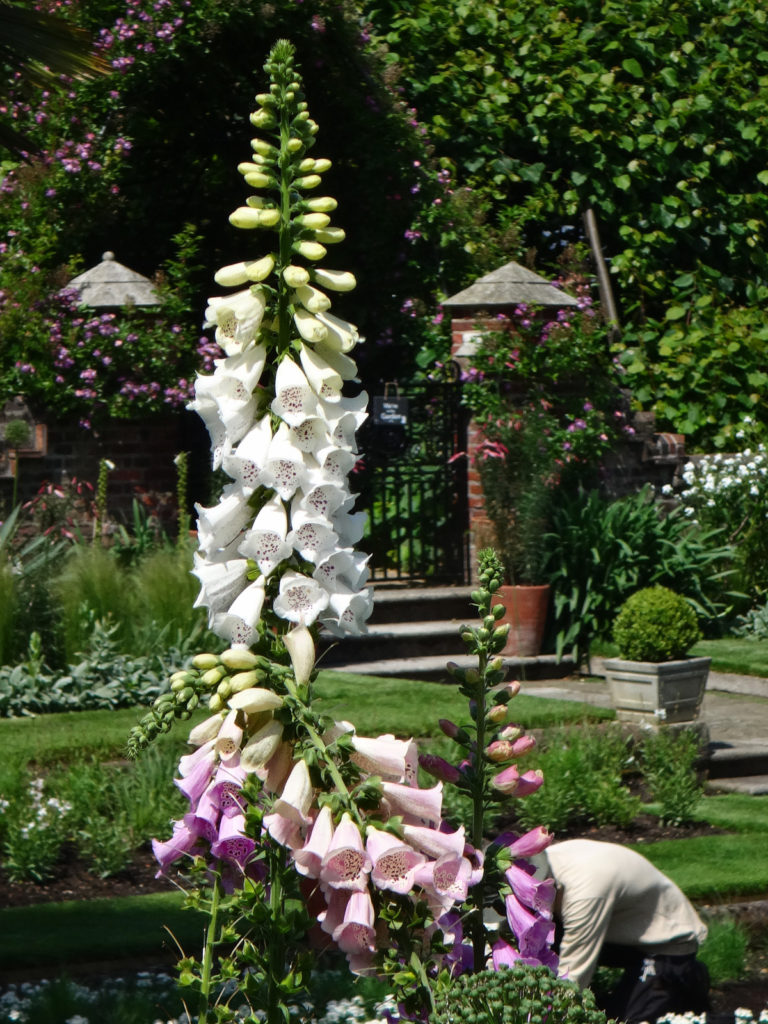 Luncheon at the Orangery
I'm hungry and we snap up the last seats available at the Orangery next to Kensington Palace.  Host:  Do you have reservations?  Us:  No.  Host: Then I am so sorry.  Reservations are required.  Us:  What about that table right next to the door?  It looks empty.  Host:  Oh.  OK.  And he shows us to the best table in the Orangery. Us:  Thank you!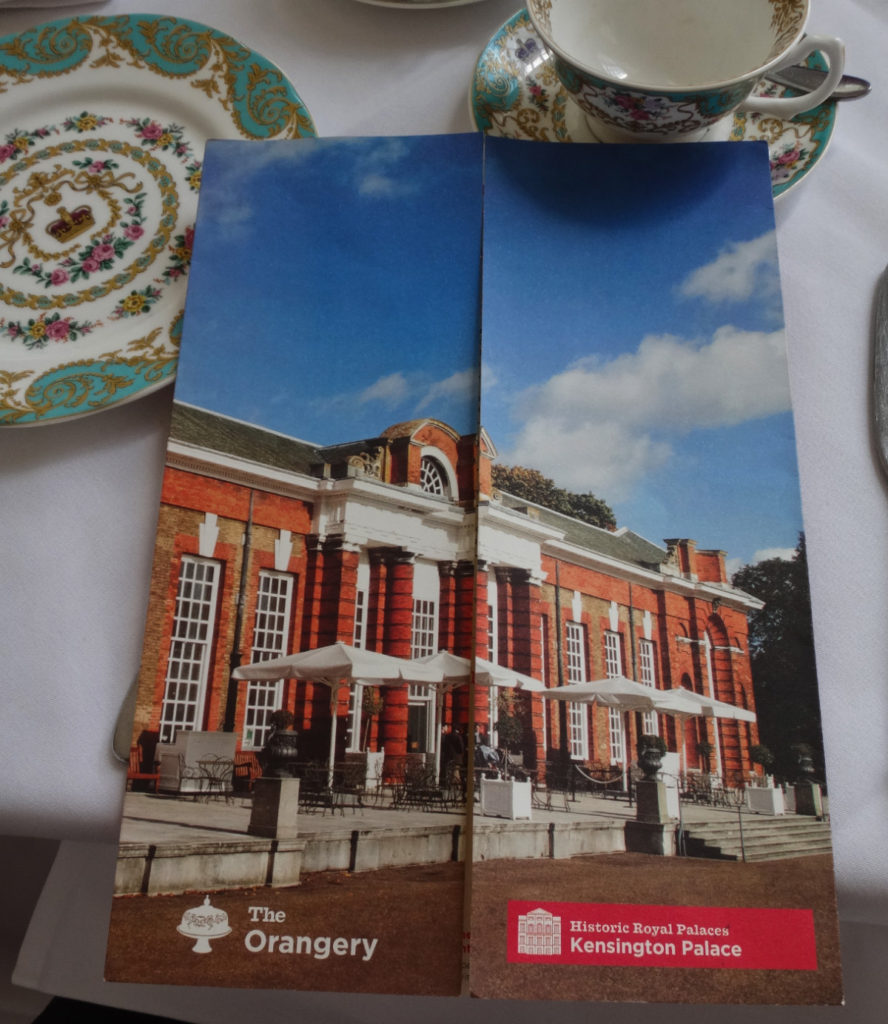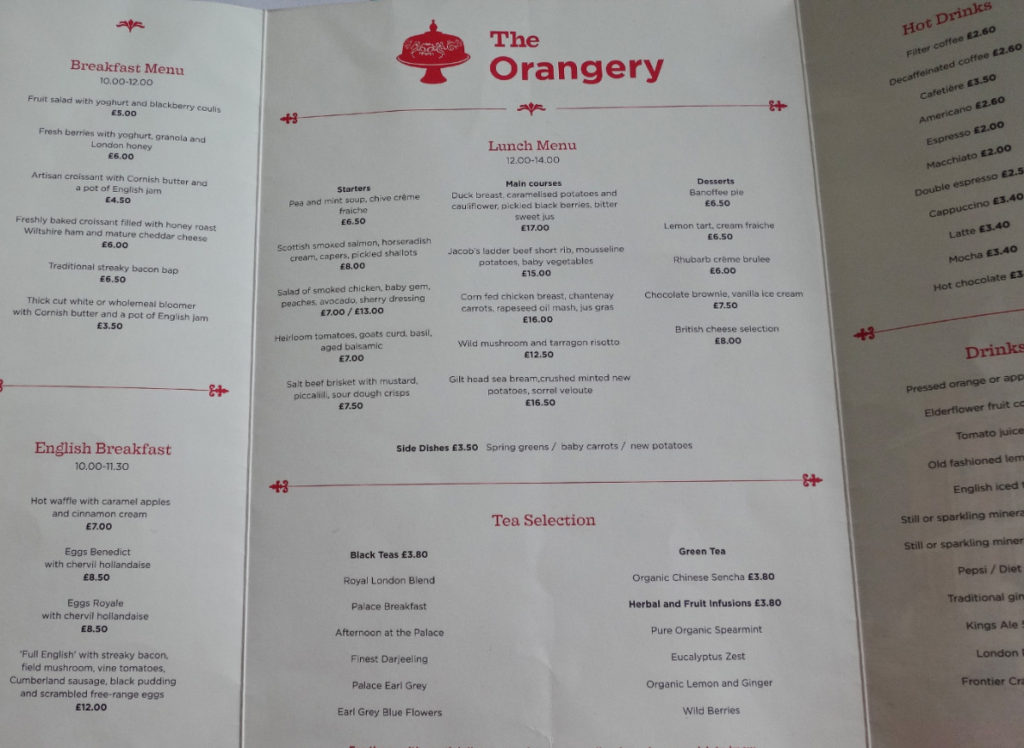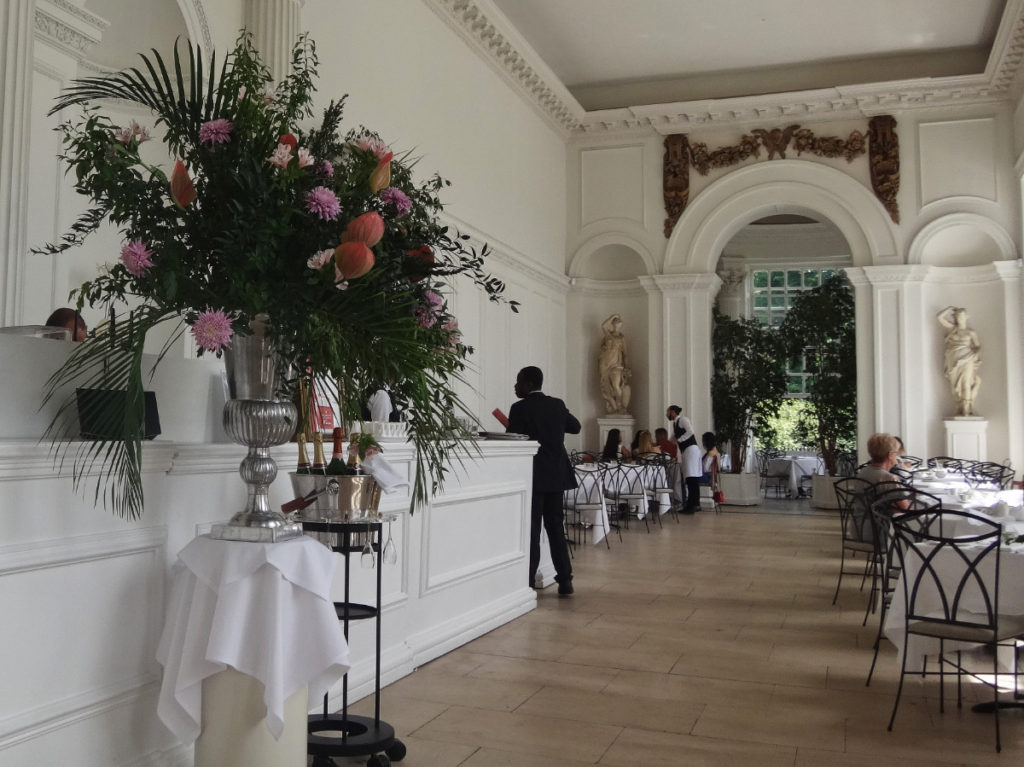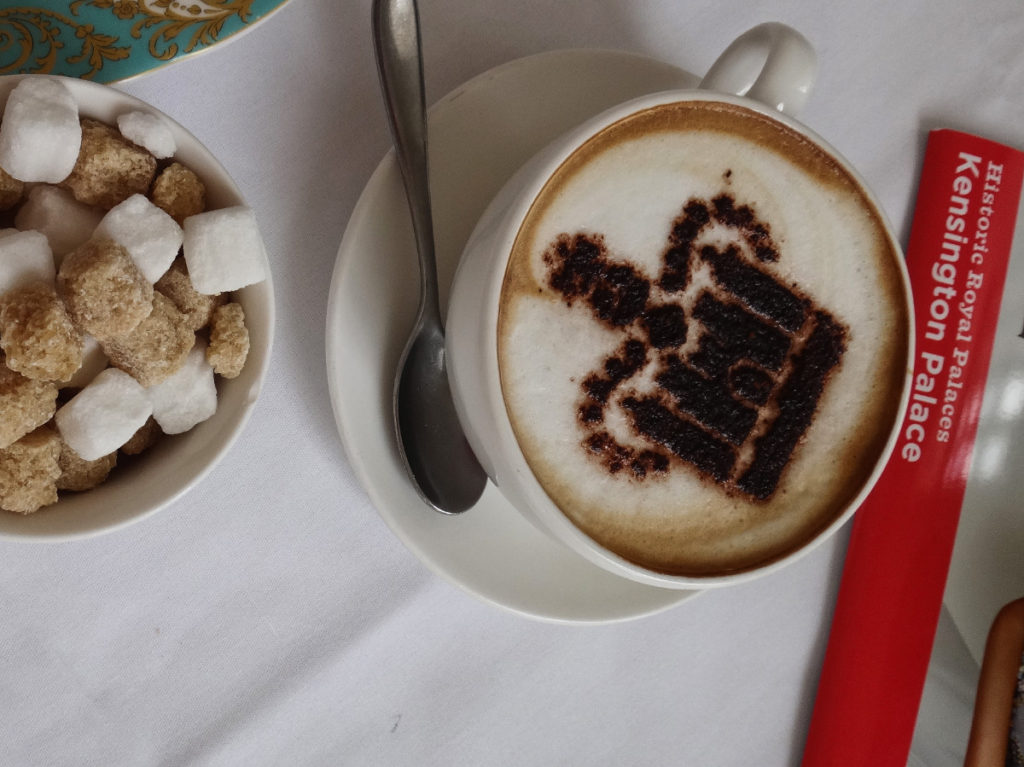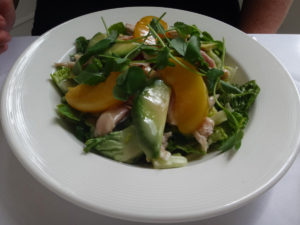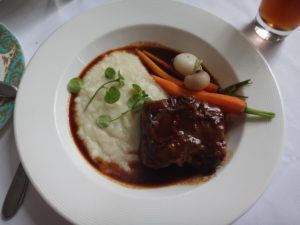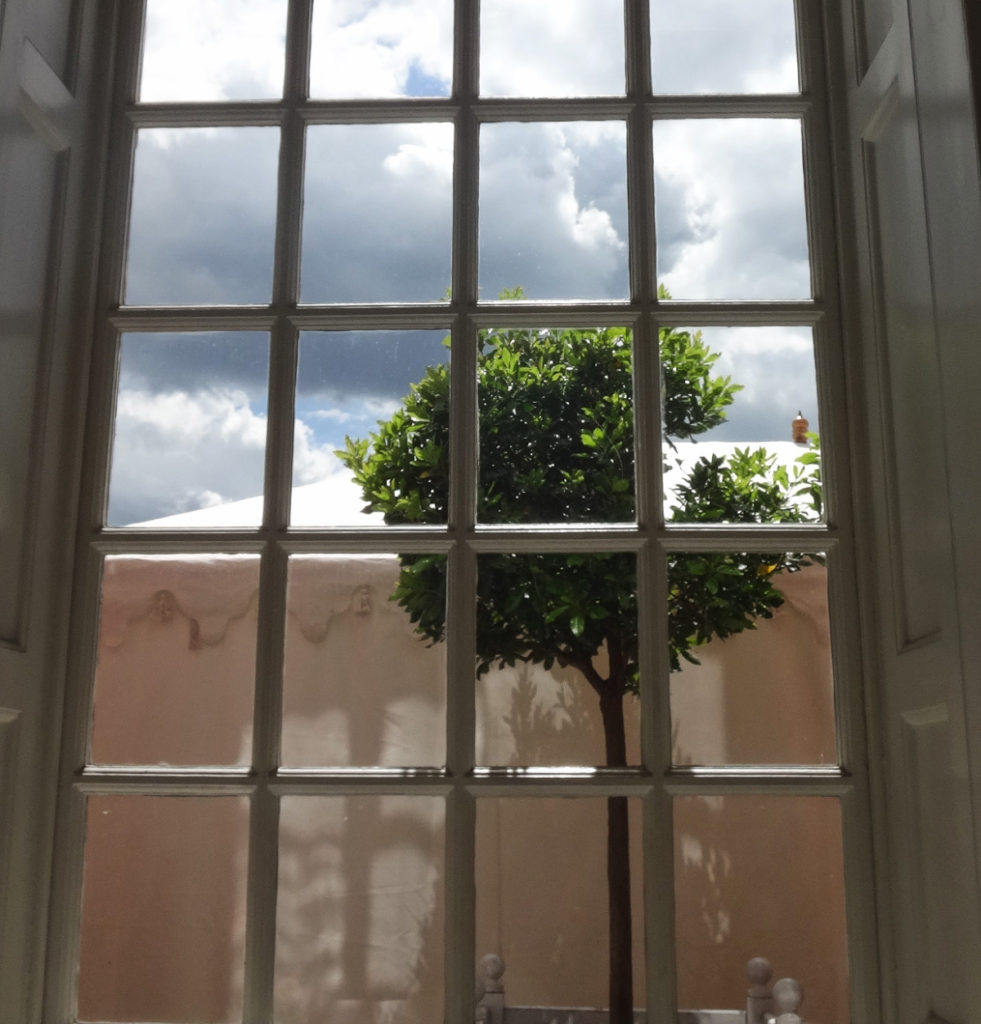 The Children's Playgrounds
Just beyond Kensington Palace – some say Diana could have spotted this area from her private windows – is the children's playground.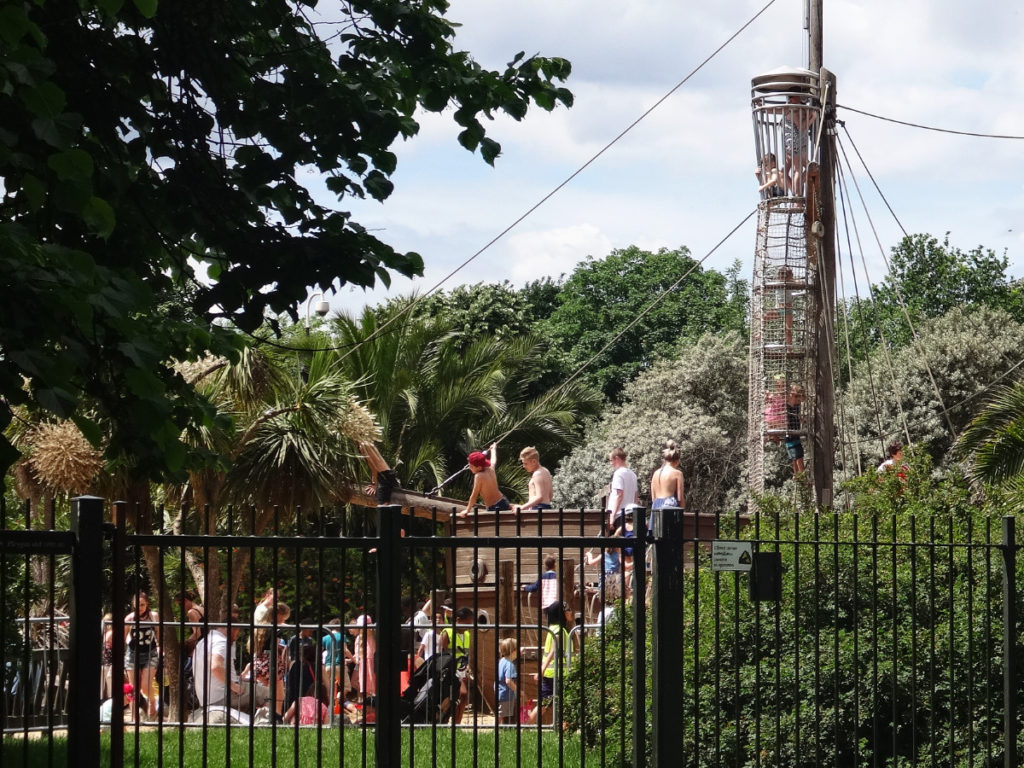 A few pay rides have also sprung up nearby.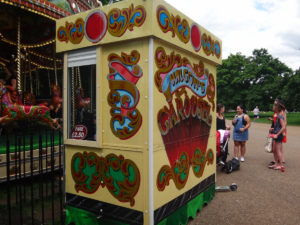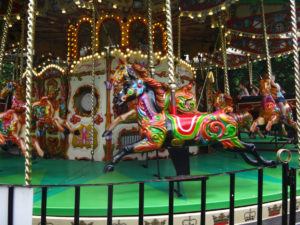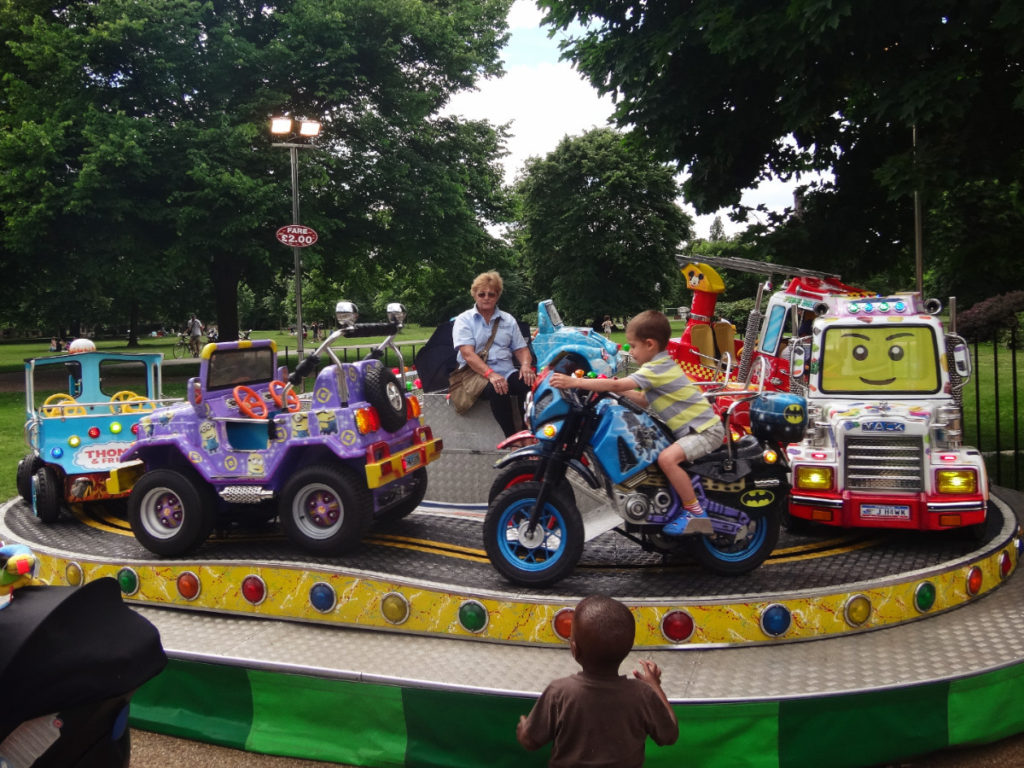 ---
So we are home, but our memories remain.  It seems appropriate to publish this chapter as we approach the 20th anniversary of Diana's death. The Diana Fashion exhibit is now closed, but do visit Kensington Palace.  And eat some breakfast at the Orangerie.
---
Works Cited
Cupid and Psyche, 1639-40. (2017, August 20). Retrieved from The Royal Trust: https://www.royalcollection.org.uk/search/site/cupid%20and%20psyche
Esther before Ahasuerus c. 1546-7. (2017, 08 20). Retrieved from Royal Collection Trust: https://www.royalcollection.org.uk/collection/407247/esther-before-ahasuerus
The Muses 1578 by Jacopo Tintoretto (1519-94). (20017, 08 20). Retrieved from The Royal Trust: https://www.royalcollection.org.uk/collection/405476/the-muses